Branch: Infantry
Born: July 15, 1942
Deceased: Age 24, April 13, 1967, KIA, 9th Infantry Division, Multiple Fragmentary Wounds, Gia Dinh, RVN
Award: Purple Heart
Interred: Donnellson Cemetery, Montgomery County, IL.
Post from the Vietnam Wall Memorial:  "LT. Black was the company XO. A comrade, a friend and a very good soldier. They just don't come any better than LT. Black. I was a squad leader in his company. He was smart and he was tough and he cared about us. I was there when he received his mortal wound. I'll never forget that scene and I'll never forget him." Posted by:  John Young, Thursday, November 25, 1999.
Memorial For Lieutenant Charles Black
9th Infantry Division – 4/47th Battalion – Charlie Company
"Lieutenant Black was one of the fine officers in Charlie Company when all of us came together in May of 1966, as the 9th Infantry Division was reactivated at Fort Riley, Kansas. He and the other experienced officers and non-commissioned officers worked very hard training us for months before our January, 1967 departure to Viet Nam.
Recently, a friend of mine at work and a former member of Charlie Company, Bill Reed, and I were discussing the Virtual Wall and the fellas that didn't make it back. Bill reminded me that Lieutenant Black had lost his life on April 13, 1967, while attempting to disarm a land mine. Bill and I reminisced how much we had admired Lieutenant Black at Fort Riley and how gung-ho he was in Viet Nam.
Occasionally, I take a look at my old photos, which includes one with our officers and their wives at a celebration dinner. The photo has Lieutenant Black, Lieutenant Jack Benedick (my platoon leader), Captain Larson, and Lieutenant Colonel Tutweiler – along with their wives. I continue, after all these many years, to have fond memories of that time at Fort Riley and of those officers. Those men truly tried their best to prepare all of us for a very ugly business that lay ahead.
Lieutenant Black was a fine man and a professional soldier who really cared about his fellow soldiers. I can only suppose that quality led him to heroically try to disarm that land mine."  Written by Bill Reynolds formerly of the 4/47th.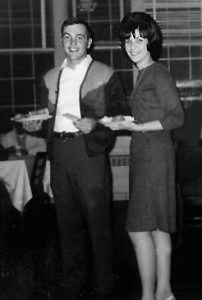 Photo of Lt. Black and his wife taken during Charlie Company's party shortly before shipping out to Viet Nam.
They were married at the Custer Hill Chapel, Fort Riley, Kansas, about one month earlier. (approximately December, 1966).