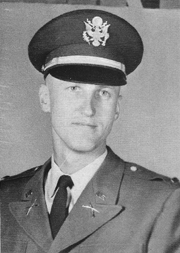 Rank: 1st Lieutenant
Branch: Infantry
Separation Date: Active Duty, December 1967, Army Reserves, February 1971
Number of Years Served: 6
City and State: Santa Rosa, California
Wife's Name: Beverly; 2 Children.
Awards: Certificate of Appreciation, Expert Badge: M-1, M-14, M-16; Overseas Service Bar, Vietnam Campaign Medal, Vietnam Service Medal, Vietnam Cross of Gallantry w/Palm, National Defense Service Medal, Air Medal, Bronze Star w/1OLC, Combat Infantryman Badge.
Civilian/Military Schools & Degrees: Lassen High School, 1959, Lassen College, AA Business AD, 1962, Sacramento State College, BS, Business AD, 1965. While at Lassen College, served on the Student Council and received the Bank of America Award for Distinction in the field of Business AD, 1961. Also, played basketball for Lassen College and worked part time in the U.S. Postal Service for $2.00 per hour. Received a B.S. Degree in Business AD from Sacramento State College in 1965, with a dual major in Personnel Management and Psychology. Played basketball for Sacramento State, was President of Delta Sigma Pi fraternity and met my wife Beverly and we were married while I was a Senior Candidate in Infantry OCS at Fort Benning. Basic Combat Training, AIT and Infantry OCS. Graduate School of Credit and Financial Management, Williams College, 1981, with a Masters Degree; Thesis was "The Medical Professional: A Business Development Approach".
Summary of Assignments: Drafted on April 7, 1964 (age 22), but received a deferment until Jan 1965 so I could complete my college degree. On February 25, 1965, I enlisted in the Army under the College Option Program with a guarantee to attend Infantry OCS, but with no guarantee to graduate. I went through BCT and AIT at Fort Gordon, GA with 23 other College OP's. Only 17 College Op's, who entered OCS with my group, graduated with me in 1966: They are: Burke, W; Clouser, L; Conaty, P; Gehrt, C; Hammontree, J; Lawrence, D; Limer, L; Minden, E; Motley, J; Murphy, G; Ness, G; Oldham, H; Pace, D; Pevey, T; Taft, M; Tarjany, R; and Ward, H. Following OCS, I was assigned to the US Army Garrison, Fort Riley, Kansas for further assignment to the 9th Infantry Division, along with many other classmates from OCS Class 1-66.  I reported for duty, February 1, 1966, the day the 9th Infantry Division was re-activated.
I reported to the 1st Brigade Commanding Officer, Colonel Maurice W. Kendall, along with 5 Lt's from our OCS Class. Colonel Kendall assigned me as the acting Brigade S-1, to request and fill officer and cadre positions for the 2/39th, 3/39th and 4/39th Infantry Battalions. Needless to say, for a "green" 2LT, it was stressful, most challenging and a fast learning curve. In April 1966, I was assigned to Company A, 2/39th, as a Training Office for BCT and AIT.  LT's Peck and Harley were also assigned to Company A.  On July 18, 1966, I was assigned to Battalion Headquarters as the Battalion Adjutant and S-1 and remained in that position until I DEROS from Vietnam in December 1967. The Battalion CO's were LTC Miles, LTC Trinkler and LTC Lee during that period of time. Before leaving Vietnam, Colonel Kendall, who was now the 9th Division Chief of Staff, asked me to stay in the Army, but I chose not to. Upon returning from Vietnam, I was unable to find a job, because of "no experience." I was castigated and ostracized and nobody wanted to hire a Vietnam VET. As a result, I went on unemployment and had a difficult time readjusting back into the "World".
In January 1968, to my surprise, I was assigned as CO of a BCT Ready Reserve Company for two years. I attended monthly drills and ANACDUTRA at Fort Ord and Camp Roberts, California. After two years, I was placed on one year standby reserve status and Honorably Discharged February 25, 1971, thus completing my six year military obligation.
Addendum: I want to share information about my experience and the 9th Infantry Division Re-Activation and Movement to South East Asia (Republic of Vietnam). The 9th Infantry Division was re-activated at Fort Riley, Kansas on February 1, 1966. Known as the "Old Reliables," the 9th Division became the first division since World War II, to be organized, equipped and trained for deployment to an overseas combat theater. The division was organized under the ROAD (Reorganization Objective Army Division) concept. The 9th Division mission was to train and retain the troops from BCT to Combat Readiness in approximately 8 months for deployment to Vietnam. This task, some in the Army said, was impossible to achieve in such a short period of time. The skeptics were proven wrong, wrong, wrong. We trained night and day to accomplish this mission. In early May 1966, a Warning Order, from Department of the Army, alerted the 9th Division for movement to Vietnam, during December 1966. Movement Order #19, dated July 30, 1966 was issued for a PCS move for the 1st Brigade, 9th Division and all attached units with a ready date of December 5, 1966, to proceed to Vietnam.
On October 16, 1966, the 9th Division's, 15th Engineer Battalion, became the first echelon to arrive in Vietnam and immediately began developing a division sized base camp, called Bear Cat, located near Long Than, 20 miles southeast of Saigon. Other advance parties of the division were deployed to Vietnam by air with the first group landing December 8, 1966.
On the same day, the 9th Division was re-activated (Feb 1, 1966), six very nervous 2LT's "fresh" out of OCS, 51st Company, Class 1-66, reported to the 1st Brigade Commander, COL Maurice W. Kendall and he took all of us under his "wing." The six 2LT's were Harry Harley, Dan Peck, Bob Shepps, Al Stricklen, Larry Thomas and myself, and each of us were given various tasks to perform in order to get the Brigade up and running from nothing. Eventually, the six 2LT's were assigned to the 2/39th Infantry (Fighting Falcons). We became know as the "6 Bars and a Bird Club" and a special bond was formed between us. We had several social gatherings at Fort Riley. While in Vietnam, in April 1967, Colonel Kendall, asked me, the 2/39th S-1, to get hold of all of the original six to meet with him at Division HQ for a little social gathering and reunion. Everyone of us got "blasted out of our minds." That was the last time we all met together. Over the past 30 years, I have been in contact with Major General Kendall, who retired at age 57 in September 1978. I call the General every Veteran's Day with greetings from the 2/39th Infantry Regiment and the six bars. To this day (he is now 88), he has fond memories of his 6 Lt's and is very proud of what we were able to achieve. His words were: "you can rise to the occasion no matter what." The First Brigade motto was AAAO , "Anything, Anywhere, Anytime..Bar Nothing."
When the 2/39th Infantry "Fighting Falcons", deployed to Vietnam, December 1966, most of the Battalion moved by train with weapons from Fort Riley, Kansas to Oakland Army Base to board the USNS General AM Patch, a 1940's troop transport ship. I left Fort Riley with the Battalion HQ and HHC, after dark, by bus to Kansas City, boarded 707 jets and flew all night to Oakland Airport, then bused to the waiting ship in the early AM.  We departed Oakland on December 12, 1966 with approximately 1500 troops & officers on board. Our tour of duty started then. Other 9th Infantry Division troops were on the USNS Upshure.  While crossing the Pacific, the seas were pretty rough and many got sea sick. The Bn. Cdr. was sick most of the trip, and was not seen very much. We stopped in Okinawa for a few hours to refuel and take a break from the ship — again "blasted." Every day at sea we trained again and again. The USNS Patch arrived in Vung Tau, Vietnam harbor January 1, 1967 and while anchored, patrol boats were circling the ship for security. We got onto landing craft ready to "hit the beach" at Vung Tau, "locked and loaded" for any hostile fire. We were greeted by the 9th Infantry Division Band, the CG, Major General George S. Eckhardt and Colonel Kendall. We loaded onto deuce and halfs and went up highway 15 to Bear Cat. Along the route the Australians were our security screening force. The temperature was hot – damn hot. After about a two-week period of acclimation, combat operations began.
Profession following military: Banker, 30 years, retired, May 1997. Employed by Bank of America, February 1968 under an accelerated management program for 6 months (no running, push-ups or harassment this time). Jobs included various Jr. lending positions, bank branch head of consumer lending, bank A.V.P, Asst. Manager, Vice President, Bank Manager and Regional V.P. in charge of 26 bank branches in three California north coast counties. I was with the bank for 20 years and was "redeployed" (fired), due to downsizing and for younger and less costly personnel. I was then employed by National Bank of the Redwoods, a small community bank, in August 1988, as AVP-Commercial Loan Officer. I became Vice President-Credit Administrator with 7 lending officers reporting to me. I was with the bank for 5 years. My last bank employer, in 1993, was Exchange Bank, a large community bank, as a bank manager. I was with this bank for 5 years and had to retire on disability due to major abdominal surgery in which all of my large intestine was removed, because of ulcerative colitis. This surgery caused a rapid transit digestion problem so I could no longer work full-time.
Since 1988, I have helped manage the Geyserville Inn, a 40 unit up-scale Inn, about 25 miles north of Santa Rosa,CA. The Inn is located in wine country. I am the Corp. Executive Vice President/Director. The General Manager reports to the Executive Committee, which I chair on a monthly basis.
Current hobbies/interests: I grow and show roses – have 52 currently. Teach classes on rose care and pruning for a large home improvement store as a "volunteer". Member of the American Red Rose Society. Other interests include taking cruises and have been to Alaska 4 times and Mexico twice. Enjoy CD music and photographing roses for Rose Society contests. I turned 70 on October 1, 2011. My mind is still sound. Despite a right knee replacement, a left ankle that has been fused, kidney stones removed, two major abdominal surgeries and rapid transit digestion, I feel quite good…..most of the time anyway!