Branches: Special Forces, Infantry
Born: August 15, 1942
Deceased: Age 25, August 24, 1967, KIA, Hostile Fire, Tay Ninh,Vietnam.
Interred: Fort Scott, Kansas National Cemetery, Humboldt, Kansas, Plot 3 0 2595
Awards: Distinguished Service Cross (DSC), Purple Heart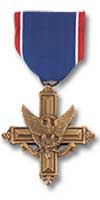 Distinguished Service Cross
1st Lieutenant James F. Godsey  –  Citation for Distinguished Service Cross  
"The President of the United States of America, authorized by Act of Congress, July 9, 1918 (amended by act of July 25, 1963), takes pride in presenting the Distinguished Service Cross (Posthumously) to First Lieutenant (Infantry) James Frederick Godsey (ASN: 0-5329196), United States Army, for extraordinary heroism in connection with military operations involving conflict with an armed hostile force in the Republic of Vietnam, while serving with Detachment A-351, 5th Special Forces Group (Airborne), 1st Special Forces. First Lieutenant Godsey distinguished himself by exceptionally valorous actions on 9 May 1967 while serving as Special Forces advisor to a Vietnamese company on a blocking mission in Hau Nghia Province. Informed that boats of the River Assault Group stationed near his base camp were under heavy attack, Lieutenant Godsey maneuvered his men to block the escape of the Viet Cong force. He led a squad in pursuit of two fleeing insurgents who quickly joined with a larger force and engaged his men in a fierce firefight. As the battle progressed, a still larger Viet Cong force attacked with mortars, machine guns and recoilless rifles. Greatly outnumbered, he rallied his men bravely to repel the determined hostile assaults while he waited for reinforcements and air support. He was severely wounded while running fifty meters across the bullet-swept clearing to rescue a wounded comrade, but he ignored his injury and led his men in a furious assault against the numerically superior insurgents. He quickly overran the front enemy positions and then called for ammunition resupply. He was wounded again while unloading ammunition from the supply helicopters, but he exposed himself time after time to direct the distribution of ammunition to his men. When reinforcements arrived, he deployed them and personally led the pursuit of the now beaten Viet Cong Force. First Lieutenant Godsey's extraordinary heroism and devotion to duty were in keeping with the highest traditions of the military service and reflect great credit upon himself, his unit, and the United States Army."
Post from the Vietnam Wall Memorial: " To my friend Fred: Well, another Memorial Day, we meet again after 36 years. I remember someone putting sugar in your mustang gas tank. You and Eddie Shubert both were killed in Vietnam. What a waste. Rest in peace green beret, your old friend Elmer." Elmer Pence, 1LT, US, Army Friend, Friday, May 24, 2002.