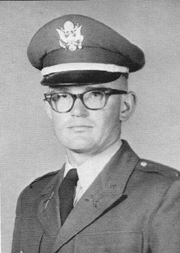 Rank: 1st Lieutenant
Branch: Infantry
Separation Date: Active Duty, November 1967.
City and State: Alcoa, Tennessee
Awards: Bronze Star, Air Medal, Vietnam Campaign Medal, Vietnam Service Medal, National Defense Service Medal, Parachutist Badge.
Schools/Degrees:
Bachelor of Science, Health and Physical Ed., Tennessee Tech, 1964.
U.S. Army, BCT & AIT, Fort Gordon, Georgia, 1965.
Infantry OCS, Fort Benning, Georgia, July 1965 – January 1966.
Airborne School, Fort Benning, Georgia, 1966.
Chemical Warefare Course, Fort Ord, California, 1966.
Psychologial Operation Officer Course, Fort Bragg, North Carolina, 1966.
Master of Science, Recreation, University of Tennessee, 1969.
Master of Science, Fitness and Wellness, Memphis State University, 1989.
Master of Public Administration, University of Memphis, 2000.
Summary of Assignments:
BCT Training Officer, Fort Ord, California., February 1966 – July 1966.
Psychological Operations Officer, 246th Psychological Operations Company, Bien Hoa, Republic of Vietnam, November 1966 – November 1967.
Jobs Following Military:
Superintendent of Recreation, City of Belleville, Illinois, 8 Years.
Recreation Specialist, Tennessee State Parks, 30 Years.
Retired: August 2012.
Hobbies/Interests:
Reading, Walking, Bowling.