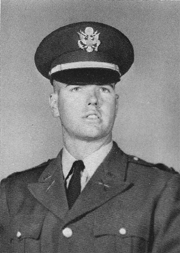 Rank: Lieutenant Colonel (Ret)
Retirement Date: 1986
Wife's Name: Laurie
City and State: Sacramento, California
Branches: Infantry & Military Intelligence; Tactical – Strategic Intelligence Officer; Foreign Area Officer, Japan
Awards: Purple Heart, Bronze Star w/2 OLC, Meritorious Service Medal w/1 OLC, Army Commendation Medal w/1 OLC, Vietnam Service Medal w/6 campaign stars, Combat Infantry Badge, Air Medal w/1 OLC, Parachute Badge, Ranger Tab.
Honors: Inducted into the Infantry OCS Hall of Fame at Fort Benning in April 2016.
Civilian/Military Schools: CA State University, Fullerton, California (Bachelor of Arts); California State University, San Diego, California (Master of Arts, East Asian Studies), Infantry Officers Candidate School (1966), Counter Intelligence Officer Course, Fort Holabird, Maryland (1969), Advanced Intelligence Officer Course, Fort Holabird, Maryland (1969-70), Japanese Language Course, DLI, Monterey, California (1972-73), Joint Intelligence Officers Course, Defense Intelligence Agency, Washington, DC (1975), Command and General Staff College, Fort Leavenworth, Kansas (1978-79).
Summary of Assignments: MACV, RVN; (1966-69), Commanding Officer, Physical Reconditioning Detachment, Camp Zama, Japan; (1970-71), Intelligence Officer, 101st Airborne Division, RVN; (1971-72), Detachment Commander, 525 Military Intelligence Battalion, RVN; (1972-75), Japan Foreign Area Officer Course, Tokyo; (1975-78), Northeast Asia Analyst, Department of the Army, Pentagon; (1979-80), Commanding Officer, Military Intelligence Company, Fort Ord, California; (1980-81), Director, Battle Simulations Division, Fort Ord, California; (1982-84), Director, Political Military Research Division, HQ, US Army, Camp Zama, Japan; (1984-86), Chief, Force Modernization Branch, I Corps, Fort Lewis, Washington.
In 1966, as a 2LT, Infantry, I was assigned to MACV Team 2 in Quang Ngai Province, south of DaNang as an Infantry Advisor to the 2nd ARVN Division. I arrived in country on October 3, 1966 and 10 days after arrival I was wounded and MedEvaced to Japan where I was reassigned for the next two years due to my leg nerve damage from a bullet wound.
I stayed in the Army, transferred to Military Intelligence, attended Intel schools and went back to Vietnam in June 1970. I spent my first year in Vietnam with the 1st Brigade, 101st Airborne Division located at Camp Eagle, north of Hue as a Brigade Intelligence Officer. Camp Eagle got rocketed about once a month and we had a busy year with Firebase Ripcord (over run) and Lan Son 719, the invasion of Laos. After one year with the 101st, I extended my tour of duty and transferred to the 525 MI Battalion.
After the US Forces withdrew in the winter of 1971, the NVA attacked across the DMZ in the spring of 1972 and almost got Hue. My little 5 man US Detachment was one of the only US Forces north of DaNang and we sent combat reports back to MACV. I was told to evacuate my unit to DaNang, because my predecessors unit in Hue had been captured. I stalled and did not evacuate.
Jobs/Profession following military: After I retired from the Army in February 1986, I moved to Sacramento, California and went to work at the State Legislature for an old friend of mine who had been elected to the Assembly. I worked at the State Legislature for ten years until 1996, eventually becoming a Chief of Staff to an Assemblyman and also served as the Chief Consultant to the Assembly Utilities and Commerce Committee.
In 1996, I started a small independent lobbying firm and am still working. I remarried in 1994 and we have a 14 year old son. My wife and son keep me young. In my lobbying business, I represent several veteran service organizations and have been involved in over 500 legislative bills dealing with military and veterans issues.
I am most proud of establishing a prison diversion program for military and veterans in trouble with the law due to PTSD and laws to prosecute Stolen Valor phonies. I also coordinated the 20th Anniversary ceremony in 2008 for California's Vietnam Veterans Memorial and worked to pass legislation last year which was signed by Governor Schwarzenegger declaring March 30th, every year, as California's "Welcome Home Vietnam Veterans Day".
I am currently President, Pete Conaty & Associates, in Sacramento, California.