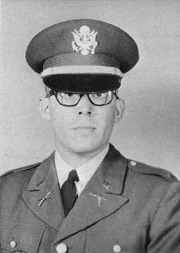 Rank: Captain
Separation Date: January 1969
Branch: Infantry
City and State: Colleyville, Texas
Awards: Good Conduct Medal, Parachutist Badge, Expert Infantryman Badge, Army Commendation Medal.
Number of Children: 2; Grandchildren 4.
Summary of Assignments: AFEES, New Haven, Connecticut; Platoon Leader & CO, A CO, 1/17TH  Infantry, 1ST Brigade, 7TH Infantry Division, ASST S-3, 1ST Brigade, 7TH Infantry Division; ASST S-3, 1ST Army, Fort Meade, MD; CO, A CO, 1ST Battalion, 157TH Infantry Brigade, USAR. Didn't get to Vietnam, was assigned to the 7th Division on the DMZ in Korea after a year with the Recruiting Command. Was a platoon leader, then CO of an Infantry company in the 1st of the 17th Infantry. Later an Asst. S-3 with the 1st Brigade of the 7th Div.
Jobs/Profession following military: Real Estate Broker and Property Manager, Steamboat Springs, Colorado; Peyton, Colorado; Waukesha County, Wisconsin.
Current hobbies/interests: Winter sports (lots of skiing while in Steamboat), breeding & training horses, team roping, kids and grand kids. I am currently on 14 acres in Wisconsin but had about 330 acres in Colorado before I moved here. Raised and trained horses and ran some yearling steers. I still have a few horses here and have been team roping for quite a while, although I am doing a little less of it these past two summers. Moved to Colorado after the Army and raised my kids in Steamboat Springs, then Peyton, east of Colorado Springs. I have a former step son who is a Police Officer in Waukesha, Wisconsin but he is also a Lieutenant Colonel in the National Guard and is currently on his 2nd tour in Iraq as a Battalion Commander.