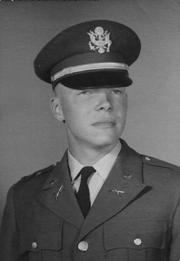 Rank: 1st Lieutenant
Branch: Army Intelligence Service (AIS)
Separation Date: January 1968
Number of Years of Service: 4 Years, 4 Months
Wife's Name: Kate; Children: 6; Grandchildren: 12
City and State: White Bear Lake, Minnesota
Degree: BA, Journalism/Photo-Journalism, University of Minnesota, Minneapolis
Summary of Assignments: Enlisted in the US Army, September 23, 1963. Attended basic training at Fort Leonard Wood, Missouri and AIT at USASATC&S, Fort Devens, Massachusetts. Served with the 103rd Army Security Agency Detachment, Orleans, France performing Strategic Intelligence Analysis from June 1964 to June 1965. Attended the 7th Army NCO Academy, Bad Tolz, Germany, April and May 1965. Attended OCS at Fort Benning, Georgia with the 51st Company, Class 1-66, beginning July 1965. Commissioned a 2nd Lieutenant AIS on January 14, 1966. Attended Army Security Agency basic officer's training (Intelligence Officer) January to April 1966 at Fort Devens, Massachusetts.
Assigned to the 52nd Special Operations Command, Fort Huachuca, Arizona as an Intelligence Operations Officer, April to August 1966. Attended Chemical Warfare School, Fort McClellan, Alabama, July 1966. Assigned to the 335 ASA Company, Fort Riley, Kansas as an Intelligence Operations Platoon Leader in support of the 9th Infantry Division, August 1966. Deployed to Vietnam, January 1967. Served from January to June 1967 as an Intelligence Operations Platoon Leader, with the 335 Radio Research Company (ASA), 9th Infantry Division at Bear Cat, Vietnam. Assigned to the 303rd Radio Research Battalion (ASA), Long Bien, RVN, June 1967, serving as an Intelligence Staff Officer in support of II Field Force and the 509th Radio Research Group (ASA) in Saigon. Following tour in Vietnam was separated from the Army in January 1968.
Personal Information: Attended the School of Journalism at the University of Minnesota from January 1968 to June 1972. In June 1970, I married Ruth and we have five children: Christian has a BA in Theater Arts and is a writer, actor and father of two daughters in Minneapolis; Simon has a BA in Sociology, is a social worker for the State of Minnesota, father of five children and lives with his wife and family in southern Minnesota; Angela has a BA in Philosophy, a JD, and is an attorney working and living in Marin County, California. She lives with her husband and two children; Andrew has a BA in Classics and an MA in Systematic Theology, is co-director of PlaceBase Productions, a regional theater company in Minnesota, heads the music department at a Twin Cities private high school, and is married; and Anne has a BA in Violin and International Studies and an MBA, and works in the Twin Cities in Human Resources. She is married, mother of one son and lives in the Minneapolis area with her husband. In October 2009, I married Kate at White Bear Lake, Minnesota. Kate retired from DNR, State of Minnesota. She has one daughter by her former husband who was a Naval Medical Officer and served with the US Marines at Da Nang, RVN in 1968. He taught on the medical faculty of the University of Minnesota, Minneapolis. He died of cancer related to agent orange exposure from his service in Vietnam. Kate's daughter works as an attorney and lives with her husband and twin children in Washington, D.C.
Jobs/Profession following Military Service: Employed in the field of photo-journalism from 1972 to 1984. Worked extensively with major advertising agencies and industrial corporations doing industrial and agricultural photography across the United States. Photography also represented in numerous college textbooks for major publishers throughout the US. Employed in Advertising and Marketing from 1984 to 1997. Worked predominately for industrial advertising/marketing agencies and corporations in the Twin Cities as President, Vice President, and Director of Marketing. Began a marketing firm in 1989, specializing in the industrial, medical and plastics industries. Led corporation as CEO in Sichuan Province, China, promoting medical trade shows. Took a three-year hiatus from the business world and taught Latin and Ancient History in a private Twin Cities high school from 1997 to 2000. Served as Director, Work Force Analysis for the Department of Employee Relations, State of Minnesota from 2000 to 2005. Consulted for Thomson-Reuters (FindLaw) in the area of Search Engine Marketing & Optimization (SEM & SEO) from 2006 to 2010 in the Twin Cities.
Interests: Wildlife photography, sailing and travel. We enjoy sailing our Ranger keel boat in Minnesota lakes, including White Bear Lake, Lake Pepin (a wide spot in the Mississippi River, 70 miles south of the Twin Cities) and Lake Superior. Have chartered larger sail boats on Lake Superior (Apostle Islands) and San Francisco Bay. Tested successfully for a Coast Guard Merchant Marine Six-Pack (OUPV) Captain's License in 2013. Annually winter in Florida.