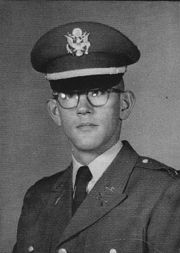 Rank: Major (Ret)
Branches: Infantry, Military Police
Retirement Date: February 1, 1977
Number of Years of Service: 20
Wife's Name: Irmie; Children: 3; Grandchildren: 2.
City and State: Goodyear, Arizona
Awards: Drill Sergeants Badge, Jump Wings, Expert Infantry Badge, Numerous Service Ribbons, Good Conduct Medal, Air Medal, Army Commendation Medal, Bronze Star, Combat Infantry Badge.
Civilian/Military Schools and Degrees: University of Nebraska (BA in Criminal Justice), Jacksonville State (MA in Public Administration), OCS, Army Career Course (1970), NCO Academy 3rd Division, Instructors Course, Fort Benning.
Summary of Assignments: Basic/AIT Fort Benning, 3rd Infantry Division, Germany; BCT Platoon Sergeant, Fort Knox; Training Command Instructor, Fort Knox; 1st Cavalry Division, Korea; Drill Sergeant Academy Instructor, Fort Ord; OCS, Fort Benning; Instructor, Infantry School (66); 25th Division and Americal Division, Vietnam (66-67); Basic Training Company Commander, Fort Gordon, GA (68);  MacV Advisor, Kontum, Vietnam (68-69); Career Course, Fort Benning (69); Bootstrap, University of Nebraska (69-71); S-3, 172nd Light Infantry, Fort Richardson, AK (71-72); Provost Marshal, Fort Wainwright (72-75); Provost Marshal, Anniston Army Depot (75-77).
Jobs/Profession following military: My second career was in Law Enforcement, I worked for the Fairbanks Police Department for 15 years, patrolman to Chief of Police, then got involved in Politics, worked as Special Assistant to the Commissioner of Public Safety.  Retired from State of Alaska in 1994.
Current hobbies/interests: Golfing, Scuba Diving, and RV'ing.