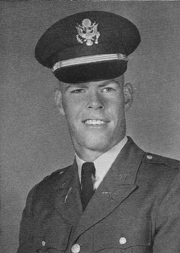 Rank: Lieutenant Colonel (Ret)
Branches: Infantry, Signal Corps
Retirement Date: May 31, 1984
Number of Years of Service: 20 years, 11 months
Wife's Name: Judy; Children: 4; Grandchildren: 10
City and State: The Villages, Florida
Awards: Belgian Marksmanship Badge, Expert Marksmanship Badge, Vietnamese Signal Corps Badge, Army Service Ribbon, Overseas Service Ribbon, National Defense Service Medal, Vietnam Service Medal with 5 Bronze Star Devices, Vietnam Campaign Medal, Vietnam Gallantry Cross with Palm, Vietnam Civil Actions Medal First Class, Good Conduct Medal, Army Commendation Medal (1OLC), Air Medal, Meritorious Service Medal (1OLC), Purple Heart, Bronze Star (1OLC), Legion of Merit, Combat Infantry Badge.
Civilian/Military Schools and Degree: BS Business Administration, Emporia State University; Jungle School; Army Integrated Material Systems Management Course (Distinguished Graduate), Fort Lee, Virginia, Signal Officer Advanced Course, Command and General Staff College (Non-resident), numerous other professional military schools.
Summary of Assignments: Enlisted August, 1963; Fixed Cryptographic Equipment Repair School, Fort Monmouth, New Jersey; Crypto Repairman, Springfield Armory, Massachusetts; Advanced Crypto Equipment Repair School, Fort Monmouth, New Jersey; Officer Candidate School, Fort Benning, Georgia; 2nd Bn. 39th Infantry, 9th Infantry Division, Fort Riley, Kansas; deployed with 1st Brigade, 9th Infantry Division to Bear Cat, Vietnam, in November 1966. Rifle Platoon Leader, Company XO, and Battalion Recon Platoon Leader, DROS December 1967; G3 Training Staff, Fort Gordon, Georgia; Officer's Advance Course, Fort Monmouth, New Jersey; 1st Signal Brigade, Long Binh, Vietnam; Chief, Data Analysis Branch & Briefing Officer to the Commanding General, 1st Signal Brigade HQ; XO, Comsec Logistics Support Center, Vietnam, DROS December 1970. Commander, Command and Leadership Company, Fort Monmouth, New Jersey; Officer Undergraduate Degree Program, Emporia State University, Emporia, Kansas from 1973-75;  S3, 32nd Signal Battalion (Corps), Hoechst, Germany; CE Plans Officer, V Corps CE Staff; XO, 32nd Signal Battalion (Corps); 1979 Case Processing Officer & Chief, Case Processing Branch, US Army Discharge Review Board, Pentagon; 1981, XO to the Director of Readiness, DARCOM, Alexandria, Virginia; Retired May 31, 1984.
Jobs/Profession following military: Director of Conventions, National Association of Bedding Manufacturers, Alexandria, Virginia; Director and Vice President of Conventions, National Association of Truck Stop Operators, Alexandria, Virginia; President, Golf Tournaments Unlimited, Alexandria, Virginia. Moved to The Villages, Florida in July 2004; Fully retired in November 2005.
Additional Story of Interest: There were six (6) 2nd Lieutenants from class 1-66, that went directly from OCS to Fort Riley, Kansas. We were all assigned to the 1st Brigade, and later to the 2/39th Infantry. When we first arrived we worked directly for the Brigade Commander, Colonel Maurice Kendall, because the units were not formed and there were no fill for them. This was to be a train and retain concept. We eventually received NCO's and higher ranking officers. We took raw recruits directly off the buses, gave them haircuts, issued uniforms, and over a period of months took them through BCT, AIT, BUT, AUT and Battalion ORT's. We then deployed as cohesive units to RVN.  The total training time was from February 1966 to November 1966.
We took trains from Fort Riley to Oakland, California then on the USNS Patch to Vietnam. I went from 220 lbs to 170 lbs in the 30 days it took us to cross the Pacific. We trained constantly on that ship….everything from land mine warfare to infantry tactics.  We landed at Vung Tau, in LST's (think Normandy) and we all thought we were going to rush into a hail of machine gun fire as we stormed the beachhead. Instead, our Division Commander was there with the 9th Infantry Division Band.
We then boarded duece and a halfs, headed up Highway 15 to Bearcat, our new home.  As I remember, the six LT's were: Dan Peck, Cliff Gehrt, Bob Shepps, Leon Stricklen, Larry Thomas, and Harry Harley.
Current hobbies/interests: Golf, Karaoke Singing, Computers, Poker, Socializing with Friends.