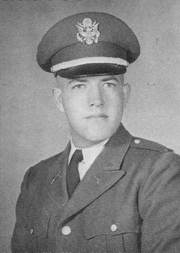 Rank: Lieutenant Colonel (Ret)
Branches: Infantry, Signal Corps
Retirement Date: July 31, 1989
Number of Years of Service: 26
Wife's Name: Elizabeth "Liz"; Children: 2; Grandchildren: 2
City and State: Lakewood, Washington
Awards: Certificate of Accomplishment, November 13, 1964, Fort Gordon, Richmond, Georgia, USA; Combat Infantryman's Badge, June 12, 1967, Tan Tru, Long An, Viêtnam; Air Medal, June 12, 1967, Tan Tru, Long An, Viêtnam; Bronze Star Medal, October 31, 1967, Tan Tru, Long An, Viêtnam; Army Commendation Medal, January 5, 1969, Washington, D.C.. USA; Bronze Star Medal, Second Oak Leaf Cluster, September 8, 1971, Phu Bai, Binh Tri Thien, Viêtnam; Bronze Star w/1st Oak Leaf Cluster, October 27, 1971, Phu Bai, Binh Tri Thien, Viêtnam; Army Commendation Medal, First Oak Leaf Cluster, October 10, 1974, Worms, Rheinland-Pfalz, DEU; Meritorious Service Medal, February 14, 1979, Fort Lewis, Pierce, Washington, USA; Meritorious Service Medal, First Oak Leaf Cluster, February 7, 1982, Worms, Rheinland-Pfalz, DEU; Meritorious Service Medal, Second Oak Leaf Cluster, May 29, 1985, Atlanta, Fulton, Georgia, USA; Legion of Merit, May 2, 1989, Frankfurt am Main, Hessen, DEU;
Civilian Education: University of Wisconsin, Madison; University of Nebraska, Omaha, August 31, 1970, Bachelor of General Studies – History; University of Southern California, June 4, 1981, Master of Science, Systems Management.
Military Education: Basic Leadership Course, 2 Weeks, June 1964; Leadership Course, 2 Weeks, September 1964; Infantryman Officer Basic Course, 8 Weeks, November 1966; OCS Course, 24 Weeks, January 1966; Infantry Communications Officer Course, 8 Weeks, April 1966; Signal Officer Advance Course, 24 Weeks, December 1969; Command General and Staff College Course, 32 Weeks, July 1976.
Summary of Assignments: Communications Officer, 2nd Bn, 60th Infantry, 9th Infantry Division, Fort Riley, Kansas and Tan Tru, Vietnam; Instructor, Signal Officer Basic Course, Fort Gordon, Georgia; Student, Signal Officer Advanced Course, Fort Monmouth, New Jersey; Communications Officer, 39th Eng Bn, 45th Eng Gp, 18th Eng Bde, Chu Lai, Vietnam; Commander, 63rd Signal Company, Camp Evans & Hue, Vietnam; Commander, 596th Signal Company, Phu Bai & Camp Eagle, Vietnam; Executive Officer, STRATCOM Support Bn, Schwetzingen, Germany; Commander, Area Maintenance and Supply Facility, Mannheim, Germany; Operations Staff Officer, Staff Operations Committee, Command and General Staff College, Fort Leavenworth, Kansas; Section 20, Class of 1976,  Command and General Staff College, Fort Leavenworth, Kansas; Logistics Officer, 1st Signal Group, Fort Lewis, Washington; Operations Officer, 58th Signal Battalion, Fort Lewis, Washington; Chief, Maintenance Division, DCSLOG, 5th Signal Command, Worms, Germany; Chief of Plans, Operations and Exercise Branch, Communications – Electronics, Forces Command, Fort McPherson, Atlanta, Georgia; Deputy Brigade Commander, 22nd Signal Brigade, V Corps, Frankfurt-Höchst, Germany; Deputy Chief of Staff for Information Management, V Corps, Frankfurt, Germany; Deputy Sub-Community Commander, Frankfurt-Höchst, Germany;
Noteworthy/humorous military experience: I suspect that if one were to ask my family they might mention that sometimes I seem a little "slow on the uptake" but the Army may have taken advantage of that. I enlisted in the service in 1964 and told the recruiter, "I would like a commission!" He said, "Then the best thing you can do is sign up 'RA-unassigned' and then you will be ready." It seemed to make sense to me and I didn't even notice the recruiter's smile as he filled another quota.
As it turned out I was trained as a mortarman and had been selected for assignment to "a secure area in the far east" and was sitting on a bus at Fort Gordon, Georgia which would take me to downtown Augusta to catch a Greyhound bus for two weeks leave before reporting. As the bus was being filled a sergeant from Personnel came aboard and said, "Jones, Smith, and Schuck get off the bus, your OCS holds have been approved."
I breathed easier and two months later I reported to the 51st Company (OC). Of course, the Army was not through messing with me. Since I had been trained as a mortarman I asked to be assigned as a Heavy Weapons Platoon Leader when I was commissioned. One of my platoon buddies, Marvin D. Sessions, had been in the Signal Corps and wanted to be a Communications Officer. Naturally, he was assigned as a 1542 (Heavy Weapons Platoon Leader) and I was assigned as an 0200 (Combat Communications Officer).
Later, after the Signal Corps took over the Combat Communications Officer billets, I received a branch transfer and received training in the Advance Course. My least enjoyed and most difficult subject was logistics. I then spent the majority of my career in Signal Logistics Maintenance and Operations.
Current hobbies/interests: Watching grandchildren grow and prosper has been a delightful thrill for Liz and me. Our grandson, Geoffrey, has just received his degree from the University of Southern California on a full Navy scholarship. He was commissioned and has reported for an additional year of Nuclear Engineer training. Our granddaughter, Lindsay, completed Mt Carmel High School in San Diego and will begin at the University of Alabama this month.
After retirement I began documenting Liz's and my family trees. I then taught genealogy for four years at the Clover Park Technical College in Tacoma, Washington. I maintain several websites to exchange family history, family adventures and travel reports, and a family cookbook established by my wife and my brother's wife.
Additionally, the Army conditioned us to travel and we do so with a passion. We love to cruise and have completed thirteen cruises so far. We keep suitcases and picnic baskets packed for any occasion.