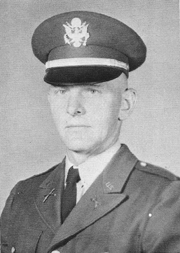 Rank: Captain (Ret)
Branches: Infantry, Special Forces
Number of Years of Service: 22
Wife's Name: Donna
City and State: Linden, North Carolina
Summary of Assignments: Following OCS, he wanted to go to Ranger School, but was sent to Special Forces because of some of the enlisted MOS's he had held. He then went to Thailand, Flight School, and then to the Officers Advanced Course in 1970. He had two tours in Vietnam, one
with the 173rd Airborne Brigade and one with the Americal Division. In 1973 he got
caught up in the RIF, stayed in the Army, and after 22 years retired with the rank of Captain.