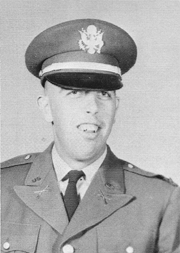 Rank: 1st Lieutenant
City and State: Auburn, California
Wife: Patti
Served with 1st Division in Vietnam
Taught high school and coached after Vietnam.
Harry Ward's Story
Harry Ward was one of the 51st Company candidates from the West Coast who made the cross-country trip to attend OCS at Fort Benning, Georgia. Harry's story begins in San Leandro, California where he was a talented high school athlete and earned a track scholarship to a junior college in Pueblo, Colorado. After finishing his first two years of college, Harry took a break from school for a year to work for a pipe company before finishing at Chico State College where instead of track, he concentrated on partying and having a good time. He studied enough, however, to earn a degree but on graduation day, his draft notice was sitting on a dresser. Harry decided if he had to serve in the military, the Army's college op program was the way to go but first, he would have to complete basic combat training (BCT) and advanced infantry training (AIT).
Ward was sent to Fort Jackson, South Carolina, where a platoon of OCS-bound college graduates was being formed. The new soldiers were then bused to Fort Gordon, Georgia where they successfully completed both BCT and AIT training. Arriving at Fort Benning and reporting to 51st Company for OCS, Harry was informed he was in the 6th Platoon with candidates William Weekly and Nick Vawter as his roommates. The three candidates quickly learned how to enter and leave their barrack's room without walking on their carefully spit shined floor by swinging on the door and walking on their beds. The 6th Platoon tactical officer (TAC) was LT Ronald Putnam, an officer the candidates respected because he did not play the "Mickey Mouse mind games" that some of the other TACs liked to dish out. Ward remembers going through a receiving line at one of the OCS social events where the candidates and their dates met the company commander, CPT George Cady and his wife and then the tactical officers and their wives. When he reached LT Putnam, the TAC's wife had a big smile and said, "Harry, what are you doing here?" LT Putnam, looking surprised, asked her, "Do you know Candidate Ward?" When Ward had attended junior college in Colorado, one of his friends had dated the TAC's wife before she married LT Putnam which is how the two knew each other.
Not long before graduation, orders were handed out to OCS Class 1-66 for their first assignment as officers. Ward and Vawter learned they both would be headed to Fort Ord, CA. Vawter had purchased a new Triumph TR-4 sports car and the two roommates agreed to make the cross-country trip together to Fort Ord using Vawter's vehicle. Other than hitting a big snowstorm going through Texas, they made the trip without any problems. At Fort Ord, Ward assumed duties as the executive officer (XO) of a basic training company where he was assigned many of the duties XO's usually receive such as training officer and mess officer. In August 1966, Ward received orders for Vietnam with the 1st Battalion, 26th Infantry, 1st Infantry Division- the Big Red One. When he reached the division, Ward was told he would serve as a mortar platoon leader, even though he knew nothing about mortars. He would have to go through what was called OJT (on the job training) and learn as he went. Later, Ward ran into his old tactical officer, now Captain Putnam, who was a member of the same brigade. CPT Putnam said if he had known Ward was headed to the 1st Division, he would have tried to get him in his company. Unfortunately, the former TAC was killed in action on November 8, 1966.
Ward's final two months in country were spent with an aviation unit on the coast. There, he became a "short timer" and received orders for his next assignment commanding a training company at Fort Hauchuca, Arizona. Ward was now a captain and enjoyed playing on the battalion's football team. The team's quarterback was Bobby Mercer, an excellent athlete who would go on to fame as an all-star major league baseball player with the Yankees, Giants and Cubs.
As his separation date from the military neared, Ward made the decision to return to civilian life and pursue his goal of becoming a high school teacher and coach. He was at the personnel office where a clerk preparing the paperwork for Ward's discharge asked what his MOS was (military occupation specialty.) Ward, who had enough of fighting in the jungles of Vietnam, wanted another military occupation if he was called back to active duty, so he said "engineer." The clerk then asked what the MOS number was for engineer. Ward did not have a clue, so the clerk looked it up and he was discharged with paperwork listing him as an engineer officer.
On the final day of his military service, one task remained which was to clear post and sign out. Ward was anxious to hit the road and start his drive to California so he asked a friend if he would take the paperwork and sign out for him. The friend agreed to do so, and Ward was heading down the interstate putting the Army behind him when blue lights flashed in his rearview mirror. A trooper pulled him over and asked if he was Captain Ward. When he replied that he was, the trooper told him Fort Hauchuca had put out an alert because he had not signed out properly and he was to return to post. Ward told him he would turn around at the next exit and head back however at the next exit, he headed for home. Ward never heard anything further from Fort Hauchuca.
Ward needed several additional courses before he could get his teaching credentials, so he returned to Chico State and took the necessary classes. His teaching certificate obtained, Ward was hired at Oakmont High School in Roseville, CA where he taught wood and metal shop for 33 years while coaching football and track. Several of the football players he coached made it to the pros including Dan Bunz who played linebacker for the 49ers and Lions.
After retiring from teaching and coaching, Ward has enjoyed working on his cars which include a 31 Ford streetcar, a 67 Nova convertible and a Z-28. Every year he goes with a couple of friends to the Bonneville Salt Flats where one of the friends will race his 32 Ford. Another hobby is working in his vegetable garden and cultivating 100 rose plants. Ward lives in Auburn, CA with his wife, Patti, and they have two grown sons and four grandchildren, two girls and two boys that he likes to spend time with.