Branch: Infantry
Born: July 15, 1942
Deceased: Age 24, April 13, 1967, KIA, 9th Infantry Division, Multiple Fragmentary Wounds, Gia Dinh, RVN
Award: Purple Heart
Interred: Donnellson Cemetery, Montgomery County, IL.
Post from the Vietnam Wall Memorial:  "LT. Black was the company XO. A comrade, a friend and a very good soldier. They just don't come any better than LT. Black. I was a squad leader in his company. He was smart and he was tough and he cared about us. I was there when he received his mortal wound. I'll never forget that scene and I'll never forget him." Posted by:  John Young, Thursday, November 25, 1999.
Memorial For Lieutenant Charles Black
9th Infantry Division – 4/47th Battalion – Charlie Company
"Lieutenant Black was one of the fine officers in Charlie Company when all of us came together in May of 1966, as the 9th Infantry Division was reactivated at Fort Riley, Kansas. He and the other experienced officers and non-commissioned officers worked very hard training us for months before our January, 1967 departure to Viet Nam.
Recently, a friend of mine at work and a former member of Charlie Company, Bill Reed, and I were discussing the Virtual Wall and the fellas that didn't make it back. Bill reminded me that Lieutenant Black had lost his life on April 13, 1967, while attempting to disarm a land mine. Bill and I reminisced how much we had admired Lieutenant Black at Fort Riley and how gung-ho he was in Viet Nam.
Occasionally, I take a look at my old photos, which includes one with our officers and their wives at a celebration dinner. The photo has Lieutenant Black, Lieutenant Jack Benedick (my platoon leader), Captain Larson, and Lieutenant Colonel Tutweiler – along with their wives. I continue, after all these many years, to have fond memories of that time at Fort Riley and of those officers. Those men truly tried their best to prepare all of us for a very ugly business that lay ahead.
Lieutenant Black was a fine man and a professional soldier who really cared about his fellow soldiers. I can only suppose that quality led him to heroically try to disarm that land mine."  Written by Bill Reynolds formerly of the 4/47th.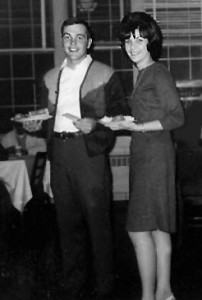 Photo of Lt. Black and his wife, Ida, taken during Charlie Company's party shortly before shipping out to Viet Nam.
Duffy and Ida were married at the Custer Hill Chapel, Fort Riley, Kansas, about one month earlier. (approximately December, 1966).
Charles "Duffy" Black's Story:
Duffy Black grew up in Peoria, Illinois. At age 16, he left home to join the merchant marine and in 1962, after three years of sailing around the world, he joined the army. Black trained to work in air traffic control but wanted a bigger challenge and in 1965, he applied for and was accepted to Infantry OCS at Ft. Benning, Georgia where he wound up in 51st Company of the 5th Student Battalion. Assignments to platoons in OCS companies were made alphabetically and Black became a member of 1st Platoon, with 2LT James Stotts as his tactical officer.
Black had three years of enlisted service (more than many of his classmates) and combined with his experience in the merchant marine, he made it through OCS graduating on January 14, 1966. He was one of 24 new 2LTs from Class 1-66 to receive orders to Fort Riley, Kansas where the 9th Infantry Division was being reactivated.
When he reported to Fort Riley, Black found he had been assigned as the executive officer for C Company, 4th Battalion, 47th Infantry, part of the 9th Division's 2nd Brigade that was slated to  operate in Vietnam's Delta region with the Mobile Riverine Force. But before that could happen, Black and his fellow officers and NCOs would have to train the new recruits arriving directly from reception stations and turn them into soldiers prepared for combat just eight months after setting foot on the Kansas prairie.
Leading men in combat is a skill Black and his classmates learned in OCS and at Fort Riley, long hours were spent teaching the New Reliables, as they were called, how to salute, make their beds, qualify with their weapons and then progress through squad tactics, platoon and company tactics while going from basic training, advanced individual training to small unit operations. Much had to be learned in a few months and there was not a lot of free time, but Black was able to do some dating after meeting Ida, the attractive daughter of the 9th Division postmaster. There was a brief courtship and in October 1966, a wedding took place in the chapel on Fort Riley's Custer Hill, the section of the post where the 2nd Brigade was located.
A photo of Black and Ida taken at the unit's Christmas party in December 1966 is included in "The Boys of '67," Andrew Wiest's account of Charlie Company's formation and the unit's first year in Vietnam.  Wiest interviewed many of the men of Charlie Company years after the war had ended and Black was remembered as a good leader by those who served with him. In the following passage, Wiest describes an interaction Black had with his men as they underwent training at Fort Riley:
Black had a soft side to his personality and was a very religious man, but at the outset of morning calisthenics Black had to be hard-core military through and through. Walking up to the trainees, who stood at attention, Black challenged them by stating that he was stronger and better than they were, and would prove it if any of them wanted to take him on in a pushup competition. In the back of the ranks Tim Fischer, a tough young draftee from outside of Cleveland, Ohio, began to laugh. Black called him to the front and the two men went to the ground facing each other and began. After what seemed an eternity, with the men cheering Fischer on, Black began to tire and turned red in the face. Eventually Black gave up, while Fischer threw in a few one-armed pushups for good measure. Fischer, who had worked as a hod carrier on construction sites for years, then jumped up, not knowing what to expect. Black stood back, complimented Fischer, and shook his hand, while informing his men that from now on Fischer got to go to the front of the chow line every meal.
After Charlie Company arrived in Vietnam on January 30, 1967, unit operations began near Bearcat, where the company was located and around Dong Tam, the area where the company would later move in the Delta. Black, as the executive officer, did not go on the operations as he was told by his company commander that he was needed in the rear to tend to administrative and logistical concerns. It did not please Black that he had to remain in the base camp while the men he had trained were in the field and he begged his commander to let him join the combat operations. One day the company commander was ill, and he relented and allowed Black to take his place in the field. On April 9, the unit was operating in Gia Dinh Provence when they came upon a small campsite where some VC had recently been. As the men were looking around the area, Black found a booby trap that he attempted to disarm with tragic results. The device exploded resulting in multiple fragmentation wounds over Black's body. He was flown to the 24th Evac Hospital in Long Binh where he died two days later,  becoming the third member of Class 1-66 to die in Vietnam (8 more classmates would follow.)
Charles "Duffy" Black was buried in the Donnellson Cemetery, Montgomery County, Illinois. In 1999, one of his former squad leaders, John Young, wrote a post on the Vietnam Wall Memorial that said in part, "LT. Black was a comrade, a friend and a very good soldier. He was smart and he was tough and he cared about us. I'll never forget him."