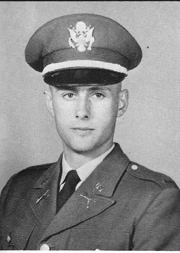 Rank: 1st Lieutenant
Branch: Infantry
Separation Date: December 7, 1967
Number of Years of Service: 3 years and 5 days
Wife's Name: Pat; Children: 2; Grandchildren: 4
City and State: High Point, North Carolina
Civilian Schools & Degree: B.S., Bus. Admin., Boston University.
Summary of Assignments: 1/48th, Inf., 3rd Brigade, 3rd Armored Division, Mechanized Infantry, Gelnhausen, West Germany: Battalion Motor Officer, Company, XO, Company Commander. Discharged and went back to college. Graduated 08/1970.
Jobs/Profession following military: Wine & Spirits marketing, 1970-72; Industrial Abrasives sales and marketing, Norton Company, 1972-2001; Registered Investment Advisor Representative (Generations Investment Advisors, LLC) 2003 to present.
Current hobbies/interests: Radio control airplanes. Retired from auto racing (1977-2005, SCCA, IMSA, NASCAR, NASA, PCA).