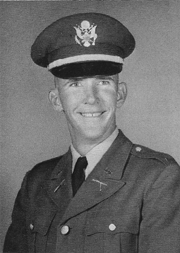 Rank: Major (Ret)
Branch: Infantry with Aviation Specialty
Retirement Date: June 30, 1980
Number of Years of Service: 20
Wife's Name: Mary Emily; Children: 2; Grandchildren: 5
Awards: Good Conduct Medal, Presidential Unit Citation, MUC, RVN Civic Action Unit Citation, Vietnam Cross of Gallantry with Palm, National Defense Service Medal, Vietnam Service Medal (6 campaigns), RVNCM, Army Commendation Medal with "V", Air Medal (19), Air Medal with "V", Bronze Star Medal with 1/OLC, Combat Infantry Badge.
Military Schools: Officer Fixed Wing Aviator Qualification Course, IOAC, Rotary Wing Qualification Course, O-1 Instructor Pilot Course.
Summary of Assignments: 39th Infantry Scout Dog Platoon (RVN) attached to the 173rd Ab Bde, 184th Recon Airplane Co (RVN). 19th /222nd Avn Bn. and HHCUSAG, Fort Wainwright, Arkansas, Army Air Operations Directorate, White Sands Missile Range, New Mexico, Aviation Development and Test Activity, Fort Rucker.
Jobs/Profession following military: Civil Service, 24 years as a Senior Training Developer for the Aviation Center at Fort Rucker. Final retirement 3 March 2004. Currently unemployed and loving it.
Current hobbies/interests: Volunteer with the Friends of Army Aviation-Ozark. Non-Profit 501-C3 organization. We fly and maintain legacy aircraft from the Army ( OH-6 and L-19 Birddog). We provide aerial support for communities who honor and support the military.