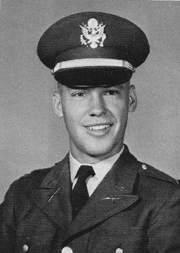 Rank: 1st Lieutenant
Years of Service: 4
Branch: Army Intelligence Service – Army Security Agency
Wife's Name: Pat; Children: 2; Grandchildren: 3
City and State: Albany, Georgia
Civilian Schools: BS Business Administration, Auburn University
Summary of Assignments: 2/1964 – Enlisted in Army Security Agency; basic training at Fort Jackson, SC. After basic training, sent to Fort Devens, MA and completed school for direction finding of foreign transmissions. Applied for Infantry OCS and was accepted for OCS Class 1-66. Upon graduation from OCS, sent to Fort Devens, MA for Basic Officer Course. From there I was sent to Saigon, Vietnam for six months and then to Pleiku for the remainder of my tour. Rotated from Vietnam to Fort Benning, GA and served as the Plans and Operations Officer for the Director of Intelligence. Completed my officer commitment on 12/30/67. I then enrolled at Auburn University to complete my last two years of undergraduate study.
Jobs/Profession following military: After graduation in 1969, I took a management training position with K-Mart Corporation. I spent 7 years with K-Mart primarily in Louisiana. We made a decision to return to Georgia and I worked with Goodwill Industries as the Public Relations and Sales Director. In 1977, I took a position with the Federal Deposit Insurance Corporation as a Bank Examiner. In 1985, I became the Compliance Officer and Auditor for First State Bank and Trust Company in Albany, GA. Later I became a Senior Vice President with First State. First State merged with Regions Bank in 1998, and I continued as Senior Vice President until my retirement in April 2004.
Current hobbies/interests: My wife and I currently operate a web based business in day lilies.  We ship all over the United States. Our website is www.patrongdns.com. I serve as the Treasurer for the Region 5, Georgia American Hemerocallis Society (AHS) and am Co-Chairman for the AHS 2010 National Convention. In addition to these activities, we are doing some overseas travel. We enjoy spending time with our children and grandchildren.