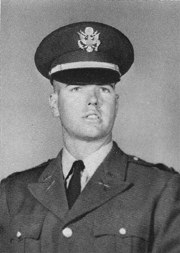 Rank: Lieutenant Colonel (Ret)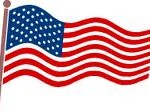 Retirement Date: 1986
Wife's Name: Laurie
City and State: Sacramento, California
Deceased: July 30, 2022
Branches: Infantry & Military Intelligence; Tactical – Strategic Intelligence Officer; Foreign Area Officer, Japan
Awards: Purple Heart, Bronze Star w/2 OLC, Meritorious Service Medal w/1 OLC, Army Commendation Medal w/1 OLC, Vietnam Service Medal w/6 campaign stars, Combat Infantry Badge, Air Medal w/1 OLC, Parachute Badge, Ranger Tab.
Honors: Inducted into the Infantry OCS Hall of Fame at Fort Benning in April 2016.
Civilian/Military Schools: CA State University, Fullerton, California (Bachelor of Arts); California State University, San Diego, California (Master of Arts, East Asian Studies), Infantry Officers Candidate School (1966), Counter Intelligence Officer Course, Fort Holabird, Maryland (1969), Advanced Intelligence Officer Course, Fort Holabird, Maryland (1969-70), Japanese Language Course, DLI, Monterey, California (1972-73), Joint Intelligence Officers Course, Defense Intelligence Agency, Washington, DC (1975), Command and General Staff College, Fort Leavenworth, Kansas (1978-79).
Summary of Assignments: MACV,  RVN; (1966-69), Commanding Officer, Physical Reconditioning Detachment, Camp Zama, Japan;  (1970-71), Intelligence Officer, 101st Airborne Division, RVN; (1971-72), Detachment Commander, 525 Military Intelligence Battalion, RVN; (1972-75), Japan Foreign Area Officer Course, Tokyo; (1975-78), Northeast Asia Analyst, Department of the Army, Pentagon;  (1979-80), Commanding Officer, Military Intelligence Company, Fort Ord, California; (1980-81), Director, Battle Simulations Division, Fort Ord, California; (1982-84), Director, Political Military Research Division, HQ, US Army, Camp Zama, Japan; (1984-86), Chief, Force Modernization Branch, I Corps, Fort Lewis, Washington.
In 1966, as a 2LT, Infantry, I was assigned to MACV Team 2 in Quang Ngai Province, south of DaNang as an Infantry Advisor to the 2nd ARVN Division. I arrived in country on October 3, 1966 and 10 days after arrival I was wounded and MedEvaced to Japan where I was reassigned for the next two years due to my leg nerve damage from a bullet wound.
I stayed in the Army, transferred to Military Intelligence, attended Intel schools and went back to Vietnam in June 1970. I spent my first year in Vietnam with the 1st Brigade, 101st Airborne Division located at Camp Eagle, north of Hue as a Brigade Intelligence Officer. Camp Eagle got rocketed about once a month and we had a busy year with Firebase Ripcord (over run) and Lan Son 719, the invasion of Laos. After one year with the 101st, I extended my tour of duty and transferred to the 525 MI Battalion.
After the US Forces withdrew in the winter of 1971, the NVA attacked across the DMZ in the spring of 1972 and almost got Hue. My little 5 man US Detachment was one of the only US Forces north of DaNang and we sent combat reports back to MACV. I was told to evacuate my unit to DaNang, because my predecessors unit in Hue had been captured. I stalled and did not evacuate.
Jobs/Profession following military: After I retired from the Army in February 1986, I moved to Sacramento, California and went to work at the State Legislature for an old friend of mine who had been elected to the Assembly. I worked at the State Legislature for ten years until 1996, eventually becoming a Chief of Staff to an Assemblyman and also served as the Chief Consultant to the Assembly Utilities and Commerce Committee.
In 1996, I started a small independent lobbying firm and am still working. I remarried in 1994 and we have a 14 year old son. My wife and son keep me young. In my lobbying business, I represent several veteran service organizations and have been involved in over 500 legislative bills dealing with military and veterans issues.
I am most proud of establishing a prison diversion program for military and veterans in trouble with the law due to PTSD and laws to prosecute Stolen Valor phonies. I also coordinated the 20th Anniversary ceremony in 2008 for California's Vietnam Veterans Memorial and worked to pass legislation last year which was signed by Governor Schwarzenegger declaring March 30th, every year, as California's "Welcome Home Vietnam Veterans Day".
I am currently President, Pete Conaty & Associates, in Sacramento, California.
Pete Conaty's Story-  (Part 1)
I was born in Sacramento, California on November 26, 1939 and raised in Orange County in Southern California.  I attended Mater Dei High School, Orange Coast College and earned a B.A. from California State University, Fullerton, in 1964.  Orange County is home to El Toro Marine Corps Air Base.
While in college, I worked in restaurants with many former Marines and at the County Juvenile Hall with retired Marines.  I always wanted to join the Marines since I was a young boy.
Beginning in 1950, during the Korean War, I followed the war with a National Geographic map of Korea, using pins to follow the progress of the war.  From the beginning, the Pusan Perimeter, the Inchon Landing and the Chinese Invasion, the Chosin Reservoir battles.  General MacArthur was my hero and as a Catholic in school, I learned about the Soviet Union and Communism.
I also began reading and following what was called the French Indo China War which was won by the communists in 1954 and Vietnam was split in two, North and South.  I continued to follow events in Vietnam starting in 1950 until the war was over (and even to this day).
While at Orange Coast College (1957-59), I became friends with a student from Vietnam named Pham Xuan An.  We were both on the student newspaper and student government and we hung out together in the student dormitories (WWII barracks).  He claimed to be apolitical.  He became well known on campus especially after he saved the life of the dorm resident who tried to commit suicide.  He returned to Saigon and I lost track of him after college.  Because of his time in America, he became the major interpreter/translator for many of the big-name newspaper and television reporters sent to Vietnam beginning in the 1960s.
After the war it was revealed that he had been a North Vietnamese spy and had been sent to America to learn about us.  Several books have been written about him.  All the big-name reporters he worked for swear that he never influenced how they wrote about the war, but I believe he influenced how they covered the war.
Another significant event was at Cal State Fullerton 1961-1964, there was a U.S. Army ASA veteran who served in Vietnam in the early 1960s in Saigon.  He had gotten to know and dated the daughter of Madame Nhu, (aka the Dragon Family), wife of President Ngo Dinh Diem's brother who was head of the secret police.  Madame Nhu and daughter were touring and speaking in the U.S. in 1963 and I met her and her daughter in Los Angeles with a small group of students.
Shortly after that meeting, her husband and the President were assassinated by Vietnamese Army Generals.  That began a period of military coups in Vietnam about every 6 months and resulted in the increase in U.S. forces in Vietnam.  I knew a lot about Vietnam before I joined the army and I knew what I was getting into.  I wanted to go to war and then get into Republican politics like after WWII when returning veterans were elected to Congress.
In 1964, I graduated from college and as planning on going to USMC Officer Candidate School in 1965.  I was also looking into Army Reserve Units to join at the same time.  In early 1965, I was told that there was a one year wait to get into Marine OCS.  I also was offered a position in a U.S. Army Reserve Unit nearby with a six-year commitment.  I turned down the Reserve Unit offer and the next day went down and signed up for the U.S. Army college option program for OCS.
I enlisted on February 28, 1965 and was flown from California to Fort Jackson for in-processing and then to Fort Gordon for Basic Training in (A Co, 5 BN, 2nd Tng Regt) and A.I.T. (D Co, 7th BN, 3rd Tng Regt) with other college ops candidates going to Fort Benning for OCS-1-66, 51st Company.  There was a total of 23 college ops in who began 1-66 and 17 graduated from OCS Class 1-66.
The college ops became a fairly tight group at Basic and A.I.T. going to the PX, the movies and hanging out together at OCS when we got weekend passes. After OCS graduation, I went through Airborne School and the Ranger Course.  Tom Evans was my roommate at OCS and my Ranger buddy.  I made it through Ranger Course with a lot of help from Tom.
After Ranger School and leave, I was assigned back to Fort Benning Infantry School.  When I reported in, at each stop I specifically asked not to be assigned to OCS.  Needless to say I was assigned to 50th Company as a TAC Officer.  After four weeks, I called Infantry Branch and volunteered for Vietnam.
I picked up a platoon in its 9th week and did to them that which I had learned from my TAC Officer 1st LT Dan Cerone.  (Imitation is the sincerest form of flattery Dan)
After 9 weeks of being a TAC officer, I had my orders for Vietnam.
I had asked to be assigned to MACV because another TAC officer had gotten the MATA Course (6weeks) at Fort Bragg and the Vietnamese Language Course (9weeks) at DLI Monterey California.   I got neither course and went to Vietnam to go to MACV as a untrained butter bar.  I arrived on October 3, 1966 in Saigon and after processing where I was issued a M1 Carbine, the only weapon we never trained on.  I was sent to DaNang and flown to Quang Nagi City, Quang Nang Province (south of Chu Lai) to be an Assistant Battalion Advisor to the Second ARVN Division.  To be continued….
Lieutenant Colonel Peter M. Conaty:  OCS Hall of Fame Nomination
Commander
3-11 Infantry Battalion (OCS)
ATTN: Captain Jefferson A. Davis
6510 McViegh Drive
Fort Benning, GA 31905-4410
September 29, 2015
Subject: OCS Hall of Fame Nomination (Lieutenant Colonel Peter M. Conaty,
U.S. Army (Retired)
Dear Sir:
With this letter, I nominate Lieutenant Colonel Peter M. Conaty, USA Retired, for
induction into the Officer Candidate School Hall of Fame.
I have known Pete Conaty since we started Officer Candidate School (OCS) together in July 1965, and have followed his career both in and out of the military since then. Consequently, I can report that his record of public service has brought great honor to the Officer Candidate School and that by recognizing his accomplishments and inducting him into the OCS Hall of Fame, the Officer Candidate School will add luster to its own history of service to the United States.
LTC Conaty's potential as an Army Officer was demonstrated early in his career when he was selected to remain at Fort Benning to serve as a tactical officer upon graduation. From that assignment, after completing airborne and ranger training, he deployed to Vietnam where he was assigned to the U.S. Military Assistance Command, Vietnam (MACV). As an assistant battalion advisor serving in the field with a South Vietnamese Army unit, he was so severely wounded that he was evacuated to Camp Zama, Japan. Just as his ability was recognized in OCS and he was made a tactical officer after graduation, he went from being a patient in the Physical Rehabilitation Company to being its commander. After completing that command tour, he was pulled up to Headquarters USA Garrison Japan, where he served for two years as Assistant S2/S3. During that time, he transferred from the Infantry into the Military Intelligence Branch and then volunteered to return to Vietnam.
Back in Vietnam, he was the Intelligence Officer/ S-2 for the 1st Brigade, 101st Airmobile Division. At the completion of his tour with the 101st, he voluntarily extended for another year in Vietnam and became the commander, Detachment B, 1st Battalion, 525th Military Intelligence Group. In the Spring of 1972, when the North Vietnamese Army invaded South Vietnam, he commanded the Joint American/Vietnamese intelligence unit at Hue/Phu Bai, Northern I Corps, the only American intelligence unit north of Da Nang. When ordered to evacuate, he delayed their departure until he could have those orders countermanded. As a result, his counterparts also remained on station and he was able to continue reporting on the North Vietnamese Army's advance into South Vietnam, providing key intelligence information to MACV during the invasion.
After returning from Vietnam, Captain Conaty was selected to become a Japanese
specialist under the Army's highly selective Foreign Area Officers Program (FAO), making him the first officer to receive such training after the program reopened at the end of the Vietnam War. As such, he received training to become a Japanese linguist at the Defense Language Institute, Monterey, California, and then he was assigned to San Diego State University where he earned a Master of Arts Degree in East Asian Studies. Upon completion of the U.S. phase of his FAO training, he was assigned to the Defense Attaché Office, US Embassy, Tokyo. Next, he was assigned to the Army Staff in Washington as a current intelligence analyst for North East Asia, in the office of the Assistant Chief of Staff for Intelligence, Department of the Army.
After a second prestigious national command authority level assignment, he returned to the fighting level of the army where he initially served as the Intelligence Officer S-2, 1st Brigade, 7th Infantry Division. Next he commanded the 7th Division Military Intelligence Company, and finally assigned to the G-3 Section as Chief, 7th Division Battle Simulation Division.
In 1982 he returned to Japan where he was assigned to the Headquarters, US Army
Japan (USAJ) as the senior liaison officer to the Japan Self-Defense Force (JSDF). During that assignment he was instrumental in changing what had been a liaison office into a full-fledged political military section under G-3, USARJ, which increased the pace of joint actions and contacts with the JSDF dramatically.
In 1986, LTC Conaty retired from the Army after 21 years of distinguished service. His amazing career and assignment pattern clearly demonstrate that there is no level of service that an OCS graduate should not aspire to and that there is no level of service that he, or she, cannot excel. While LTC Conaty's active duty service makes him a shining example of the high quality of the officers produced by OCS, his post-army career was just as exemplary and just as worthy of recognition.
After he retired in 1986, he went to work as a legislative services staffer within the
California State Assembly. From that initial entry position, he quickly became a policy consultant for several legislative committees, and eventually became the Chief Policy Consultant for the powerful Utilities and Commerce Committee. During that period, he was selected to become the Chief of Staff for one of California's most powerful legislators. As one of the few veterans working within the California State Assembly, he became the principle advocate for veterans' affairs and was referred to as "Mr. Veteran."
In 1996, Mr. Conaty left the State Legislature and established his own government
relations firm, Pete Conaty & Associates. Since then, he has provided veterans service organizations as well as other clients with expert advice and effective guidance in both Washington D.C. and California. Every year his firm sponsors, supports, and tracks anywhere from 50 to 70 pieces of legislation relating to veterans and their families; to date his name appears on over 1000 pieces of legislation dealing with veteran's affairs in California. The following are the veterans' organizations that he currently represents:
American Legion, Department of California
AMVETS, Department of California
California Association of County Veterans Service Officers
California State Commanders Veterans Council
Military Officers Association of America, CA Council of Chapters
Veterans of Foreign Wars, Department of California
Vietnam Veterans of America, California State Council
While I can write that his impact on veterans in California has been significant, only one who has firsthand experience working as a veteran's advocate in California can explain Mr. Conaty's impact on California veterans. Major John E. Cleckner Sr. U.S. Army (Retired), a nationally recognized veterans affairs advocate, a Special Forces Hall of Fame member, and a current nominee for the OCS Hall of Fame, sent the following email to me when he learned I intended to nominate Mr. Conaty for the OCS Hall of Fame.
Jerry, I commented to you, sometime back, about Pete's incredible resume on Veteran's affairs in the State of California. Understand that Pete assisted and advised the lead players in everything, and I mean everything that happened to Veterans, dependents, Widows, and Orphans in the State of California. For the last twenty-five to thirty years, that I am aware of, Pete Conaty was, and is, the Lead/Number one Veteran in the State of California.
Pete worked directly with the California County Veteran Service Officers (VSO). He advised them, he fought for the funds to support their offices, and he wrote and supported legislation that affected every Veteran and their dependents in the State of California.
As he was the Chief of Staff for a very powerful California Assemblyman, his efforts were at the highest legislative level of state government. Today, as "THE" lead lobbyist advocating for the two million veterans and their dependents in the state of California, his mark is on every positive element regarding Veterans in the State of California. He has raised money to build memorials to Veterans, and especially the California Vietnam Veterans Memorial [a place of honor for the 5,822 Californians who made the ultimate sacrifice in Vietnam].
I hope this helps you with Pete's nomination letter. John
With regard to the California Vietnam Veterans Memorial John mentioned above, Pete Conaty not only "raised money," he was the Chairman of the Fundraising and
Government Affairs Liaison Committee.
Among the awards Mr. Conaty has received, six are listed below to demonstrate that his support of veterans has not gone unnoticed in California:
2015: The California Department of Veterans Affairs Secretary's Award for his invaluable contribution to California veterans.
2014: Patriot Award, awarded by the US Selective Service System.
2010: The California Department of Veterans Affairs Secretary's Award for his invaluable contribution to California veterans.
2009: Recognition for outstanding contributions to the creation of the California Purple Heart Monument, awarded by Military Order of the Purple Heart-Department of California,
2008: Burt Herman Citizen of the Year Award, awarded by the Jewish War Veterans of America Department of California.
2008: Member of the Year, awarded by the Vietnam Veterans of America California State Council.
In closing, I feel that Lieutenant Colonel Peter M. Conaty's accomplishments clearly
demonstrate a lifetime of service to this nation and the veterans that this nation owes so much. While his active service was exceptional, and deserving of special recognition, his support of the veteran's community after his retirement is so significant that he deserves induction to the OCS Hall of Fame and I therefore take immense pride in nominating him.
Sincerely,
Jerry R. Fry
Colonel, U.S. Army (Retired)
                                           Peter Conaty – Obituary
November 26, 1939 – July 31, 2022
Healdsburg, California – Peter Michael Conaty died Sunday, July 31 at his home after a short battle with pancreatic cancer.
Over his 82 years, Pete lived a fascinating life, including several distinguished careers. He was born in Sacramento, CA on November 26, 1939 and raised in Newport Beach. He attended Mater Dei High School in Santa Ana and earned a bachelor's in history from CSU Fullerton. He eventually returned to Sacramento to raise his family.
Serving the military was a central part of Pete's life. He served 21 years in the U.S. Army, retiring as a Lt. Colonel in 1986. Pete was a graduate of the Officer Candidate School at Fort Benning, GA, and inducted into their Hall of Fame in 2016. As a member of the famed 101st Airborne Division, Pete served two tours of duty in Vietnam, earning a Purple Heart for wounds received in his first tour. He also served as an Army Ranger and military intelligence officer, receiving many medals and awards, including three Bronze Stars, a Meritorious Service Medal, and an Army Commendation Medal.
During his Army career, he earned a master's in East Asian Studies from CSU San Diego, and studied Japanese at the Defense Language Institute in Monterey.
Following his time in the Army, Pete was passionate about continuing to serve and advocate for his fellow veterans at the state and federal level. Pete joined the California State Assembly as a Legislative Aide in 1986 and spent the next decade in a variety of roles, including Chief of Staff.
Starting in 1996, Pete founded and operated an independent lobbying firm representing a wide range of clients before the Legislature and other state agencies, including veterans organizations, museums, business, and labor groups. During these years, Pete was recognized with many awards, including the CA Department of Veterans Affairs Annual Secretary's Award on two occasions. After moving on from lobbying in 2018 and until his passing, Pete continued tirelessly advocating for veterans as a consultant.
Professionally, Pete was most proud of establishing a prison diversion program for military and veterans in trouble with the law due to PTSD. He also coordinated the 20th anniversary ceremony for California's Vietnam Veterans Memorial in 2008 and worked to pass legislation declaring March 30 as California's "Welcome Home Vietnam Veterans Day."
Pete is survived by his wife of 28 years, Laurie Reade Conaty; his beloved children, Patrick Conaty (Ashley), Kathleen Richards (Jeff), Sean Conaty (Quinn), Justin Smith (Adryanna), and Christopher Conaty; and his four beautiful grandchildren, Lucy, Bailey, Joseph, and Liam. He is also survived by his sister, Ann Blacker (Robert), and brother, Paul Conaty (Joan); his nieces and nephew; as well as the brotherhood and sisterhood of veterans and many friends. He was predeceased by his brothers, Mark Ries Conaty and Francis Joseph Conaty.
A memorial service will be held at Sacred Heart Church (1040 39th Street, Sacramento) on Thursday, August 11 at 11 a.m.
In lieu of flowers, please consider making a donation in memory of Pete to support California veterans through AMVETS Department of California Foundation or another veteran organization.