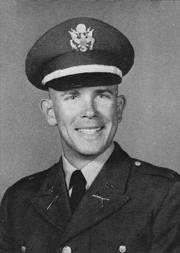 Rank: Major (Ret)
Branches: Infantry, AG Corps
Number of Years of Service: 20
Number of Children: 2; Number of Grandchildren: 2
City and State: Natchez, Mississippi
Awards: Bronze Star w/1 OLC, Meritorious Service Medal w/1 OLC, Air Medal w/4 OLC, Joint Service Commendation Medal, Army Commendation Medal w/1 OLC, AAM w/1 OLC, Good Conduct Medal, National Defense Service Medal, Vietnamese SRVC Medal w/9 SRVC Stars, Army SRVC Ribbon, Overseas Ribbon (#2), Vietnamese Cross of Gallantry with palm, Vietnamese Honor Medal 1st Class, Vietnamese Campaign Medal, 4 Unit Citations, 5 Overseas Service Bars.  Combat Infantry Badge, Parachutist Badge, Ranger Tab.
Summary of Assignments: BCT Training Officer, Fort Ord, California; PsyOps Officer, RVN; BCT Company Commander, Fort Lewis, Washington; PsyOps Company Commander, RVN; Infantry Company Commander, Alaska; Personnel Officer/AG, Alaska; Personnel Officer/AG, Fort Rucker, Alabama; S1/Adjutant (Army Section), US Military Assistance, Saudi Arabia (2 Tours); Chief, Admin Services (Forces Command), Fort McPherson, Georgia; S1/Adjutant (Field Artillery Training Center), Fort Sill, Oklahoma; Deputy Installation AG, Fort Sill, Oklahoma.
Jobs/Profession following military: Teacher Assistant @ Elementary School, Grades 2-6, since January 1993.