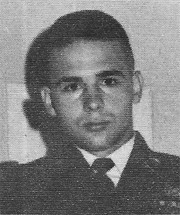 Rank: Colonel (Ret)
Years of Service: 30
Retirement Date: January 1, 1991
Branches: Infantry/Aviation
Wife's Name: Christine; Children: 4; Grandchildren: 5
City and State: Sarasota, Florida.
Awards: Legion of Merit (3), Distinguished Flying Cross,
Bronze Star, Purple Heart, Air Medal w/V Device (2), Air Medal (26)
Honors: Inducted into the Infantry OCS Hall of Fame in 1990.
Badges: Combat Medical Badge
Schools/Degrees:
B.S. Economics, University of Nebraska, Graduate Work Xavier University, Ohio.
Armed Forces Staff College, Norfolk, Virginia.
Summary of Assignments:
Special Forces – Enlisted: A Team, Two tours as a Special Forces Medic.
Tactical Officer, 2nd Platoon, 51st Company OCS, Fort Benning, Georgia.
Aviation – Two tours as a Bird Dog Pilot, The Delta and I Corp.
G-3 Avaition, 18th Airbourne Corps. Fort Bragg, North Carolina.
NATO Exchange Officer – Ottawa, Canada.
Director of Enlisted Accessions, DESPER. The Pentagon.
Director of Recruiting Operations, USAREC. Fort Sheridan, Illinois.
Brigade Commander, 1st RCT Brigade. Fort Meade, Maryland.
Post Military:
Regional Director for Honewell Security. Atlanta, Georgia.
Director of North American Operations for Honeywell International. Minneapolis, Minnesota.
Hobbies/Interests:
Golf and volunteer work in the community.
(Click on image)