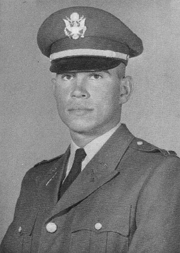 Rank: Lieutenant Colonel (USAR Ret)
Branch: Infantry
Retirement Date: August 12, 2002
Wife's Name: Marilyn; Children: 5; Grandchildren: 2
City and State: Southington, Connecticut
Awards: Combat Infantry Badge, Bronze Star w/OLC, Purple Heart, Meritorious Service Medal, Good Conduct Medal, Army Commendation Medal, National Defense Service Medal, Vietnam Service Medal, Armed Forces Reserve Medal, Army Service Ribbon, Vietnam Campaign Medal, Vietnam Cross of Gallantry w/palm, MUC/S, RVCA.
Civilian/Military Schools/Degrees: PA, Business and Administration, Duquesne University; Electrical Engineering, University of Dayton; DoN IG Course, Washington, D.C.; Commercial Communication Officers Course, Atlanta; National Security Course, Fort McNair; Logistic Pre-Command Course, Fort Eustis and Fort Lee; Director of IM Course, Fort Gordon, Unit Manager Course, ARRTC; Director of Logistic Course, Fort Lee; Command and General Staff College, Non-Resident; Battalion/Brigade Pre-Command Course, Fort Jackson; IG Course, Pentagon; Quartermaster Officer Advance Course, Aberdeen Proving Grounds; CBR Officer Course, Fort Meade; Communication Officer Course, Fort Sill; Officer Candidate School, Fort Benning.
Summary of Assignments: Active Duty: Communications Officer, 4/47th Infantry, 9th Infantry Division, RVN, (March 1966 – December 1967); Platoon Leader, Airboat Platoon, 9th Infantry Division, RVN, (January 1968 – March 1968); Senior Liaison Officer, Thai Queen's Cobra Regiment, 9th Infantry Division, RVN, (April 1968 – July 1968); Staff Liaison Officer, Thai Black Panther Division, II Field Forces, RVN, (August 1968 – February 1969). USAR Not on Active Duty: Transportation Officer, Storage Quality Control Officer, HQ, 443 Field Depot, 99th ARCOM, Leetsdale, Pennsylvania, (March 1969 – May 1976); G-3 Operations Officer, Assistant IG, IG, Chief, W&E Pool, S&S Battalion, A/CS G-4, A/CS IM, Commander, W&E Battalion, D/CS IM, all with HQ, 76th Division (Training), West Hartford, Connecticut.
Jobs/Profession following military: DoD Contract Administrator, Windsor Locks, Connecticut; DoN Internal Review-SUBASE, Groton, Connecticut; DoA IM; & DoA Internal Review, West Hartford, Connecticut; Private Industry HR/Labor Relations-Plainville & Cheshire, Connecticut; Pittsburgh, Pennsylvania.
Current hobbies/interests: Member of ROA, AUSA, MOAA, VFW, BBB Arb.  Enjoy Flying, Shooting, Skiing, Bicycling and Running