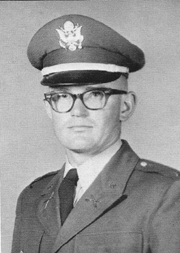 Rank: 1st Lieutenant
Branch: Infantry
Separation Date: Active Duty, November 1967.
City and State: Alcoa, Tennessee
Awards: Bronze Star, Air Medal, Vietnam Campaign Medal, Vietnam Service Medal, National Defense Service Medal, Parachutist Badge.
Schools/Degrees:
Bachelor of Science, Health and Physical Ed., Tennessee Tech, 1964.
U.S. Army, BCT & AIT, Fort Gordon, Georgia, 1965.
Infantry OCS, Fort Benning, Georgia, July 1965 – January 1966.
Airborne School, Fort Benning, Georgia, 1966.
Chemical Warfare Course, Fort Ord, California, 1966.
Psychological Operation Officer Course, Fort Bragg, North Carolina, 1966.
Master of Science, Recreation, University of Tennessee, 1969.
Master of Science, Fitness and Wellness, Memphis State University, 1989.
Master of Public Administration, University of Memphis, 2000.
Summary of Assignments:
BCT Training Officer, Fort Ord, California., February 1966 – July 1966.
Psychological Operations Officer, 246th Psychological Operations Company, Bien Hoa, Republic of Vietnam, November 1966 – November 1967.
Jobs Following Military:
Superintendent of Recreation, City of Belleville, Illinois, 8 Years.
Recreation Specialist, Tennessee State Parks, 30 Years.
Retired: August 2012.
Hobbies/Interests: Reading, Walking, Bowling.
The Story of James L. (Jimmy) Hammontree
As told to interviewer, Cliff Gehrt, 51st Company OCS roommates.
Jim Hammontree grew up in the small town of Vonore, Tennessee, about 31 miles east of Knoxville. He graduated from high school in 1960 and went to college at Tennessee Polytechnic Institute (now Tennessee Technological University) in Cookeville, TN. Jim graduated in June 1964 with a Bachelor of Science degree in Health and Physical Education that included a teaching credential. He taught science at a middle school for one semester.
Jim was exempt from the draft because of being in a critical occupation as a teacher. However, at the time, he decided he wanted to be more than a teacher so in January 1965, he went to see an Army recruiter to discuss the officer program. Because he had a college degree, the recruiter told him he would be guaranteed to go to Infantry OCS at Fort Benning, Georgia under the College Option Plan, but first he would have to attend BCT and AIT. Jim enlisted in the Regular Army (RA) and was flown to Columbia, SC where he was picked up by a minivan at the airport and taken to the reception station, Ft. Jackson, SC. It was at Ft. Jackson that Jim meet 22 other College Ops, all designated as officer candidates who would attend OCS Class 1-66 starting on 18 July 1965.
About a week was spent at Ft. Jackson, processing, getting uniforms, GI haircuts and being taught skills like how to make up a bed (or a "rack") properly. Jim indicates that there was a private that gave him and other college ops a hard time while at Ft. Jackson. The private was relentless at bossing the ops around, and Jim never forget the occasion. Later, he would discover that the private who had given him and others a hard time was a soldier who would also be a member of OCS Class 1-66. The future officer candidate was in the 1st platoon of 51st Company and it was none other than Ray Angeli.
From Fort Jackson, Jim and the 22 college ops were put on a bus at night and headed to Ft. Gordon, GA, for BCT and AIT. It was at Ft. Gordon that Jim and other college ops were first put in leadership positions. After AIT, Jim was given a 2 week leave before reporting to OCS no later than 1200 hours on Sunday, 18 July 1965. The night before reporting, many of the college ops gathered at the Black Angus motel and restaurant for a final get together and party but Jim missed the event as he visited a friend. It would be a while before they could again relax and have a good time.
Jim recalls that in OCS, Wayne Eagle was his roommate. When given off-post privileges, Wayne, who had a vehicle, would drive Jim and others to and from the Black Angus, a favorite destination. He remembers having to sneak to the laundry and go to church for as long as possible with 2nd platoon candidates to avoid harassment from the senior candidates in 50th Company. Jim also recalls a pogey bait party but no food arrived, so TAC Cerone made everyone get into the cold showers with fatigues on. Then there the time there was bad weather, so the company wore ponchos while marching to a class in Building Four. A storm, however, knocked out the power and the class had been cancelled. The tactical officer took the opportunity to get in some additional physical training and made the candidates double time around a field while wearing their ponchos which created a hot sauna bath with lots of sweating.
As the candidates went through OCS, they were rotated in and out of leadership positions. The following is how Jim remembers his stint as company commander. "I assumed my position on a Sunday and was in charge until retreat the following Wednesday. I experienced a few problems but continued my duties as the company commander. We finished a class at Building Four and headed back to the company area for retreat. Relief was in sight, or so I thought. I asked  Candidate Tillman to call cadence and he obliged.  However, he usurped my command and gave an order for column left when we reached the street. I relieved him of his duties and told him to fall in. The TAC may have told him to issue the command to see how I would handle the situation. Things were going well until it was time to enter the company area. Unfortunately, I called column right instead of column left. I had to stop the company while the First Platoon leader (I think it was Burke) was dropped for pushups because he had executed a column left instead of the erroneous column right that I gave. He arose and we continued on our way. For some reason I looked over my right shoulder and the TAC had made the last three platoons execute a column right. When I attempted to correct the situation, the TAC told me to assume the front leaning rest. I called the XO over to assume command of the company while still in the front leaning rest. After retreat had been sounded and Marv Sessions assumed command, I was allowed to stand upright."
When he graduated from OCS, Jim had signed up for Airborne and Ranger schools. He completed the Airborne training but was not able to attend Ranger School. The way Jim tells it, Quentin "Pete" Cowman was headed for Ft. Ord, CA when someone in his immediate family became ill, and Pete had to name a replacement to take his place and he selected Jim. So, instead of Ranger School, Jim went to Ft. Ord to be a BCT training officer from Feb. 1966 to July 1966. From Ft Ord, Jim and 12 classmates from 51st Company, were assigned to the Psychological Operations Officer School for 10 weeks at Ft. Bragg, NC. Upon completion of the course in November 1966, Jim boarded a C141 Starlifter aircraft at McGuire AFB with only 35 "first class seats" and the rest cargo, for a long flight to Tan Son Nhut, South Vietnam. From November 1966 to November 1967, Jim was assigned to the 246th Psychological Operations Company at Bien Hoa, Vietnam along with four of his OCS classmates (Brinson, Boozer, Pevey and Sessions.) In November 1967, Jim completed his active duty and DEROS'd back to civilian life.
The following are Jim's educational achievements, in addition to a Bachelor of Science degree:
1969, University of Tennessee, completed a master's degree in Recreation Leadership.
Fall of 1969 to spring 1973, University of Illinois, worked on a PhD.
1989, Memphis State University, completed a master's degree in Fitness, and Wellness and in 2000, a master's degree in Public Administration (University of Memphis.)
Jim's career path includes the following:
1973-1976, Recreational Director at the Tennessee School for the Deaf.
1976-1985, Superintendent of Recreation, Belleville, Illinois.
1986-2012, Tennessee State Parks, various management positions, retiring Aug. 31, 2012, at age 70.
In 2018, Jim ran for county commissioner, in Blount County, Tennessee. The election results showed that he won by a narrow margin, beating the incumbent by 12 votes. His 4-year term expires August 31, 2022.  In 2022, Jim plans to run for county mayor. He currently resides in Alcoa, Tennessee, and his hobbies are reading and walking. Jim would be happy to hear from any of his 51st Company classmates.