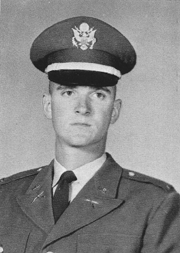 Rank: Captain
Branch: Infantry
Separation Date: July 5, 1968
Number of Years Served: 4
City and State: Santa Barbara, California
Awards: Combat Infantry Badge, Purple Heart (w/OLC),
Bronze Star (w/OLC and "V" Device), Silver Star, Vietnam Cross of Gallantry (Individual).
Civilian/Military Schools & Degrees: Airborne School, Ft. Benning, GA; University
of Colorado, Antioch University, BA Clinical Psychology, MA Clinical Psychology.
Summary of Assignments: Mortar Platoon Leader, 3rd Armored Division, Ulm, Germany;
Company Commander, 3rd Armored Division; Rifle Platoon Leader, 1st
Brigade, 2/502, 101st Airborne Division; Commandant, 101st
Training School, Phan Rang, Vietnam.
Jobs/Profession following military: Photographer (India, Pakistan, Afghanistan,
Thailand); Drilling Fluids Engineer (Dubai, Egypt, Pakistan, India, and The
Sudan); Veterans Vocational Counselor, State of California; Readjustment
Counselor, VET Center, Oakland & Eureka, California.
Current hobbies/interests: Photography, Graphic Art, Gardening/Horticulture, Travel.