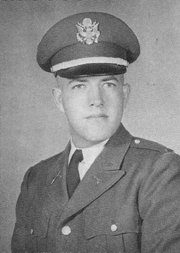 Rank: Lieutenant Colonel (Ret)
Branches: Infantry, Signal Corps
Retirement Date: July 31, 1989
Number of Years of Service: 26
Wife's Name: Elizabeth "Liz"; Children: 2; Grandchildren: 2
City and State: Lakewood, Washington
Awards: Certificate of Accomplishment, November 13, 1964, Fort Gordon, Richmond, Georgia, USA; Combat Infantryman's Badge, June 12, 1967, Tan Tru, Long An, Viêtnam; Air Medal, June 12, 1967, Tan Tru, Long An, Viêtnam; Bronze Star Medal, October 31, 1967, Tan Tru, Long An, Viêtnam; Army Commendation Medal, January 5, 1969, Washington, D.C.. USA; Bronze Star Medal, Second Oak Leaf Cluster, September 8, 1971, Phu Bai, Binh Tri Thien, Viêtnam; Bronze Star w/1st Oak Leaf Cluster, October 27, 1971, Phu Bai, Binh Tri Thien, Viêtnam; Army Commendation Medal, First Oak Leaf Cluster, October 10, 1974, Worms, Rheinland-Pfalz, DEU; Meritorious Service Medal, February 14, 1979, Fort Lewis, Pierce, Washington, USA; Meritorious Service Medal, First Oak Leaf Cluster, February 7, 1982, Worms, Rheinland-Pfalz, DEU; Meritorious Service Medal, Second Oak Leaf Cluster, May 29, 1985, Atlanta, Fulton, Georgia, USA; Legion of Merit, May 2, 1989, Frankfurt am Main, Hessen, DEU;
Civilian Education: University of Wisconsin, Madison; University of Nebraska, Omaha, August 31, 1970, Bachelor of General Studies – History; University of Southern California, June 4, 1981, Master of Science, Systems Management.
Military Education: Basic Leadership Course, 2 Weeks, June 1964; Leadership Course, 2 Weeks, September 1964; Infantryman Officer Basic Course, 8 Weeks, November 1966; OCS Course, 24 Weeks, January 1966; Infantry Communications Officer Course, 8 Weeks, April 1966; Signal Officer Advance Course, 24 Weeks, December 1969; Command General and Staff College Course, 32 Weeks, July 1976.
Summary of Assignments: Communications Officer, 2nd Bn, 60th Infantry, 9th Infantry Division, Fort Riley, Kansas and Tan Tru, Vietnam; Instructor, Signal Officer Basic Course, Fort Gordon, Georgia; Student, Signal Officer Advanced Course, Fort Monmouth, New Jersey; Communications Officer, 39th Eng Bn, 45th Eng Gp, 18th Eng Bde, Chu Lai, Vietnam; Commander, 63rd Signal Company, Camp Evans & Hue, Vietnam; Commander, 596th Signal Company, Phu Bai & Camp Eagle, Vietnam; Executive Officer, STRATCOM Support Bn, Schwetzingen, Germany; Commander, Area Maintenance and Supply Facility, Mannheim, Germany; Operations Staff Officer, Staff Operations Committee, Command and General Staff College, Fort Leavenworth, Kansas; Section 20, Class of 1976, Command and General Staff College, Fort Leavenworth, Kansas; Logistics Officer, 1st Signal Group, Fort Lewis, Washington; Operations Officer, 58th Signal Battalion, Fort Lewis, Washington; Chief, Maintenance Division, DCSLOG, 5th Signal Command, Worms, Germany; Chief of Plans, Operations and Exercise Branch, Communications – Electronics, Forces Command, Fort McPherson, Atlanta, Georgia; Deputy Brigade Commander, 22nd Signal Brigade, V Corps, Frankfurt-Höchst, Germany; Deputy Chief of Staff for Information Management, V Corps, Frankfurt, Germany; Deputy Sub-Community Commander, Frankfurt-Höchst, Germany;
John Schuck's Story
An Army Option
14 May 1964 – 14 Jan 1966
John F. Kennedy was assassinated in November 1963 and I watched the subsequent capture of Lee Harvey Oswald and his murder by Jack Ruby a few days later. I was appalled, I had not been a supporter of nor did I vote for President Kennedy but I could not believe anyone would think that assassination could change the direction or the politics of the United States. I decided to join the United States Army.
I enlisted in the service in 1964 and told the recruiter, "I would like a commission!" He said, "Then the best thing you can do is sign up 'RA-unassigned' and then you will be ready." It seemed to make sense to me and I didn't even notice the recruiter's smile as he filled another quota. . I was naive and thought his suggestion made sense and decided this would be an easy path. I did not know that his job was to recruit more infantry than any other MOS (Military Occupational Specialty) so my wish fit his needs perfectly.
I went to Milwaukee for a physical and enlisted into the Army. I was then driven by Greyhound Bus to Fort Leonard Wood, Missouri for eight weeks of basic training. Offered extra duties I was detailed an acting corporal and given the opportunity to work longer hours and assist the drill sergeant with any additional training of my fellow recruits. These duties consisted of drill training, helping to set up range practice, and assisting other privates with remedial training.
The next assignment was Advance Individual Training (AIT) at Fort Gordon, Georgia. Here too I was detailed an acting corporal for the training program. I was assigned a heavy weapons Military Occupational Specialty (MOS).
At the time this MOS trained on direct fire (recoilless rifle) and indirect fire (mortar) weapon systems. I had qualified as an expert marksman in basic training but found the time restraints, team alignment of aiming stakes, and Mortar Fire Control sighting system demands were complicated. Still, I was proud of being the only recruit of the 80-man class to qualify… and that was as a 2nd Class Gunner!
As we neared graduation the Army changed the structure of the MOS and we were offered the opportunity to select assignment as a direct fire or an indirect fire heavy weapons specialist. I had already noticed that the direct fire weapons training sergeants were all losing their hearing to some degree and I opted to select mortar qualification. The idea of firing from behind a hill instead of presenting a 50-foot smoke plume off the back of a jeep after firing at a tank also appealed to me.
While I was in training, I again addressed my desire to earn a commission. I met the selection board and was assigned as permanent party to my unit, E Co, 7th BN, 3rd Regiment, until a decision would be made. Several months later a levy came down for 600 soldiers to be assigned to a "classified assignment in the far east." This was a euphemism for Vietnam. The war was heating up.
I reported to personnel and was told I would report back the next morning to catch a bus to the Greyhound bus station in Augusta, Georgia. I would have two weeks leave before onward transfer to Vietnam. I called Mom and Dad to tell them I would be home in a couple days.
The next day I was sitting on the bus, ready for a drive into the bus station in Augusta. I was thinking of what was in store for me. There was a commotion in the front of the bus and a lieutenant came on board and said, "Smith, Jones, and Schuck get off the bus and follow me." The three of us learned our applications had been accepted for OCS (Officer Candidate School) at Fort Benning, Georgia. I was directed to remain in my training company for another month and then reported to 51st Company (OC) at Fort Benning for six months of training before receiving a commission as a second lieutenant of infantry.
On Sunday, July 18, 1965 I reported to the 51st Infantry Officer Candidate Company, OC 1-66. CPT George P. Cady was the Commanding Officer of 51st Co OCS and the Tactical Officer for my assigned, 5th Platoon, was 2LT Ramon T. "Ray" Pulliam. As candidates we each brought previous examples of military experience to the class. The task of the instructors and tactical officers was to determine what training was needed to bring the entire class to a cohesive, uniform level of training which would give us a standard ability to base our military careers.
These officers would guide, urge, and force us for the next six months to learn the duties and responsibilities of Officers in the United States Army. Besides teaching the technical aspects of being an Infantry Officer, they also taught us the traditions of the Officer Corps. These academic efforts gave us the ability to reflect on history of tactics and strategy of unit operations in the abstract. Once in the field one would have to implement proper actions based on this foundation and our personal experiences.
I was also convinced that the mission of the tactical officers was to wash us out of the program. I remember that if one of us did wash out they just disappeared. They were removed from the barracks, never to be seen again. On one particularly difficult day, the entire company set out on a nineteen-mile run. I overheard the tactical officers saying that anyone who dropped out would be removed from the program. When we were exhausted from the run, we returned to the cantonment area and began to "return" to the quick march portion of our parade square… only to continue on through the usual stop for another excruciating mile. All of this to show us we were always capable to do more.
Another example of understanding one's abilities was an exercise where we marched out in a rainstorm to a creek alongside the parade field. Then we were ordered to low crawl through the mud to the point where each of us began to laugh at the silliness of our situation. It took me a while before I was able to understand the teaching point of the exercise. Discipline also requires foundation.
The Tactical Officers also taught us that "actions have consequences." Our platoon decided to host a poggy bait party one Friday evening. We surreptitiously hoisted boxes of pizza by rope to the third-floor corridor of the barracks. The exhaust fans at the end of that hallway moved the scent of hot pizza throughout the building and the Tactical Officers immediately smelled our party and came to redistribute our snacks.
Equally important to our education were the experiences of our fellow candidates. We had learned different ideas and skills and from previous assignments. As we learned new lessons, some appreciated the tutoring abilities of those who had trained in a particular specialty and could assist those of us who were new to that teaching. Classes were held in the shower room the night before scheduled exams. We exchanged concepts of solid leadership examples. We discussed what we valued most of our classes. We learned from each other.
The officers I remember most vividly from the 5th Platoon were Daniel J. Peck, Marvin D. Sessions, Robert J. Shepps, and John C. Reilly. I may have roomed with any or all of them, chinning ourselves in the doorway of the room to step on dressers or bed frames to avoid walking on our shined floor. We also learned to walk with our feet on the center tile of the hall, stepping between the legs of opposing candidates walking from the other direction. That way we could avoid scuffing the waxed sides of the floor.
As we neared graduation, we discussed our future assignments and speculated where we might be assigned. Marv Sessions had been a communications sergeant and hoped he might become a communications officer. I had been a mortarman and thought I would become a heavy weapons platoon leader. Of course, the Army works in mysterious ways.
When OCS 1-66 graduated on January 14, 1966, the Army had recognized "A worldwide need exists for junior Infantry officers trained in battalion-level communications and maintenance officer skills… The Communications Officer Course is 10 weeks long and is conducted at Fort Sill, Oklahoma. …given on a TDY and return-to-home basis or in conjunction with a PCS move to a new or first duty station." [Infantry Magazine, Sep – Oct 1966, p 58]
I was tasked to meet the communications officer responsibilities for the 2nd Battalion, 60th Infantry, 9th Infantry Division (the "two-six-nothing"). I reported to the school for the ten-week course before reporting to my unit in April of that year. When assigned I learned the previous class was the last officer class to be trained in Morse code so I would not be required to meet that need. That was perfect, my previous attempt to learn Morse code on my own had not been successful.
The course consisted in the training, operations and maintenance of AM and FM radio systems as well as telephone switchboards and instruments used in the combat arms. We trained throughout the Fort Sill cantonment areas and out to the ranges of Mount Scott. Upon graduation, I then drove to Manhattan, Kansas to report to my unit.
The Old Reliables
2nd Battalion, 60th Infantry
15 April 1966 – 10 Dec 1967
Fort Riley had been the permanent home of the 1st Infantry Division however that division had already deployed to Vietnam and now the 9th Infantry Division was being fielded here. When I arrived in Manhattan, Kansas I stopped to refuel my automobile before I drove on post. The gas station operator noticed my uniform hanging in the back. He asked, "What patch is that?"
I told him it was the 9th Infantry Division patch and I was just reporting to my new unit. He called out to a few of the other merchants and they invited me to a tavern next door to ask when the rest of the division would be arriving. The departure of the 1st Division had left an economic hole and they were looking for us to arrive and restore their livelihood. They also asked about the heraldry of the patch.
I explained that "The selection was a unique one as the design dated back to the 15th Century, when it was customary for each son to have an individual mark of distinction. Perhaps "Octo", meaning "eight", is a bit confusing to many when speaking of the Ninth Division. the explanation is that in foiling there are eight foils (positions) and heraldic rules gave the Octofoil to the ninth son, since it was symbolic for his being surrounded by eight brothers."
I reported to personnel and signed in at the Headquarters, 9th Infantry Division. I was given guidance at to where I would report to my new unit.
My commander, LTC Angus M. Mundy, welcomed me into his office and acknowledged I was assigned as the Battalion Communications Officer of the 2/60th Infantry. But in the meantime, I would serve as the Property Book Officer of the command. Colonel Mundy then handed me the top and bottom covers of the property book and said, "Fill this up with our authorized TOE." Logistics was not my strong suit or my preference in our OSC classes… I had a lot to learn, quickly!
I began by touring the empty buildings assigned to the battalion and learned where I would later establish the communications headquarters facility. There I took my copy of the unit Table of Organization Equipment and began submitting requisitions for all the authorized tactical equipment.
As equipment and personnel were assigned, we secured buildings and storage areas for the unit. The logistics training I had during OCS was not really appreciated, nor had I absorbed the concepts in detail. I was not comfortable signing for and securing millions of dollars worth of equipment. Because of this, I was ecstatic when the assigned Property Book Officer, CW2 Charles H Altmeyer, arrived two months later and relieved me of my duties. I was then able to turn to my original, assigned duties.
I met my Communications Sergeant, SFC Theodore G Hammond, and we now had most of our TOE signal equipment in our warehouse. We began installing the new family of FM radios in the battalion vehicles. I also viewed the equipment of the Air Force forward observer assigned to the battalion. While tagged to the battalion he seldom came to the field during our training but was controlled by the Air Force liaison section at the Headquarters, 3rd Brigade, 9th ID.
When the battalion was equipped and we were trained, we were assigned for transfer to Vietnam. 95% of the battalion was sent to the west coast to ship across the Pacific Ocean. Our soldiers were required to remove their 9th Division Octofoil patches to remove unit movements from observation.
I was not yet required to remove my patches as I would be assigned to the Rear Party – Advance Party. This group would be headed by the 2/60th Battalion Executive Officer, Maj James W. Moss. Our mission was to clear the buildings and return responsibility of non-tactical unit property back to the Fort Riley installation. Once completed, our group would then report to Schilling Air Force Base at Salinas, Kansas and board aircraft bound for Vietnam. We would then serve as the advance party and begin setting up the battalion headquarters at Bearcat Army Base near Biên Hòa, Vietnam.
We boarded a Lockheed C-141 Starlifter and took our place in the canvas side-facing seats down the length of the aircraft. In this configuration it was a very noisy aircraft and the passing of box lunches or beverages down the rows provided the only entertainment as we killed time during the flight. Elmendorf Air Force Base, Anchorage, for refueling. Next, we touched down at Tachikawa Air Force Base in Japan. We offloaded the aircraft and were bused to the base canteen for a meal while the aircraft was refueled and serviced. Our final leg was flown to Tan Son Nhut Air Base, Saigon, Vietnam.
As we landed, we were met with 2½ ton trucks and I was nervous as I saw heavy columns of black smoke near what I assumed was the main area of the base. I quickly was appraised of a major, long-lasting symbol of our daily life in Vietnam. These were 55-gallon fuel drums cut in half and placed under outhouses until pulled out and diesel fuel and gasoline were added to sanitize human waste when ignited. Assignment of this ignominious responsibility was never well received and careless mixing of combustibles could launch an "outhouse mortar."
Our vehicles continued around the outskirts of Saigon on to Bearcat and our temporary home. We planned to begin setting up tents over newly laid wooden floors and louvered siding which would become typical housing for our future in Vietnam. After preparing the battalion area for two weeks we were alerted to the arrival of the main body. Convoys of trucks, equipment and personnel began to arrive, and we directed our rejoined personnel to their initial base in this country.
Our assignment was relatively secure here at Long Binh and Bearcat. This would become the location of 10,000 troops and we were not attacked during our temporary stay. The only causality I remember during this period was that of a young soldier who was directed to bury a dud mortar round. Instead of calling upon Explosive Ordinance Detail (EOD) to dispose of the round, his supervisor determined it could be placed in a hole and covered. One of the first shovelfuls of dirt thrown on the round disturbed the ordinance and the shell exploded.
About two weeks after arriving at Bearcat we conducted a training exercise through the rubber plantation. As the communications officer I was introduced to the concept that radio signals did not transmit or receive as well in rubber trees as they did at Fort Riley. I would need to revise my thinking concerning transmission capabilities in jungle, rubber plantations, and later – rice paddies. However, for this occasion it would be our first battalion night march in Vietnam.
I was with the Headquarters section and immediately noted the lack of stealth as we marched in full dark occasionally guided by phosphorus lichens on the ground or on the trees. Soldiers tripped over tree roots and their exclamations seemed quite loud. I had the feeling that if there had been any Viet Cong in the plantation area, they were giggling so loud they would have had to give up their scouting mission and retreat back to their own bases. As I said, it was our first night march in country… we had a lot to learn.
In January (1967), the 9th Division became the first American infantry unit to establish a base camp in the Mekong Delta. The 2-60 Inf headquarters element (LTC Mundy, CO; MAJ Robinette, S-3; CPT Robert L Hayes, S4; and I) set out on an initial recon flight to the new 3rd Brigade headquarters at Dong Tam, five miles west of My Tho on a branch of the My Tho River. As we flew south, we came up on a B-model Huey gunship which had just attempted to fly under high tension lines.
The helicopter rotor blades did not clear the lines and the main rotor was sheared off. Our pilot circled the area in an attempt to assist the crew and as we landed, we saw the gunship pilot walk, rubber-legged, away from the ship. By the time we climbed out of our craft an Air Force EOD team, which had been on the ground near the site, took charge and directed us to vacate the area as the helicopter was loaded with possible, unstable ammunition. We proceeded to Dong Tam and our meeting with the 3rd Brigade.
The purpose of the meeting was to discuss the relocation of the battalion to the Mekong Delta and, specifically, to Tân Trụ, Tân Trụ District, Long An Province, Vietnam. Located near the Song Vàm Cỏ Tây River, this would serve as the base camp (Camp Scott) for the battalion. It also would serve as a component of the Riverine Force. ["the Mobile Riverine Force (MRF) (after May 1967), initially designated Mekong Delta Mobile Afloat Force, and later the Riverines, were a joint US Army and US Navy force that comprised a substantial part of the brown-water navy. It was modeled after lessons learned by the French experience in the First Indochina War and had the task of both transport (of soldiers and equipment) and combat. The primary base was at Đồng Tâm Base Camp, with a floating base at the base of the Mekong River."]
Because I had been 24 years old when I enlisted and then served another two years before I was commissioned, I was a much older lieutenant in the unit. I was asked by Colonel Mundy to serve as a 26-year old mentor to 2nd Lieutenant Roland Wooldriedge Ray, who was only twenty-three. I worked with him both at Fort Riley and in Tan Tru. He was assigned to C Co, 2nd Battalion, 60th Infantry, and I continued to talk to him at the base camp on occasion. On February 27, 1967, he was in the second vehicle of a convoy on the Tan Tru-Đồng Tâm road. He was the first causality of a soldier I knew personally. This changed the direction of war for me. Years later I checked to see his name on the Vietnam Memorial and learned that no one ever was mentioned as family. I wrote a letter to the committee and told them more about him and that "We still walk together."
My introduction to the Riverine force was a three week detail to the USS Whitfield County (LST-1169) that served continuously in country and in contiguous waters in support of operations for riverine activities in the Mekong Delta region of South Vietnam, basing at Vũng Tàu. My task was to familiarize myself with Army and Navy communications compatibility. This required coordination as the individual services did not use identical frequencies at the time.
Another aspect of joint communications became evident as the 9th ID Headquarters introduced 9th Signal Battalion multichannel communications between the ship and the brigade. This long-distance telephone characteristic is a directional system subject to curve of the earth limitations (approximately 30 miles) between antennas. While the battalion multi-direction FM radios worked, we learned that ships, like the USS Whitfield County, do not remain stationary while at anchor. They rotate around the chain according to the tide and current. This required considerable effort to realign the directional, multi-channel antennas.
While we were building the base back at Tan Tru we settled in to using assigned generators to power our equipment. The tactical use of these generators did not anticipate the need of additional power to support the permanent demands of fixed offices and unit logistics needs of a full cantonment area. I asked SFC Hammond, my commo chief, to investigate the possibility of obtaining additional power generation assets for the headquarters. Sergeant Hammond and my Communications Maintenance Technician set out for Saigon and were gone for three days. When they returned, seemingly empty handed, I asked, what happened? My chief said, "they will deliver."
The next morning a tractor-trailer arrived at the gate and it was guided to the motor pool near my communications shop. A 500 KW diesel generator was offloaded, along with reels of heavy gauge copper wire. We began the process of installing permanent power to the battalion and the subordinate company headquarters. Several of those lines were long and experienced intermittent voltage drop but this served to provide base power for the rest of the tour.
For the majority of my tour I would accompany the battalion commander or the operations officer in the command helicopter or on the ground when the unit assaults involved several companies. We maneuvered through rice paddies and Mekong Delta roads on a routine basis.
Occasionally we would conduct a joint operation with the local Dai Uy, (Captain "Senior Grade Junior Officer"). I thought of this local commander as a sheriff or magistrate as he seemed to hold both military and municipal authority. When we would operate out of their compound my operators would set up communications so our commanders could communicate directly with the U. S. Army advisor to the Dai Uy.
On one such mission I had a team set up radio and telephone communications back to the battalion. One of my operators came to my location to report, "the Vietnamese are cooking rats!" My troop was surprised to see rat prepared on a spit and roasted but I was reminded that neither cats or dogs were frequently spotted either. Cultures are different and protein was difficult to obtain in the field.
Another time the battalion offered to transport a water buffalo from our local rice paddies to another across the battalion area of operation (AO). The buffalo was set up in a web sling and a Huey hooked up to the sling and lifted the animal off the ground. It kicked and bellowed out of hearing and sight and I later learned that when the beast was unhooked it took off running… "and hasn't been seen since."
I do not specifically remember how long it took before the command was infused. Since we had all been assigned to Vietnam the day the ship arrived (except for those few of us from the advance party arrived a month earlier). Therefore, we all would theoretically depart at the same time at the end of our one-year tour. To prevent such an impact, Soldiers of the 9th Division were "infused" (exchanged) with soldiers already in Vietnam to smooth out the impact of end of tour reassignment to other parts of the world.
This included all ranks and in that effort, LTC Angus M. Mundy was assigned as the Binh Tuy Province Senior Advisor and LTC Richard E. Zastrow assumed command of the battalion. However, our Operations Officer, Maj Jimmy L Robinette, continued his original assignment with the unit.
By the time I finished the tour the Army had decided they would no longer fill the communications officer positions for the combat arms with officers of that branch. Instead, officers from the Signal Corps would be assigned those duties. I discussed my Army future with LTC Zastrow and Major Robinette. I informed them that I really had enjoyed my duties with the 2-60th as a communications officer. I had seen a report that the position was being considered to become absorbed by the Signal Corps as a means to further "professionalize" the assignment in the combat arms. I said I would like the opportunity and they both recommended approval on my request.
Before I completed that tour, I received a branch transfer and reported to my next assignment as a Signal Corps Officer. Officer Branch anticipated my professional needs. I was due to report to Fort Gordon, Georgia and become an instructor, Signal Officer Basic Course (SOBC). Signal Officer training where one will learn leadership skills, tactics, maintenance and operational aspects of the systems and tools used in the Signal Corps.Responsibilities of a Signal Captain may include:
Commanding and controlling company-sized Signal units (200-300 Soldiers).
Coordinating employment of Signal Soldiers at all levels of command, from company to division level and beyond, in U.S. and multi-national operations.
Developing doctrine, organizations and equipment for unique Signal missions.
Instructing Signal skills at service schools and combat training centers.
Serving as an Engineer advisor to other units, including Army National Guard and U.S. Army Reserve organizations.
Real Transition from Infantry to Signal Branch
10 Dec 1967 – Oct 1971
Applying my knowledge and experience, I served as an instructor and tactical officer of classes of newly commissioned Signal Corps 2nd lieutenants who had recently completed Reserve Officer Training Corps programs at colleges and universities across the United States. These candidates had some instruction of military history and traditions but no practical instruction of the technical aspects of the Signal Corps.
This also served as a training program for me as I would learn lesson plans prior to presenting classes to the students. I also learned to respond to their questions, with research as necessary, which proved to be an excellent means of my own professional development.
After most of the classroom instruction was completed, we would set up signal equipment in a field situation for a week of practical exercise. There I learned the practical workings from the NCOs who taught me how a "Patch Panel" (circuit routing switchboard) was the operational center of signal center, able to connect the various transmission means of all of the communication systems in the command.
As we taught, we often needed to cover lesson plans of each of the other instructors over the course of the year. This was as technically helpful to me as the private tutoring by the NCOs of the committee. One of my particular lesson plans covered the duties and responsibilities of the combat unit Communications Officer. This was fully in my wheelhouse however the timing was not helpful.
This class was presented after the cadets had finished their exams for the entire program. My insights were viewed as a "snooze" class because they were not on the test. In one of the cycles twenty officers had been notified they were tasked to fill a levy of officers being diverted to assignments as 0200 MOS in Vietnam. I had students on full alert for the three hours and then was asked to further tutor them with practical insights of what to expect of their new orders.
Continuing with my own professional development I then had a permanent change of status (PCS) assignment to Fort Monmouth, New Jersey. I was one of 27 officers assigned to Signal Officer Advanced Course; Class 69-6, Section B. The Career Course provided professional training for middle grade officers. Our class leader was a major and would be promoted before we graduated. His was an unusual status as his Signal Corps career was in the visual field (photography). The rest of the class were more traditional tracked Signal Corps captains; five of our class were from allied Signal Corps commands. Dan Peck, a fellow OCS Class 1-66 graduate, was also in this class.
After I completed this course, I received orders to return to Vietnam. This assignment would be in I Corps and I was scheduled to repeat another combat communications officer (0200 MOS) tour. This would be with the 39th Engineer Battalion, 45th Engineer Group, 18th Engineer Brigade, Chu Lai.
Professionally, I needed to serve in my Signal Corps track rather than my old duties and when I reached Phu Bai I detoured and visited the 63rd Signal Battalion. I was able to interview with the commander, LTC Thomas C. Nelson. I requested his assistance to be assigned to his command in the future. I then convoyed to Chu Lai and the 39th Engineer Battalion.
I reported to LTC James G. Ton, the commander of the engineer unit, and had my second interview of the day. I explained that I had discussed my background with LTC Nelson and why I desired assignment to a Signal Corps unit. Colonel Ton listened to my request and said he would discuss my situation with Colonel Nelson. In the meantime, the 39th Engineer Battalion had need for a Communications Officer.
LTC Ton directed that my first task would be the wiring of a newly assigned asphalt plant. I commented that the Signal Corps dealt in milliwatts and I thought power distribution was more in line with the duties of an Engineer Battalion. He said the asphalt plant was an internal problem and he needed all of his engineers to work on his external mission.
Wiring up the asphalt plant was in the same frame as wiring up the base camp on Tan Tru. My new section was up to the task and we got to work on this and other projects. Almost immediately the deadline rate of communications equipment was reduced. Available capabilities were expanded to provide a secure net, a backup Teletype capability and a backup radio net to the next higher headquarters. Inspection visits were conducted to all communications sections of the battalion, on the spot corrections were made where possible, follow-up support dispatched from the battalion communications section as required and on- the-spot training of company personnel to increase proficiency.
Ten weeks later LTC Ton thanked me for my work and let me know I should report to LTC Nelson and the 63rd Signal Battalion. I was to take command of the 63rd Signal Company, Camp Eagle and Hue, Tami Island, and Tami Port, Thua Thien-Hue, Viêtnam. This was a one hundred sixty-five (165) man company. We provided secure FM radio, multichannel radio, communications center, radioteletype and wire/cable support to XXIV Corps, 3 Brigade 101st Airborne Division (AM), MACV Advisory Team 3 & 18, 863rd Transportation Command and other combat service units in Northern Military Region I.
Four months later LTC Nelson transferred me and placed me in command of the 596th Signal Company, Phu Bai, , Binh Tri Thien. Larger than the 63rd Signal Company, the 596th was a two hundred twenty-nine (229) man company. We provided dial telephone, multichannel radio, communications center and radio teletype communications support to 101st Airborne Division (AM) and tenant units at Camp Eagle and Phu Bai Combat Base. Additionally, we provided throughput of signal equipment and tactical generators in support of Lam Son 719.
Operation Lam Son 719 was a limited-objective offensive campaign conducted in the southeastern portion of the Kingdom of Laos. The campaign was carried out by the armed forces of the Republic of Vietnam (South Vietnam) between 8 February and 25 March 1971, during the Vietnam War. The United States provided logistical, aerial, and artillery support to the operation, but its ground forces were prohibited by law from entering Laotian territory.
When it was time to leave Vietnam, I put in for an Inter-theater Transfer. I had previously requested transfers to Germany twice before and each time I was sent to Vietnam. I decided I might be able to go to Germany from Vietnam. It worked! I was then transferred to the Strategic Communications Command, Schwetzingen; my first of three tours in Germany
Epilogue
01 Jul 2020
Liz (ne Elizabeth Dunn, Nashville, TN) and I retired in Frankfurt, Germany on the last day of July 1989. Mark, our youngest, was in his last year of a four-year German scholarship at the University of Bonn. He drove us to the Frankfurt am Main Airport and remained in Bonn to report on the collapse of the Berlin Wall and to finish his degree before moving to Bogota, Colombia.
We flew to London for a one week stay at the Union Jack Club (Armed Forces Club) before our retirement gift to ourselves, a cruise back to the United States on RMS Queen Elizabeth 2 (QE2). When it was time to depart, we walked across the street to Victoria Station and rode the Cunard Train Car to Southampton and our ship. This would be our first of many ocean cruises.
After retirement I began developing Liz's and my family trees. I then taught genealogy for four years at the Clover Park Technical College in Tacoma, Washington. I maintain several websites to exchange family history, family adventures and travel reports, and a family cookbook established by my wife and sister-in-law.
We truly enjoyed the experience and hoped take another cruise in the future. However, Lydia, our eldest, and her Navy officer husband, were the parents of our small grandchildren, Geoffrey and Lindsay. We would spend the next ten years visiting them whenever we could. When Bob went to the Navy Postgraduate School in Monterey or he was stationed in San Diego we would make the drive or take Amtrak's Coast Starlight to visit about once a quarter.
During that time, our son Mark taught mathematics and English at the Abraham Lincoln School in Bogota. He fell in love and brought his wife back to Olympia, Washington. This was the first time in many years that all of our family was in the same time zone and we took advantage of every opportunity to call them and visit both families.
But grandchildren grow up and develop lives and interests of their own. By the time they entered their teenage years, we became superfluous to their lifestyle and we then returned to our travels. This became very enjoyable and in twenty years we have completed eighty cruises or land tours all over the world. These are detailed, photographed, and documented in our Adventures and Trip Reports.
Lindsay and her husband Christopher both attended the University of Alabama and moved to Tennessee. She holds a degree in Athletic Training and teaches at Cornerville High School. They are delighted following the antics of eighteen-month old Theodore "Teddy" James.
Geoffrey, our grandson, received a Navy scholarship at the University of California. He met and married Sabrina there and upon graduation he was commissioned as a nuclear engineer in submarine service, he later returned as a ROTC Instructor and added a masters degree at USC. They have moved to Austin, TX and are excited parents of four-month old Jackson Oliver.
We had booked our third trip to China for February of this year. By early January we were getting signals that a pandemic was developing. The agency has allowed us to postpone this trip for 18 months but that may turn out to be sunk cost as it is not eligible to be refunded. We had also booked cruises from Amsterdam to Budapest; Lisbon, Morocco and Fort Lauderdale; and a return, after all these years, to Vietnam. All of these booked trips have now been canceled.
Now Liz and I watch great-grandchildren… from afar. We look forward to traveling again. Covid-19 has caused us to remain at home in lockdown. Until we are safely well enough to hug and hold all of them, we cannot risk going to Tennessee, Austin, or even Olympia to see family.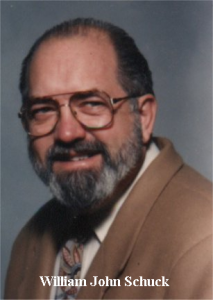 John Schuck
A Communications Officer Story
John Schuck grew up in Marinette, Wisconsin, a town in the northeast part of the state just across the river from Michigan. He attended Our Lady of Lourdes School, grades 1 through 11 and graduated from Marinette Catholic Central High School in 1959 where he became a member of the first class to graduate from that school. He then attended the University of Wisconsin, Madison from 1959 to 1963 helping to pay his tuition by working as a window washer, painter and a bartender at an 18 year-old beer bar. John enlisted in the US Army in May 1964, attended Infantry OCS and graduated in January 1966 where his story begins.
After graduation in January I was assigned to Communication Officer Training at Ft Sill for a six-week course before reporting to Ft Riley. When I drove into the city, I had to stop at a gas station and one of the locals saw my uniform with a 9th Division patch on the shoulder and asked if I was in the "new" division. They had been hurting for business after the 1st Division had left.
I was assigned to the 2/60th (the "two six nothing") infantry battalion. I met LTC Alexander Mundy, the battalion commander, and he welcomed me to the battalion and then handed me the two covers to the property book and said, "until the Property Book Officer is assigned, I want you to fill this up." I knew very little about property.
I began going through the TOE and ordered everything from the document. As property came in I was most watchful of the equipment for the communications platoon as well as that for the rest of the battalion. When a CW4 property book officer arrived I could have kissed him. I then was able to concentrate on my own platoon and its training.
When we deployed to Vietnam I was on the "rear party/advance party". We stayed behind and cleared the installation property while the division deployed by ship. Then we flew to Vietnam by way of Japan and arrived at Bear Cat before the division arrived. We set up part of the HHC while we were waiting. Then we fleshed out the battalion before moving to Tan An then Tan Tru in the third Corps area.
Editor's note: During his tour in Vietnam, John often had to establish communications in distant areas where at times, the only security was provided by members of his communications platoon. When his battalion would move, John was required to establish a jump communications ability and set up both wire and radio systems.
The narrative for one of his awards stated that John's "performance of duty was displayed when the battalion was committed into operational areas that were outside of communication range. Lt. Schuck took immediate action to insure necessary relay stations were established so as to provide the necessary communications. … He was responsible for many areas not related to the signal field. One of these was the maintenance of electrical power within the battalion semi-permanent base camp located in the Mekong Delta, RVN."
I served as the Battalion Communications Officer for the entire year. As I was getting ready to return to the States, the Army announced that it was no longer intending to use combat branch officers as communications officers in the combat branches. They would now use Signal Corps officers for that duty. I was able to apply for and receive a branch transfer to the Signal Corps.
Editor's note: John went back to Vietnam for a second tour as a communications officer from August 1970 to August 1971 where he commanded several signal companies. He then continued his military service for 26 years as a Signal Corps officer that included several tours in Germany where he served as commander of an area maintenance and supply facility in Mannheim and deputy commander of a signal brigade in Hochst. John retired from the army on 31 July 1989 in Frankfurt and he and his wife, Liz, sailed home on the Queen Elizabeth ll.
While on active duty, John continued both his military and civilian education completing the Signal Officer Advanced Course at FT Monmouth and the Command and General Staff College at FT Leavenworth. He received a BS degree in history from the University of Nebraska- Omaha and a masters in systems management from the University of Southern California. His military awards include the Legion of Merit, Bronze Star (3), Meritorious Service Medal (2), Air Medal, Army Commendation Medal (2) and the CIB.
Introduced to family life with a 14 year-old teenage son and 17 year-old teenage daughter, John loved his status as a parent and later as an "Opa." He and "Oma" frequently visit their children and grandchildren.
John and Liz retired to their home in Lakewood, WA which he discovered when he was assigned to the 1st Signal Group at Ft. Lewis in 1976. He loves travel, picnics, reading mysteries as well as watching mysteries on television, baking bread, yard work and splashing in the hot tub.