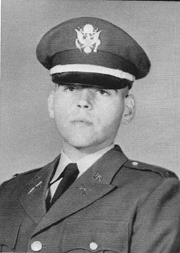 Rank: Lieutenant Colonel (Ret)
Wife's Name: Cheri
City and State: South Haven, Michigan
Summary: Jon retired as an 05 in 1988. He then spent five years in Vermont managing a heavy duty truck repair facility and parts distributorship. Family matters forced him to return to Michigan. Once there, he went back to school and obtained his teaching certificate and has been teaching for about 15 years. He currently is teaching American Literature, US History and Government at the High School level. He plans to teach for a couple of more years before fully retiring.
JON WATSON'S STORY
My association with the army began early in my life due to the fact my father was a career officer so a life of frequent moves to far places was not new to me.  When my father retired the family returned to our roots in southwest Michigan where I graduated from high school in June 1964.  In September of the same year, I enlisted in the army with a promise of being in Military Intelligence. I was sent to Fort Knox for basic training.
At Knox I found l liked the army and did well in the training finishing as the top graduate in my class and being awarded the American Sprit Medal and a promotion to PFC.  I also did very well on the testing and was persuaded by the company commander to apply for OCS. I was accepted but was told that I should request a change in MOS to 11B which I did and as a result my orders for AIT were changed to Fort Jackson where I completed infantry AIT. On completion I was transferred to Fort Benning to attend OCS arriving in January 1965.  Due to my age, I was unable to begin OCS until July so I was assigned to the 197th Infantry, the school support unit.
As we all did, I reported to OCS as ordered and was quite pleased with initial treatment by the in-processing folks who took my took records and gave me my room assignment which was on the third floor of the building. I was told to take the stairway through the double doors to my right and good luck. I was thinking to myself this is going to be kind of a nice place as l went through the doors…what a mistake…45 minutes and untold push-ups later I arrived in my room in a state of shock.  I was ready to leave right then and there but I did not and learned to go with the flow. Six months and many experiences (some good and some not so good) later I was commissioned a Second Lieutenant in the Infantry.
My orders upon graduation were to Europe so after a short leave with family I traveled to Germany where I was assigned to a mechanized infantry battalion in the 3d Armored Division located outside a small village north of Frankfurt. At first, it was a normal unit assignment. I was given a rifle platoon and life was good…but it did not last as the troop strength in Viet Nam grew the numbers of troops in Europe dropped.  In a few short months, unit strength fell to the point we were forced reduce platoons to 3 and sometimes 2 squads storing the excess equipment in hopes of future replacements. In a little less than two years there, I served as a rifle platoon leader, recon platoon leader (with an additional duty as heavy mortar platoon and Davy Crockett section leader because an officer was required for a technical proficiency inspection), company commander, Battalion S-3, and Brigade S-2 (a result of my having a top secret clearance from my short…very short Military Intelligence time). All this came to an end when I received orders to Viet Nam.
After a short stop in the states for leave to get my family settled and for me to attend a two-week course on armor operations in Viet Nam, I left the states and flew to Viet Nam as a replacement. After a short stay at the replacement depot, I was assigned to the 4th Infantry Division in Pleiku in the Central Highlands. From there l was assigned to A Company 1st Battalion 14th Infantry  (the 14th Infantry is normally assigned to the 25th Infantry Division but when the 4th Division arrived in country they exchanged 3d Brigades with the 25th Division) and I was assigned as the First Platoon leader. Other than 2 months in Japan recovering from wounds, I spent my entire tour in A Company with the last 7 months as the commander.
Upon my return to the United States, l was assigned to the Infantry School at Fort Benning as an Instructor in the Company Tactics Department where I taught several different classes for the next  two years.  During this time, I was selected for the Degree Completion Program but first it was off to the Advanced Course and back to Viet Nam for my second tour. In Viet Nam, I was assigned to the 11th Infantry Brigade where I served as the armored cavalry troop commander and assistant S-3 until the brigade was transferred out of Viet Nam.  I was then assigned to MACV as a company tactics advisor to the Vietnamese Infantry School just north of Saigon where I finished my tour.
Returning to the states, I spent two and a half relaxing years with my family while completing my degree at Western Michigan University in Kalamazoo, Michigan. From there it was off to Washington, D.C. where I served in the G-1 of the Military District of Washington where l was promoted to major and then transferred to the DESPER Army Staff in the Pentagon where I served as an action officer in the Leadership and Motivation Division.
My next assignment was a relaxing year at the Command and General Staff College in Fort Leavenworth, KS and then a move just down the road to Fort Riley where I was assigned to the 1st Battalion 28th Infantry where I spent three years as first the S-3 and then as the XO. A great assignment which included several deployments to Europe as part of war planning and a deployment to Fort Irwin, CA to support a TRADOC study. I left the battalion (kicking and complaining l must tell you) and joined division G-1 as the head of the officer assignment section. It was there I was selected for promotion to LTC and shortly thereafter, l was reassigned to the newly established National Training Center at Fort Irwin, CA where I served for the next 4 years. First, as the commander of Headquarters Command, a composite origination of some 1600 soldiers including a TRADOC group which ran the training, two maintenance companies, a transportation company, an MP company, aviation section and a post headquarters company, followed by a tour as the post DEPSEC. This was a challenging assignment trying to change a National Guard base into an active army training base in the middle of the desert while at the same time supporting 8 to 11 battalion-size training rotations each year.
My final assignment was with the Recruiting Command where I served as the chief of staff for the Fifth Brigade which was responsible for the mid-western zone.
After retiring, I moved to Vermont where I ran a heavy-duty repair and parts company which did about 30 million dollars of business each year.  After four years, I returned to Michigan because of my father's failing health and returned to school and completed the requirements for teaching high school. I spent the next 20 years teaching English and social studies in a medium-size high school retiring for good in 2016.
My wife Cheri and I live in South Haven, Michigan, a small resort town on the eastern shore of Lake Michigan which in the winter has a population of just under 6000 but swells to some 15,000 in the summer. Our lives now center on our four grandchildren (all boys) ranging in age from 16 to 7.
The year 2020 was a rough one for us as we both contracted and recovered from the COVID-19 virus and I had my right leg removed above the knee the result of an untreated infection due to the restrictions imposed due to the virus. I am now waiting for the last small wound right over the remaining bone to heal and then l will begin the process of getting and learning to use an artificial limb.