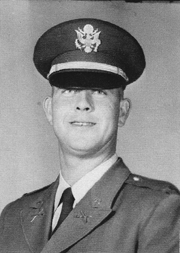 Rank: 1st Lieutenant
Branch: Infantry
Separation Date: December 5, 1967
Number of Years of Service: 4
Wife's Name: Lauren; Children: 2; Grandchildren: 2
City and State: Umatilla, Florida
Awards: National Defense Service Medal, Viet Nam Service Medal, Expert Badge W/Rifle, VCM W/60 DEV, 2 O/S Bars, Combat Infantry Badge, Purple Heart W/1 Oak Leaf Cluster, Bronze Star
Civilian Schools & Degrees: Bachelor of Science in Agriculture, University of Florida 1968, Master of Agriculture, University of Florida 1970, State of Florida Certified General Appraiser, 1990, Member of Appraisal Institute (MAI), 1992.
Summary of Assignments: Entered US Army in 1964 as a Regular Army recruit. Commissioned as 2nd Lt. in OCS Class 1-66 as of Jan 14,1966. Assigned to 1st Brigade, 9th Infantry Division, Fort Riley, Kansas, Assigned to 2nd Bn./39th Infantry as Rifle Platoon Leader, Also served as 2nd Bn./39th Infantry S-4. Shipped out to Viet Nam with 2nd Bn/39th and served as Rifle Platoon Leader and also S-4 at different times. Transferred to 9th Infantry PX during last month or so of tour of duty. Shipped home at end of tour of duty and got out of Army.
Jobs/Profession following military: Returned to University of Florida and completed Bachelor of Agriculture in 1968. Earned Master of Agriculture in 1970. Worked as production manager on 2,000 acres of citrus; sold agricultural chemicals 1970-1979. Returned to Umatilla and took over family owned groves in 1979.Groves froze and was put out of business in 1985. Started over as an agricultural real estate appraiser. Became State of Florida Certified General Appraiser 1990. Started Stricklen Appraisal Services, P.A. in 1990. Earned membership in the Appraisal Institute with MAI designation October 29, 1992. Continue to own and operate Stricklen Appraisal Services, P.A. in Umatilla, Florida with a state-wide real property appraisal practice specializing in agricultural eminent domain, litigation and estate assignments.
Current hobbies/interests: Hunting, Fishing
Editor's Note: Leon "Gator" Stricklen was assigned to the 6th Platoon, "Putnam's Jaguars," when he reported to Infantry OCS at Ft. Benning, Georgia. Upon graduation on January 14, 1966, Stricklen was one of 24 members of Class 1-66 with orders to report to Fort Riley, Kansas where the 9th Infantry Division was being reactivated for deployment to Vietnam. Stricklen and five of his classmates, Clifford Gehrt, Harry Harley, Dan Peck, Bob Shepps and Larry Thomas, learned they had been assigned to the division's 1st Brigade where there was only one other person on the morning report, a Full Bird Colonel by the name of Maurice Kendall. The six new 2nd lieutenants and COL Kendall became known as The Six Bars and a Bird as they worked long hours to get the brigade up and running. Stricklen, (he was called "Gator" in OCS because he was from Florida and had attended the University of Florida where the school's teams are the Gators) begins his story traveling to Fort Riley for his first assignment after graduating from OCS.
Gator's Story
After we were commissioned and given some leave time, we reported to our duty stations. Since I had been assigned to the 9th Infantry Division stationed at Ft. Riley, I decided to drive my brand new 1966 Chevrolet SS-396 (a hot car in those days) out through Texas and then up to Kansas just to see that part of the country. Being a life-long Florida resident, I had only seen snow a couple of times and certainly had never driven in it. Boy, was that an experience! I did fine until I got into Oklahoma. Then I hit snow, ice and sleet. Listening to the radio, I learned that there were a lot of wrecks on the Interstate highways so I brilliantly decided to take the local roads north. What a screw-up! Not only were the roads covered with ice, there were no places to stop and single farm houses seemed to be spaced about 20 miles apart. After skidding off the road several times and scaring the shit out of myself, I discovered that if I held my speed down to about 30 miles per hour I could stay on the road. At least there was no snow on the road because the damned wind was blowing about 50mph. It never let up. I remember I drove for 14 hours at one stretch and was still in Oklahoma. Who the hell from Florida ever thought about buying snow chains or whatever they are for driving on ice? Neither before nor after have I ever driven in such God-Awful weather and I will never do it again.
When I finally got to Ft. Riley I ran into Cliff Gehrt and we teamed up and got a motel room for a day or so and I rested up some from my horrible drive thru that damn snow and ice. Gators don't do well in really cold weather. Anyway, we drove around the post and looked about for a bit. During that time, if I remember correctly, we got our "cookie" patches for the 9th Infantry to put on our uniforms. I don't know if anyone else did it but I immediately had mine put on upside down. Nobody knew how they were supposed to go on until we looked them up in Army records and finally got them put on correctly.
Cliff and I finally reported in to 9th I.D. headquarters and were directed to Col. Kendall. I remember thinking, "Where the hell is everybody?" When we found out WE WERE IT!! I wondered "What the hell is going on?" I think Col. Kendall was just as surprised as we were at that point. I later found out that he was expecting LTC's and Majors, not brand-new 2nd Lt's.
After that, we were told we would be housed in the BOQ's at Camp Funston. Well, one of my first jobs was to go find the Camp Funston area. Back to the map I had purchased at the PX and off to find Camp Funston. That was the general pattern of action for the next several days. I think Cliff had been assigned as a temporary S-1 by then and my main job was to go and find out where everything was on Ft. Riley.
One of my more interesting assignments was to find the rifle ranges. By then it was cold as hell and the wind was blowing about 40mph all the time. And I do mean ALL THE TIME! I had never seen anything like that in my life. When I finally found the ranges, they were being temporarily shut down because the troops there must have been literally getting frostbite and were being taken back to the barracks. They may have been 5th Army soldiers or National Guard because the 9th I. D. did not have any troops yet.
Another assignment was to get Col. Kendall a jeep. But before I start telling the "rest of the story," let me say that my memory of these events has faded over time so I have used "poetic license" to fill in some of the actual details of conversations that took place. I do not remember the precise words used with the 5th Army major but it went something like this.
The 9th did not have any vehicles yet so Col. Kendall suggested seeing if I could borrow one from the 5th Army motor pool. Off I went. When I finally found the motor pool, I was sent to see a motor pool major about obtaining a jeep. I think he was highly impressed with himself and his jeeps because he wanted to know, "Who the hell I thought I was to come waltzing into the 5th Army motor pool wanting to borrow a 5th Army jeep when I was in the 9th Infantry?" He was also quick to point out that we would be getting our own equipment in at some point and I could damn well wait until then to get a jeep. I had probably forgotten to tell him that the jeep was not for me but was for the 1st Brigade Commander and possibly for the Division Commander of the 9th I. D.
I replied to him that I could certainly understand why he would not want to loan out his jeeps to unauthorized people that were not even in the 5th Army and I respectfully asked him if he was going to be there for the next hour or so. He said yes and wanted to know why I had asked the question. I replied that I needed that time to go get Col. Kendall and possibly the 9th Infantry Division Commander and bring them back to his motor pool in my personal car. I stated that as a "dumb-ass 2Lt.", I probably would not be able to relay his reasoning back to the Colonel and General correctly and that I thought he would do a much better job of explaining the situation to them directly. I then thanked him for his time, came to attention, saluted sharply, turned and began walking out of his office. I did not even make it to the door when I heard, "Lieutenant, Wait!" I stopped, turned and said, "Sir?"
He instructed me to have a seat for a moment. He got on the phone and in about two minutes he exclaimed, "Oh! Wait! It seems I do have a jeep! In fact, I seem to have 2 brand-new jeeps that we have just received. I would be glad to loan them to the General and Colonel if they might need them. Keep them as long as you like." I got the jeeps.
This was a typical example of how we six 2nd Lt's got people that far outranked us to give us their full attention. I never told General Kendall this story until a reunion at Ft. Benning years later. He nearly fell out of his chair laughing. The point is, we six 2nd Lts. used every trick in the book to accomplish our missions for Col. Kendall. We just never told him, until years later, that we used his name and authority as a knife to cut through the red tape and get our missions accomplished.
Other problems in getting ready to receive our recruits occurred. For instance, when we actually found Camp Funston, we discovered that the barracks had been left in a high state of disarray. For whatever reason, the 1st Infantry had left the buildings filthy. They had, in some cases, been virtually gutted with almost all fixtures having been removed. I will never understand why the 1st Infantry needed to take toilets, bunk beds and other furniture with them to Vietnam. At any rate, it was another major project to get the barracks ready to receive new recruits. Again, we used Col. Kendall's name to get things done.
This "start from scratch" situation occurred in almost every facet of getting the 1st Brigade up and running and getting prepared to receive our troops. When our troops started coming in to Ft. Riley, I think they had been in the Army for about 3 days or so. They came directly from the induction centers or wherever. It seemed that about half of them came from the northwest U.S. and the other half came from the southeast U.S. They all met in Kansas in the central part of the United States. If I remember correctly, some of them did not even have all their shots, haircuts or even uniforms. We had to shepherd them around Ft. Riley to get them ready to begin basic training. This took several more weeks as different groups of recruits arrived. Additionally, cadre began to arrive to train the new troops. Finally, we got the 1st Brigade staffed well enough so that the Six Bars were assigned to rifle companies to begin actual training of our troops.
One other observation that I had shortly after I got to Ft. Riley related to the "Army Way" and Ft. Riley itself. Having been raised in Umatilla near the border of the Ocala National Forest and the St. Johns River, I was quite familiar with hunting and fishing in the Central Florida "jungle" and swamps. I rapidly began to wonder, "Why in the hell would the Army pick the prairies and plains of Kansas as a location to train an infantry division that was destined to be involved in jungle warfare in Vietnam?" I finally realized that it would have made too much sense to have us stationed at Ft. Polk, Louisiana or Camp Blanding in Florida or some similar fort in the southeastern U.S. that actually had some jungle. Oh well! I was only a 2nd Lieutenant so what the hell did I know?
I really did not see much of Col. Kendall after that until he called us together in Vietnam for a reunion party. However, I only got to really know him on a personal level after I found out he had retired to Melbourne on Florida's east coast about 100 miles from my home in Umatilla. That's when Dan Peck, Jerry Fry (another classmate living in Florida who had served in the 1st Brigade before attending flight school) and I would go over and visit the General at his home. He would take us to his club for brunch and a great visit. He always drove a huge car. I would race Dan to get in the back seat and make Dan ride shotgun. The reason for this was that by then the General was losing some of his motor skills and he scared the hell out of us driving thru Melbourne. One day he backed his car out of the garage all the way into his neighbor's yard across the street into a palm tree. Then he rapidly pulled forward at a speed great enough to go through the back wall of his garage and into one of his bedrooms. After that incident he gave up his driver's license. At least that's the way I heard the story and I'm sticking to it.
After the General moved out of his home and into a long-term care facility, Dan, Jerry and I went for a short visit with him but it was clear that his life was in its final stages. He passed away before we had a chance to visit him again. Dan and I went to his memorial service in Melbourne and Jerry and I were honored to be at his funeral at Arlington. It was a special honor for Jerry and me to give him his last salute at graveside.
General Kendall was a fine man and soldier. He never failed to tell us how much he valued our service with him and how we played a large part in him getting his first star as a General. He always laughed and told us how he had expected to get Majors or Lt. Colonels as his initial staff officers. Instead, he got six new 2nd Lts. We were too young to realize that the jobs were supposed to be over our heads so we just bulled ahead and did them anyway. That was because of the training we received as part of Infantry OCS Class 1-66.
Final Salute
OCS classmates Leon Stricklen and Jerry Fry render a final salute to MG Maurice Kendall as he is laid to rest at Arlington National Cemetery, October 18, 2017.