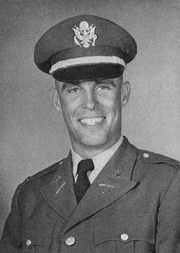 Rank: Lieutenant Colonel (Ret)
Wife's Name: Gerda
City and State: Clearwater, Florida
Ray Massieu's Story
Editor's note: Ray was born in Nevada but moved to California when very young, then to Boston, France (his father was from Bordeaux) and finally to Florida where he attended Clearwater High School, played football and ran track and also enjoyed fishing and boating. He worked one year as a mechanic and did well before joining the Army in May 1958 and volunteering for a four-year hitch with a unit that was scheduled for overseas duty. He wound up at FT Riley, Kansas for basic training with the 1st Infantry Division, the Big Red One and that is where his story begins.
At Riley I was assigned to a wheeled vehicle section of a maintenance platoon. I remember a time when SGT Major Woolridge, later to become sergeant major of the Army, chewed me out because my boots were not spit shined and said if I did not shape up, out I would go. Needless to say, I steered clear of him for a while. In December 1958, we shipped to Warner Kasern in Munich, Germany where I worked as a mechanic in a motor pool. There I learned to weld and ran an emergency repair shop while under the supervision of a terrific maintenance warrant officer. I met the lady of my life in Germany and married her after obtaining approval from the division commander.
I was promoted to SGT E5, was reassigned as an 111B with duty as an assistant motor sergeant for the maintenance section of a line company and made a name for myself after many field operations and maintenance inspections. I re-enlisted for four more years and finished my tour as a company motor sergeant participating in three major USARER Wintershield Exercises across southern Bavaria.
My next assignment was with the 5th Infantry Division at FT Carson, CO as a squad fire team leader. There I performed infantry duties for three months and participated in an exercise with the Army's only amphibious qualified battalion. We boarded a ship in San Diego and landed at Camp Pendelton where I carried a 90mm recoilless weapon during the attack. We then conducted a six-day road march to Kingman, Arizona where we jumped into a Desert Strike exercise.
My company commander recommended me for OCS so I applied and was accepted. I had been moved to battalion as an assistant motor sergeant and while waiting for my OCS class to start, was ordered to report to the 8th Infantry Division (Mech) where a battalion had failed a CMMI inspection. At a briefing at battalion headquarters a warrant officer three (WO3) advised me of some problem areas with NCOs not doing their jobs. I became a "little Jesus" in the motor pool and many of the NCOs hated to see me come into their areas but in six months the unit passed its next inspection.
Orders came to report to FT Benning for OCS in July 1965. There I found dedicated and professional tactical officers who were stern but fair. I was able to expand my leadership capabilities and understanding of tactics. My memories of OCS include studying under blankets late at night, falling asleep at every break, moving to training areas on cattle trucks, pizza parties and being shot in the eye with a blank while checking the perimeter on a night exercise. The best days were when we turned Blue and then graduation. OCS was a great endeavor that enhanced my military career and enabled me to perform a myriad of positions and duties.
Upon graduation I completed airborne and Ranger schools and was then assigned as a platoon leader with A Company, 5th Battalion, 60th INF(Mech), 9th Infantry Division. When I arrived at the 9th Division headquarters at FT Riley, I was directed to report to headquarters of the 3rd Brigade which was just starting up. Two other 2LTs and I were tasked with setting up the maintenance and motor pools for the brigade headquarters and the three infantry battalions. After accomplishing that task, I was assigned as the battalion motor officer for the mech battalion. (I was surprised when I learned that I was still on the books as a platoon leader for A Company.) My next task was to conduct training for the battalion maintenance personnel while also preparing for the deployment of the battalion's vehicles, both wheeled and track, for movement to the railhead and then transportation by ship to Vietnam. An E6, PFC and I deployed with the equipment. The great part about my stay at the Beaumont, Texas port is that my wife was able to stay with me for a couple of days.
After 30 days on a freighter, the Addabell Lykes, we arrived in Vung Tau, Vietnam only to find out that we could not go up the river to Saigon for ten days. We finally arrived in Saigon and unloaded the equipment for movement to division headquarters at Bearcat. After a month the 3rd Brigade and its three battalions moved south to Tan Ann. Our battalion set up its initial basecamp on an abandoned airfield and it was there that we received our first mortar attack but the damage was slight. The unit then moved to Dong Tam, the 9th Division's new base camp and I was still the battalion motor officer.
On 14 Jan 67, I was promoted to 1LT. Then on 26 March I received a call to report to battalion headquarters where I was assigned as the commander of A Company, 5th Battalion, 60th Infantry (Mech). The company's first mission was to protect a dredge sitting by the shore of the Mekong River. When the commander of C Company was killed, a mechanized platoon from my company was tasked to provide reinforcement and the unit was saved.
The 2nd Brigade became the Mobile Riverine Force and we continued company sized operations in the Delta. We had 19 tracks to hit mines with minor casualties and eagle flights were conducted over the AO. After 5 ½ months I was assigned to brigade headquarters as the air liaison officer where I coordinated actions between the Vietnamese brigade and our brigade and finished my tour.
Editor's note. Returning to the States from Vietnam, Ray was assigned to an infantry training brigade at FT McClellan, AL where he trained soldiers in use of hand grenades, quick kill techniques, helicopter operations and patrolling. He became temporary chief of the RVN Committee and then applied for flight school and was accepted for fixed wing training. At FT Rucker, he became VFR and instrument qualified in the OH 1 Bird Dog and returned to Vietnam as a platoon commander with the 223rd Aviation Battalion, 1st Aviation Brigade. He also flew for the 173 Abn Brigade and the 4th Infantry Division. He lost no aircraft flying 1100 combat hours while adjusting artillery fire and supporting many Ranger company missions. Back to Benning for the Infantry Officer's Advance Course and then to Florida for the degree completion program at the University of Tampa. He went through the Rotary Wing Transition Course at FT Rucker and then to the 3rd Infantry Division (Rock of the Marne) in Sweinfurt, Germany. He was promoted to major and then moved to Kitzigen, Germany to command the HQ and Service Company where even though short on personnel and equipment, the unit had to prepare for CMMI/IG inspections. He was then assigned as XO of the 703rd Maintenance Battalion and commanded a forward area support (FAST) unit. With the 3rd ID, Ray participated in three Reforger exercises, two while commanding an aviation company (one of them as an umpire with a German group) and one while XO of a maintenance battalion carrying out a test of a brigade FAST (he served as the FAST commander.) The 3rd ID tested two concepts which were later adapted by the Army: a combat aviation battalion at division level and the FAST organization at brigade level.
Ray then completed the Command and General Staff Course at FT Leavenworth, KS and was assigned to the TRADOC Log Center as a systems analyst. He was promoted to LTC and assigned to the Pentagon as a Congressional Affairs Contact OIC. Then he became OIC of the Army's maintenance award program which included the Army Reserves. His final assignment was to the Army Material Command where he was an aviation log support officer. Ray stated he had a rewarding military career that concluded with a retirement pass and review ceremony by the Old Guard. His awards include the Legion of Merit, three Meritorious Service Medals, four combat Bronze Stars and 14 combat Air Medals. He retired as a senior aviator with 1900 hours (1100 combat), the CIB and a General Staff Badge. He lives in Clearwater, FL where he says he is "happily retired."