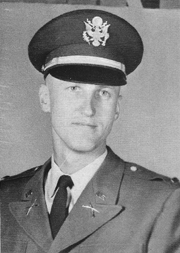 Rank: 1st Lieutenant
Branch: Infantry
Separation Date: Active Duty, December 1967, Army Reserves, February 1971
Number of Years Served: 6
City and State: Santa Rosa, California
Wife's Name: Beverly; 2 Children.
Awards: Certificate of Appreciation, Expert Badge: M-1, M-14, M-16; Overseas Service Bar, Vietnam Campaign Medal, Vietnam Service Medal, Vietnam Cross of Gallantry w/Palm, National Defense Service Medal, Air Medal, Bronze Star w/1OLC, Combat Infantryman Badge.
Civilian/Military Schools & Degrees: Lassen High School, 1959, Lassen College, AA Business AD, 1962, Sacramento State College, BS, Business AD, 1965. While at Lassen College, served on the Student Council and received the Bank of America Award for Distinction in the field of Business AD, 1961. Also, played basketball for Lassen College and worked part time in the U.S. Postal Service for $2.00 per hour. Received a B.S. Degree in Business AD from Sacramento State College in 1965, with a dual major in Personnel Management and Psychology. Played basketball for Sacramento State, was President of Delta Sigma Pi fraternity and met my wife Beverly and we were married while I was a Senior Candidate in Infantry OCS at Fort Benning. Basic Combat Training, AIT and Infantry OCS. Graduate School of Credit and Financial Management, Williams College, 1981, with a Masters Degree; Thesis was "The Medical Professional: A Business Development Approach".
Summary of Assignments: Drafted on April 7, 1964 (age 22), but received a deferment until Jan 1965 so I could complete my college degree. On February 25, 1965, I enlisted in the Army under the College Option Program with a guarantee to attend Infantry OCS, but with no guarantee to graduate. I went through BCT and AIT at Fort Gordon, GA with 23 other College OP's. Only 17 College Op's, who entered OCS with my group, graduated with me in 1966: They are: Burke, W; Clouser, L; Conaty, P; Gehrt, C; Hammontree, J; Lawrence, D; Limer, L; Minden, E; Motley, J; Murphy, G; Ness, G; Oldham, H; Pace, D; Pevey, T; Taft, M; Tarjany, R; and Ward, H. Following OCS, I was assigned to the US Army Garrison, Fort Riley, Kansas for further assignment to the 9th Infantry Division, along with many other classmates from OCS Class 1-66. I reported for duty, February 1, 1966, the day the 9th Infantry Division was re-activated.
I reported to the 1st Brigade Commanding Officer, Colonel Maurice W. Kendall, along with 5 Lt's from our OCS Class. Colonel Kendall assigned me as the acting Brigade S-1, to request and fill officer and cadre positions for the 2/39th, 3/39th and 4/39th Infantry Battalions. Needless to say, for a "green" 2LT, it was stressful, most challenging and a fast learning curve. In April 1966, I was assigned to Company A, 2/39th, as a Training Office for BCT and AIT. LT's Peck and Harley were also assigned to Company A. On July 18, 1966, I was assigned to Battalion Headquarters as the Battalion Adjutant and S-1 and remained in that position until I DEROS from Vietnam in December 1967. The Battalion CO's were LTC Miles, LTC Trinkler and LTC Lee during that period of time. Before leaving Vietnam, Colonel Kendall, who was now the 9th Division Chief of Staff, asked me to stay in the Army, but I chose not to. Upon returning from Vietnam, I was unable to find a job, because of "no experience." I was castigated and ostracized and nobody wanted to hire a Vietnam VET. As a result, I went on unemployment and had a difficult time readjusting back into the "World".
In January 1968, to my surprise, I was assigned as CO of a BCT Ready Reserve Company for two years. I attended monthly drills and ANACDUTRA at Fort Ord and Camp Roberts, California. After two years, I was placed on one year standby reserve status and Honorably Discharged February 25, 1971, thus completing my six year military obligation.
Addendum: I want to share information about my experience and the 9th Infantry Division Re-Activation and Movement to South East Asia (Republic of Vietnam). The 9th Infantry Division was re-activated at Fort Riley, Kansas on February 1, 1966. Known as the "Old Reliables," the 9th Division became the first division since World War II, to be organized, equipped and trained for deployment to an overseas combat theater. The division was organized under the ROAD (Reorganization Objective Army Division) concept. The 9th Division mission was to train and retain the troops from BCT to Combat Readiness in approximately 8 months for deployment to Vietnam. This task, some in the Army said, was impossible to achieve in such a short period of time. The skeptics were proven wrong, wrong, wrong. We trained night and day to accomplish this mission. In early May 1966, a Warning Order, from Department of the Army, alerted the 9th Division for movement to Vietnam, during December 1966. Movement Order #19, dated July 30, 1966 was issued for a PCS move for the 1st Brigade, 9th Division and all attached units with a ready date of December 5, 1966, to proceed to Vietnam.
On October 16, 1966, the 9th Division's, 15th Engineer Battalion, became the first echelon to arrive in Vietnam and immediately began developing a division sized base camp, called Bear Cat, located near Long Than, 20 miles southeast of Saigon. Other advance parties of the division were deployed to Vietnam by air with the first group landing December 8, 1966.
On the same day, the 9th Division was re-activated (Feb 1, 1966), six very nervous 2LT's "fresh" out of OCS, 51st Company, Class 1-66, reported to the 1st Brigade Commander, COL Maurice W. Kendall and he took all of us under his "wing." The six 2LT's were Harry Harley, Dan Peck, Bob Shepps, Al Stricklen, Larry Thomas and myself, and each of us were given various tasks to perform in order to get the Brigade up and running from nothing. Eventually, the six 2LT's were assigned to the 2/39th Infantry (Fighting Falcons). We became know as the "6 Bars and a Bird Club" and a special bond was formed between us. We had several social gatherings at Fort Riley. While in Vietnam, in April 1967, Colonel Kendall, asked me, the 2/39th S-1, to get hold of all of the original six to meet with him at Division HQ for a little social gathering and reunion. Everyone of us got "blasted out of our minds." That was the last time we all met together. Over the past 30 years, I have been in contact with Major General Kendall, who retired at age 57 in September 1978. I call the General every Veteran's Day with greetings from the 2/39th Infantry Regiment and the six bars. To this day (he is now 88), he has fond memories of his 6 Lt's and is very proud of what we were able to achieve. His words were: "you can rise to the occasion no matter what." The First Brigade motto was AAAO , "Anything, Anywhere, Anytime..Bar Nothing."
When the 2/39th Infantry "Fighting Falcons", deployed to Vietnam, December 1966, most of the Battalion moved by train with weapons from Fort Riley, Kansas to Oakland Army Base to board the USNS General AM Patch, a 1940's troop transport ship. I left Fort Riley with the Battalion HQ and HHC, after dark, by bus to Kansas City, boarded 707 jets and flew all night to Oakland Airport, then bused to the waiting ship in the early AM. We departed Oakland on December 12, 1966 with approximately 1500 troops & officers on board. Our tour of duty started then. Other 9th Infantry Division troops were on the USNS Upshure. While crossing the Pacific, the seas were pretty rough and many got sea sick. The Bn. Cdr. was sick most of the trip, and was not seen very much. We stopped in Okinawa for a few hours to refuel and take a break from the ship — again "blasted." Every day at sea we trained again and again. The USNS Patch arrived in Vung Tau, Vietnam harbor January 1, 1967 and while anchored, patrol boats were circling the ship for security. We got onto landing craft ready to "hit the beach" at Vung Tau, "locked and loaded" for any hostile fire. We were greeted by the 9th Infantry Division Band, the CG, Major General George S. Eckhardt and Colonel Kendall. We loaded onto deuce and halfs and went up highway 15 to Bear Cat. Along the route the Australians were our security screening force. The temperature was hot – damn hot. After about a two-week period of acclimation, combat operations began.
Profession following military: Banker, 30 years, retired, May 1997. Employed by Bank of America, February 1968 under an accelerated management program for 6 months (no running, push-ups or harassment this time). Jobs included various Jr. lending positions, bank branch head of consumer lending, bank A.V.P, Asst. Manager, Vice President, Bank Manager and Regional V.P. in charge of 26 bank branches in three California north coast counties. I was with the bank for 20 years and was "redeployed" (fired), due to downsizing and for younger and less costly personnel. I was then employed by National Bank of the Redwoods, a small community bank, in August 1988, as AVP-Commercial Loan Officer. I became Vice President-Credit Administrator with 7 lending officers reporting to me. I was with the bank for 5 years. My last bank employer, in 1993, was Exchange Bank, a large community bank, as a bank manager. I was with this bank for 5 years and had to retire on disability due to major abdominal surgery in which all of my large intestine was removed, because of ulcerative colitis. This surgery caused a rapid transit digestion problem so I could no longer work full-time.
Since 1988, I have helped manage the Geyserville Inn, a 40 unit up-scale Inn, about 25 miles north of Santa Rosa,CA. The Inn is located in wine country. I am the Corp. Executive Vice President/Director. The General Manager reports to the Executive Committee, which I chair on a monthly basis.
Current hobbies/interests: I grow and show roses – have 52 currently. Teach classes on rose care and pruning for a large home improvement store as a "volunteer". Member of the American Red Rose Society. Other interests include taking cruises and have been to Alaska 4 times and Mexico twice. Enjoy CD music and photographing roses for Rose Society contests. I turned 70 on October 1, 2011. My mind is still sound. Despite a right knee replacement, a left ankle that has been fused, kidney stones removed, two major abdominal surgeries and rapid transit digestion, I feel quite good…..most of the time anyway!
A College Op's Story at OCS 1-66
Clifford A. Gehrt
I was 23 when I graduated from Sacramento State College (now Cal State University Sacramento) in January 1965 with a BS degree in business administration and a concentration in personnel management. I was drafted in April 1964 but was given a six-month deferment until I completed my degree. I signed up for Infantry OCS under the College Option Program with a guarantee to attend OCS, but no guarantee to graduate.
On February 18, 1965, I traveled by bus to the US Army Induction Station in Oakland, CA and was sworn in the army with other enlisted recruits and draftees. I was then given a dive of a hotel room by the Army to stay in Oakland for the night, and in the morning went back to the induction station for some chow. Then the Army took me by myself, in my civilian clothes, to San Francisco International Airport for a Delta flight to Atlanta. This was the first time I had ever been on a 707 jet and I gripped the seat's arm rests for dear life as we took off. I then caught another flight to Columbia, SC where I was met by someone with a jeep and driven to Ft Jackson. It was at the US Army Reception Station, Ft Jackson, SC that I met up with the other 22 college ops who were designated officer candidates for OCS Class 1-66. We would all be assigned to the same platoon in both BCT and AIT. Ft Jackson is where I got my hair cut GI style, received uniforms that did not fit, and was told to send my civilian clothes home.
The Army did not have any fatigues or Class A uniforms that were long enough for my arm length or inseam for a 6′ 6″ officer candidate. So, all of my clothes had to be special ordered, and would be sent to me at Ft Gordon in couple of weeks. In the mean time, the Army ended up sewing extra lengths to the fatigue bottoms, which looked hideous with two different fatigue colors. I still could not blouse them in my boots. The fatigue's arm length was half way up my arms. I was issued size 12 wide boots, and I needed a size 13 narrow. I wore the size 12 when BCT started, and all of my toes on both feet blistered. It was painful to run or walk. I told the E-7 platoon sergeant about the boots, and he went to supply and had them order me two pairs of boots that would fit. I got the boots in a couple of days.
After completing BCT and AIT at Ft Gordon, the college ops were bused to Ft Benning, Georgia where we became officer candidates in 51st Company. We were assigned alphabetically to the six platoons and several of the college ops and I were placed in the Second Platoon with LT Dan Cerone as our tactical officer (TAC.) Of the 23 college ops who started with Class 1-66, 17 graduated with the others washing out, quitting or getting recycled. A total of 192 candidates started the officer candidate program in July, 1965 with 144 graduating on January 14, 1966.
A Bar's Story
Clifford A. Gehrt
Introduction
When 23 newly commissioned 2LT's from OCS Class 1-66 were assigned to the 9th Infantry Division at Fort Riley, Kansas, they would help accomplish something that had not been done since WWll: to form, organize, train, retain and equip a 15,000 man United States Army division for combat. The 9th Division had a storied history in WWll but after the war it had been deactivated. That meant when the Vietnam War heated up and more units were needed, the 9th would have to be reactivated (built back from scratch.) But in WWll, the Ninth Infantry Division had over two years to prepare for combat while the reactivated unit had just 8 months to train and retain recruits right out of the reception station and deploy to Vietnam. Some senior Army officials claimed it was not possible but the mission was accomplished thanks in part to contributions made by graduates of Officer Candidate School Class 1-66. What follows is the story of Clifford A. (Cliff) Gehrt, a member of that class.
Chapter One, OCS
I was 23 when I graduated from Cal State University Sacramento in Jan. 1965 with a BS degree in business administration and a concentration in personnel management. I was drafted in April 1964 but had been deferred until I completed my degree. I signed up for Infantry OCS under the college option program, with a guarantee to attend OCS, but no guarantee to graduate. I was inducted in the army on Feb. 18, 1965 and flew from Oakland to the reception station at Ft. Jackson were all the other college ops were gathered. From Ft. Jackson we were bused to Ft. Gordon for BCT and AIT. All of the ops were in the same platoon in BCT and AIT. Of the 23 college ops, all E-2's, in Class 1-66, 17 graduated. Others washed out, quit or were recycled. A total of 192 candidates started OCS Class 1-66 and 144 graduated on January 14, 1966.
Editor's note: When Gehrt reported to 51st Company at Fort Benning, Georgia, he was assigned to the Second Platoon with LT Dan Cerone as his tactical officer (TAC.) There were 6 platoons in Class 1-66 and all had candidates with various military backgrounds and time in service. The same was true for the TACS. Gehrt submitted the following memories from his time at OCS.
It was a Sunday morning and it was the very next weekend after OCS started on July, 18, 1965. Everyone was confined to the 51st Company area, and the only way to "ESCAPE" the harassment of doing push ups, slamming ourselves to attention against the interior walls of the billet, and hearing "don't you eyeball me boy" by the 50th company "Blues" and our own TAC officers, was to attend church services. The plan was to stay away as long as possible. Those participating in the "Great Escape" were candidates: Alex Gordon III, Harold "Hal" Graves, Clifford A. "Cliff" Gehrt, Candidate Day (did not graduate with the class), James L. "Jimmy" Hammontree, Ransom J. "Handsome Ransom" Cooper Jr., Kenneth R. "Ken" Gillespie, and Jerry R. Fry. (See attached photo.)
While we were standing around in front of the church waiting for the service to begin, low and behold, Jerry Fry immediately recognized his old platoon "Sgt. Murden" from the 82nd Airborne Division when Jerry was a PVT E-2. Jerry called out to "Sgt. Murden", and walked over to shake hands and exchange pleasantries until church began. Little did Jerry or the rest of us know at the time that "Sgt. Murden" dressed in civvies, was actually 2LT Murden, a TAC officer at 50th Co.
The next morning Jerry was the 2nd PLT Leader, and was standing in front of the platoon, when all of a sudden someone from behind asked Jerry over his shoulder "if he was taking care of his men". As Jerry turned around he saw a TAC's helmet with a big shinny 2LT Bar, and wearing that helmet was none other than 2LT Murden. Jerry smiled, and was told to drop for eyeballing, and 2LT Murden walked away. While the rest of us escaped harassment by going to church, every time 2LT Murden saw Jerry in formation he was told to "drop for eyeballing." Thus, the saga of the "Great Escape."
Here is a story of a 51st Company "Poncho Run in the Sun." As I recall, Class 1-66 had not been at OCS very long, maybe 4-6 weeks. It was August 1965, and it was late afternoon approximately 1530 or 1600. It was hot, damn hot, with the heat and humidity also very high and it did not take much activity to start to sweat. On that August day the company was told to fall in and put on our rubberized ponchos. As we stood at attention, the Company Commander, CPT George Cady, gave the command to start marching. The TACS were also with their platoons. It was not long after we started marching when the command to double time was given. We started running and kept on running in the heat and humidity with our ponchos on and sweating to death. We ran non-stop 6 miles all the way to Lawson Airfield. Many of the candidates had fallen out, only to have the TACS get all over them and calling them "gutless wonders" and "you are not going to make it through OCS so you might as well quit now." When we got to Lawson Field we did not stop running or have anything to drink and then headed back to the company area. On the way back, a lot more candidates were throwing up, dropping out, and passing out due to the extra heat generated by the ponchos. Everyone was soaked in sweat too. When we got back to the company area and thought we would finally stop, we just kept running right on by. Eventually, we came back to the company area and it was time for chow, but since we were soaked, we had to clean-up and break starch once again. This is the saga of the not so fun run in our ponchos for a total distance of 12 miserable miles that I will never ever forget.
One night around 2200 the 2nd platoon tried to sneak pogey bait pizzas into the billets in our spit shinned garbage cans. We had not started eating yet, and LT Pulliam, one of our TAC officers, shows up. He ordered all of us to get in the cold showers with our fatigues on and eat the pizzas with the showers on full blast. The entire platoon was laughing and having a good time enjoying our soggy pizzas that still tasted good to us. At the 2010 reunion, I asked Pulliam if he remembered the incident. Pulliam said he still remembers that night and that he had to leave the scene because he too was laughing so hard and could not stop.
When I traveled to Ft. Riley after graduating from OCS, I flew to Kansas City and then took a DC 3 to Manhattan, KS. I was aware that Leon Stricklen and I were being assigned to the 9th ID, and I didn't know until after reporting in that four others from our class would join us (Larry Thomas, Harrison Harley, Robert Shepps and Daniel Peck.) We became known as The Six Bars later to become Six Bars and a Bird. Leon and I met up in Manhattan for a couple of days and stayed in a motel prior to reporting in to the 9th Infantry Division G-1. Leon had a vehicle and that is how we got on post. There was snow on the ground and damn cold when we reported on Feb.1,1966.
2LT Stricklen and I reported to the 9th Infantry Division Headquarters at 0800, February 1, 1966. I spent about an hour doing paper work then was told to report to the 1st Bde commanding officer, COL Maurice W. Kendall. His office was in division headquarters because the brigade headquarters at Camp Forsyth was just a shell of a building. When the 1st Infantry Division deployed to Vietnam in fall 1965, they stripped the buildings of everything, including the commodes.
When I met COL Kendall, I saluted smartly, and said "LT Gehrt reporting, SIR", and stood at attention looking straight ahead. The COL returned my salute, told me "at ease" and to sit down.
While I sat in his office, COL Kendall explained the situation about the brigade to me. His concern was that there were no field grade officers to fill the positions on his staff. In fact, there was no one in the 1st Brigade except for the colonel and 6 newly commissioned OCS second LT's to start a unit that would eventually consist of 5,000 officers and men. The colonel had reviewed my 201 file and said that I was the only one of the 6 LT's that had a BS degree, and he knew it was in personnel management. COL Kendall then told me I was going to be the acting Brigade Adjutant/S-1, a major's position, and said that as a 2LT he knew I had no experience being an Adjutant/S-1, but I would rise to the occasion. My office would be in his office, and that everything that I did was "For the Commander."
COL Kendall was a heck of a teacher and was head of the tactics department at Benning while I was in OCS. In fact, the tactics classes I took were from his department. COL Kendall taught us the YUDBWYYC principle and the officers all wore tie clips, which was mandatory. Oh yes, the principle was Your Unit Does Best What You Yourself Check. I even used it in my 30- year banking career. The other item taught was to think outside of a circle he would draw. He then would give examples of thinking outside the circle in combat.
My primary responsibility was to go to division G-1 every day and to help select and track the initial cadre for the 2/39th, 3/39th and 4/39th Infantry Regiments, which was no small task. The cadre was being sent from other divisions but were basically cast offs that the divisions made expendable. I would report the results to COL Kendall at the end of each day. I stayed in the acting BDE Adjutant/S-1 for two months, then was assigned to the 2/39th Infantry Regiment.
The Bars and the COL met every morning and he would send them on their assignments for the day to get Camp Forsyth ready for the fill of 2/39th new recruits arriving for BCT on April 4, 1966. The fill for the 3//39th and 4/39th would follow 2-3 weeks later.
Two of the Bars, LT Peck and LT Shepps, were married and lived in base housing. The other 4 Bars lived in the BOQ. My little room consisted of a short bed, a little closet, and a very low sink. No shower or toilet. I had to go across the hall for the shower and toilet. My room was very cold and the wind came right through. At night, because the sink was very low for me, if I had to urinate, I would just use the sink and not have to go across the hall in the BOQ. Larry Thomas, upon graduating from OCS, bought a new black 1966 Pontiac GTO. I would go out with him to the "O" Club, or to Junction City on weekends and catch a ride to BN and back during the week. I lived in the BOQ until June and bought a 1964 Chevy Super Sport with red and white interior for $1700. In June, my new wife, Beverly, (married Dec. 18, 1965 while on Christmas leave as a senior candidate) had finished teaching 4th grade in Napa CA, arrived and we lived in an apartment in Junction City, KS
As previously mentioned, the Bars met with COL Kendall in the mornings for briefing sessions on the progress being made to get the brigade up and running. COL Kendall gave the Bars free latitude to use his grade and GI ingenuity to cut through the "red tape" to get whatever was needed. For example, when we needed jeeps, the Bars would tell the motor pool that the 1st BDE CO's staff needed jeeps to go to various areas-no problem. One of the Bars contacted the Post Engineers to get the buildings refitted with things like toilets, sinks and windows that the 1st Division had stripped out when they deployed to Vietnam. LT Harry Harley III, aka "Crazy Harry," was tasked with writing up the Army Subject Schedules and class training plans and establish training sites. Harry also designed the Cadre Instructors Course to develop acting cadre from OCS tested soldiers to lead the 2/39th, 3/39th and 4/39th Infantry Battalions through BCT, AIT BUT, AUT, and Combat Readiness.
COL Kendall initially gave me the scope of my duties, then relied on my initiative and education along with a free reign to use his name when working with the G-1 staff. Most of the time it was OJT and I made things up as I went. The experience was invaluable, and as a 24-year old 2LT, I was not afraid to be around the brass at division headquarters.
Each day, I would go to Division G-1 and work with a CPT, probably AG Corps. The cadre selections were for mostly E-6 and above. I would pour over the information with the CPT. The priority was to fill the cadre positions for the 5 companies in the 2/39th INF because basic combat training (BCT) was starting in April. The other divisions who were to send cadre to the 9th did not send their best NCO's. If there was any kind of problem noted, the NCO was not assigned to a company. The E-5 squad leader slots were selected from the new recruits who demonstrated leadership ability on the OCS testing scores. The final cadre selection decisions were made, and orders were cut from DIV HQ. Once the cadre selections for the 2/39th INF were finalized, the next BN was the 3/39th INF and then the 4/39th INF. At the end of the day, I would brief Col. K on the selection results and provide the names and companies they were assigned to on a TOE basis.
After two months at brigade, the 6 Bars were assigned to the 2/39th INF RGT. LT Dan Peck and I were assigned to A Company, LT Harry Harley, C Company; LT Bob Shepps, B Company; and Leon Stricklen, HHC. I am not sure about LT Larry Thomas, but think he was provisional to D Company for BCT and AIT. On April 4, 1966, 900 new recruits arrived from reception stations from all over the U.S. by bus, train, and plane. The recruits were transported to the unit areas where they were greeted by the brigade commander, the battalion commander and the company officers and NCO's. It should be mentioned that when the New Reliables arrived, their bunks were already made up for them throughout the BN. After a period of administrative processing, basic training in the 2/39th began on April 11, 1966 following the brigade's master training schedule.
By the time the new recruits arrived, the companies had cadre NCO's to train the troops and teach them to march, and salute. The company commander and I monitored the training and I taught classes as did the other officers in the BN. During AIT I taught a commo class and was the officer in charge (OIC) for the M-60 training; a staff sergeant taught the class. On the firing range, I was the range safety officer where the troops were doing live fire, and the sergeant was in the control tower. On several occasions the BDE CO or the commanding general (CG) would arrive to observe the training. It was protocol for the OIC to run to meet the observers, salute, and give a short briefing. During a live fire of the M-60, I was on the line and here comes the CG. I could not leave the line, or cease fire, and as the OIC, I could not run and greet the CG. I reported the incident to the company commander, and I was told that I did the right thing and that the CG would understood the situation. In July 1966, I was told by Company Commander CPT Carl Unlaub to report immediately to the BN CO. I reported, saluted and stood at attention-no eyeballing. The BN CO just said, "Lt. Gehrt, you are now the BN Adjutant/S-1, so go to work!" "YES SIR!!" I saluted and did an about face and got busy, relying heavily on the E-7 Personnel NCO, Alphonso Gloria, to keep me out of trouble with the "old man." On July 30, 1966 a movement order arrived from the Department of Army giving the 1st BDE a ready date of 5 Dec. 1966 to proceed to Vietnam.
Here is a story about the BN CO chewing me out over the daily morning report recap from 5 companies, HHC, A, B, C, D, when the report was not completed by 0700, the time it was supposed to be ready and on his desk. I had been in the Adjutant/S-1 position for about a month, maybe two months. When I was called into the CO's office, he was beet red in the face, and was smoking a stinky cigar. Needless to say he was going ballistic, ranting and raving and having a fit. I saluted, said "YES SIR" and he began chewing and cussing me out over the recap being late. He kept it up and I decided that I was not going to stand there and take his tirade anymore. I was pissed and used some "OCS "Moral Courage" to defend myself. I interrupted him in mid-sentence, and said, "With all due respect sir, just a damn minute. Let me explain the situation so you will understand why the recap is not ready." I gave him the OCS stare down and explained the problem. Three of the companies had not sent their reports to BN and therefore I was not able to complete the recap report. The CO said, "LT. Gehrt, you get your butt down to those companies and you tell those captains and first sergeants that the morning reports will be into battalion NLT than 0630. After using some psychology, I asked (remember I'm a new 2LT) the captains and the first sergeants for their help. I told them I was taking the heat from the commander because they were not getting the morning reports in on time and that 0630 was now the BN CO's deadline. After the incident, the problem with the companies was solved. I was always one step ahead of the of the BN CO and he never got on my case again during the time I was with him. I guess I earned his respect. In Jan. 1967, he was wounded as were others in the command staff, during an operation. He was subsequently promoted to 06 and was the base CO at Dong Tam.
Chapter Two, Vietnam
When the 2/39 Infantry, "Fighting Falcons", deployed to Vietnam in December 1966, most of the battalion moved by train with weapons from Fort Riley, Kansas to Oakland Army Base to board the USNS General AM Patch, a 1940's troop transport ship. I left FT. Riley with the Battalion HQ and HHC by bus after dark to Kansas City. We boarded 707 jets and flew all night to Oakland International Airport, then bused to the waiting ship in the early AM. We departed Oakland on December 12, 1966 with approximately 2500 troops and officers on board. Our Vietnam tour of duty started the moment we left the docks. The ship was hot and my cabin had a single fan and a porthole. While crossing the Pacific the seas were rough and many got sea sick. The battalion commander was sick most of the trip and was not seen very much. Every day at sea the troops continued to be trained again and again. We had Christmas and New Year's onboard the ship. We stopped in Okinawa to refuel and let the troops off the ship for a little R&R that got out of hand. One trooper was so drunk that he decided to jump off the fantail of the ship while it was still in port and survived. There were other incidents also.
The USNS General Alexander M. Patch arrived in Vung Tau Harbor, Vietnam, January 1, 1967 and while anchored, patrol boats circled the ship for security. We got onto landing craft ready to "hit the beach" at Vung Tau, "locked and loaded" for any hostile fire. We were greeted by the 9th Division Band, the CG, MG George S. Eckhardt and COL Kendall. We loaded onto deuce and a halfs and went up Highway 15 to base camp Bear Cat. Along the route the Australians were our security screening force. The humidity and heat was stifling. After about a two-week period of acclimation, combat operations began.
The following explains the role and some of the responsibilities of the BN Adjutant (Chief Administrative Officer)/S-1(Special Staff-Personnel) as it relates to a combat environment, a role that is challenging, difficult and stressful because things happen so fast. For example, casualties, both KIA and WIA, take place faster than they can be replaced, thus producing personnel shortages that affect unit strength.
As the Adjutant/S-1 for the 2/39th Infantry Regiment, I was responsible for overseeing the numerous sections within the S-1 shop and keeping the BN CO informed of all unit strengths and personnel matters. The following are the sections that I oversaw and managed, with the help of staff that compiled critical information and prepared reports for my signature which was always "For the Commander"
Personnel Section. The section handled promotion allocations and troop replacement allocations which were sent to companies as needed. Worked with other battalion staff officers to investigate any atrocities that might occur. The section was managed by a personnel NCO E-7.
Awards and Decorations Section. Wrote the proper awards and decoration verbiage recommended and submitted by the companies, even if the recommendation was sent in on a C-ration box top, for further processing to Division HQ.
Casualty Section. Implemented the Casualty Reporting System by sending S-1 staff on field operations to report casualties on the admin net to the battalion S-1. Also tracked KIA's and WIA's by company within the BN using a master tracking chart; requisitioned troop replacements as needed to maintain unit strength; communicated with graves registration and contacted evac hospitals for disposition of WIA's. A difficult but important task was to prepare sympathy letters for the BN CO to sign.
Legal Section. Cut orders for Article 15's submitted by the companies, prepared proper documents for summary court martial proceedings under UCMJ, convened the Court Martial Board; coordinated with the military police unit to transport guilty soldiers to Long Binh Jail (LBJ). Note: courts martial sentencing of 6 months is considered bad time and extends the soldier's tour of duty in a combat zone by 6 months. During incarceration, the soldier is reduced in rank with a loss of all pay and allowances.
Mail Section. Pick up daily mail for the BN in the morning; redistribute and deliver mail to each company; send company mail via helicopter resupply in the afternoon, when possible.
PIO Section. Prepare information for home town newspapers and media outlets.
Editor's note. The position of a Battalion Adjutant/S-1 is usually held by a senior captain. Candidates attending infantry OCS received virtually no instruction on how to run a S-1 shop. That information is learned through courses at an Adjutant General's school. But what Gehrt and his classmates did learn was to seize the initiative and rely on the experience of capable NCO's. Even though he had to learn many of his duties "on the job" he applied his OCS class motto which was "to set the standards" and he and his men were able to accomplish the mission during his tour in Vietnam.
In April 1967, I received a call from COL Kendall, now the 9th Infantry Division Chief of Staff, and asked that I get hold of the other Bars and meet with him at division headquarters for a reunion and social gathering. The result of the meeting was a big party of the 6 Bars and a Bird. It was a party of all parties too. Bar Larry B. Thomas was completely wasted and had to be held up by the back of his fatigues between Bar Dan Peck and me for a picture taking session. The other Bars and a Bird were not feeling any pain either. The party bonded the 6 Bars and a Bird for life.
The 6 Bars and a Bird never held another party quite like the party of all parties during my time in Vietnam, but there was a little officer's club in the 2/39 INF area where the officers could go when standing down from operations, to gather with friends and have a few refreshments and a bite to eat. One evening, I was frequenting the club, and between the club and the wooden framed living quarters tent, there was a drainage ditch about 4 ft wide and 2-3 feet deep, with a little foot bridge that crossed the ditch. After too many Gimlet refreshments, and in total darkness, you could not see your hand in front of you or where you were walking. I was walking back to the living quarters when all of a sudden, I fell into the dry ditch and have no idea how I managed to get back to my tent. This same situation happened on a few occasions so I started using a field flashlight with a red filter lens to find my way back.
Being the Battalion Adjutant/S-1 of the 2/39th Infantry Regiment in a combat unit with minimal military experience was no easy task and the learning curve was steep. However, I relied on a college degree in personnel management, the discipline and leadership learned in OCS, and the ability to make decisions based upon the situation. OCS gave me the overall confidence that I could accomplish my assigned missions and I was able to rise to the occasion. As a mentor, COL Maurice W. Kendall would say, "Keep Charging, First and Foremost." That and the YUDBWYYC principle were instrumental in letting me accomplish the duties and responsibilities of a Battalion Adjutant/S-1 to the best of my ability.
Editor's note. Before leaving Vietnam, 1LT Gehrt was contacted by COL Kendall and asked to remain in the Army, but he chose not to as he was ready to enter the business world where he spent 30 years as a banker. After Vietnam, however, the Army was not ready to turn him completely loose and for two years he was assigned to the Ready Reserves in a basic training company. Gehrt remained in touch with his former brigade commander, COL Kendall, later MG Maurice Kendall, calling him with greetings from the 2/39 INF every Veterans Day until the general died in May 2017. General Kendall, an OCS graduate during WWll, was also made an honorary member of OCS Class 1-66 by his former lieutenants who helped start the 1st Brigade. Gehrt and his wife live in Santa Rosa, California where he is retired and enjoys cultivating award-winning roses.