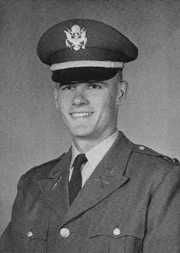 Rank: 1st Lieutenant
Branch: Infantry
Separation Date: January 13, 1968
Wife's Name: Barbara; Children: 5; Grandchildren: 2
City and State: Sepulveda, California
Awards: Combat Infantry Badge, Bronze Star
Civilian Degree: BA, Accounting, Marian University
Summary of Assignments: Following OCS he became an instructor with the Nuclear Weapons Team at Fort Benning. He later went to Jungle Warfare School and was later assigned to the 25th Infantry Division in Vietnam as a Platoon Leader, XO and Acting Company Commander.
Jobs/Profession following military: After returning from Vietnam, he got out of the Army and went to work for United California Bank (UCB). After 10 years with UCB, he bought a liquor store, which he ran for 5 years. After that, he went back to banking, joining Crocker National Bank. He subsequently worked for a number of community banks in Southern California, which included Santa Clara National Bank, Burbank National Bank and Downey State Bank. He became President and CEO of one of the banks and later sat on the Board of three troubled community banks. A total of 30 years in Banking.
Current hobbies/interests: Golf, hiking, softball and going to Las Vegas often; Driving an 18 wheeler.
The Leo F. Clouser Story
Leo Clouser grew up in Indianapolis where he graduated from high school in 1960 and then from Marian University in June 1965 with a BA degree in accounting. While in college, Leo worked as a drug store clerk and during summers, for the US Postal Service as a relief mail carrier. During his junior and senior years of college, Leo worked 32 hours a week as an assistant producer-director for an ABC television station. In January 1964, he was accepted to be a Federal Treasury Agent trainee GS-5 with a start date of March 1, 1965. Unfortunately, the Army came first. After graduating from college, Leo worked as an insurance adjuster until enlisting at age 22 for the Army's College Option Program. He was given a guarantee he would be a member of Infantry OCS Class 1-66, but there was no guarantee he would graduate.
In late January 1965, Leo's draft board caught up with him and he received a "greetings letter" to report for induction which would have made getting into OCS more difficult. But since he had been working with a recruiter to get into OCS, the recruiter was able to pull some strings and got permission for Leo to enlist in February 1965 rather than be drafted. Leo had also applied for the Air Force officer program but was told he needed glasses and was not accepted. So, Infantry OCS it would be.
Leo and another college op volunteer, Harry Oldham, were inducted in Indianapolis and flown in civilian clothes to Columbia, SC and then to the reception station at Fort Jackson, SC. There they met 21 other college ops, all bound for OCS Class 1-66 at Fort Benning. But first, they had to complete basic and AIT training at Fort Gordon, Georgia which they did as members of the same platoon.
Arriving at Fort Benning on July 18, 1965, Clouser and other college ops with last names from A to C were assigned to the First Platoon of 51st Company with LT James D. Stotts as their tactical officer. Clouser credits his OCS experience with imparting valuable knowledge which was useful later when he led men in combat. He says the following classes were especially helpful:
Land navigation and map reading.
How to call in 105 rounds.
Combat first aid (several lives were saved as a result of this class).
Drill and ceremonies.
And from OCS, learning to respect the importance of everyday training in preparation for future difficult situations.
After graduating from OCS on January 14, 1966, Clouser remained at Fort Benning as an instructor with the Nuclear Weapons Team (Davey Crockett). He enjoyed being an instructor and called it a "great assignment." Prior to being able to teach classes, members of the team had to complete the Infantry School's Instructor Training Course. It was not an easy course (35% washout rate) but those who passed knew what they were doing when standing on a platform in front of a class.
A course Clouser says was valuable prior to his deployment to Vietnam was the Army's Jungle Warfare School in Panama. It was a difficult three-week course where the students were under extreme conditions for 24 hours a day being exposed to heat and humidity similar to what would be encountered in Vietnam. Clouser also felt the airborne training he received at Fort Benning was excellent.
In February 1967, Clouser arrived in Vietnam and was assigned as a platoon leader with Bravo Company, 2/14th Infantry Regiment, 1st Brigade, 25th Infantry Division (Tropic Lightning). There he met his platoon sergeant, SFC Holbrook, who Clouser said was a "fabulous NCO." Holbrook had been in charge of the platoon for several months before Clouser arrived and he tested his new platoon leader several times about his knowledge and leadership ability. After they had made three bets as to their location on a map, Clouser proved he could call in artillery rounds. It was then that SFC Holbrook said he had great respect for his lieutenant and that Clouser would be in charge of the platoon. They formed a solid relationship but not long after, the sergeant was wounded and evacuated. Clouser remembers him as a good leader and soldier.
On July 4, 1967, Clouser had the lead platoon when they were attacked by a battalion-size NVA force and were pinned down in a B-52 crater for approximately six hours. During that time, he called in around 800 rounds of 105 fire which caused the enemy to withdraw leaving a large body count. Friendly casualties were small thanks to the artillery support. Later, Clouser was visited by COL Emerson, his commanding officer at the Infantry School. At the time, the colonel was commanding the 25th Infantry Division's 2nd Brigade and offered Clouser a job as company commander. Clouser thought it over but said he would stay where he was out of loyalty to his men. COL Emerson said he understood and respected Leo for his decision.
Vietnam Recollections:
While serving in Vietnam, Clouser never witnessed any bad behavior by the troops. He feels he survived Vietnam because of the good training he received while going through OCS. In Vietnam he served with some fine and brave soldiers. The love he had for his men and the respect and devotion his men showed him were special bonds formed in combat. Clouser is proud of his military service to his country.
Post Military:
Clouser separated from the Army on January 13, 1968 after returning from Vietnam and became a banker with United California Bank for ten years. Next, he bought a liquor store which he ran for five years. Then Clouser returned to banking, joining Crocker National Bank. He worked for several community banks in Southern California including Santa Clara National Bank, Burbank National Bank, and Downey State Bank. He became president and CEO of one of the banks, and later served on the board of directors for three troubled banks. Leo retired from banking after 30 years and lives in North Hills, CA in the Las Angeles area where he enjoys golf, hiking, softball, going to Las Vegas and driving an 18-wheeler.
Postscript:
When his wife died several years ago, Leo says the Army got "the last laugh" when her grave marker was inscribed, "Barbara Clouser, Loving Wife of SGT Leo Clouser." The Army had used the wrong DD 214.