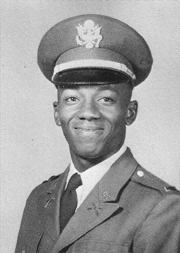 Rank: 1st Lieutenant
City and State: Hartford, Connecticut
Born: September 11, 1942
Commissioned 2nd Lieutenant: January 14, 1966.
Years of Service: 3 + Years
Separation Date: January 14, 1968
Branches: Infantry, Communications
Awards: Army Commendation Medal, Bronze Star, National Defense Service Medal, Vietnam Service Medal, Vietnam Campaign Medal w/ 6 Device, 2 Overseas Service Bars.
Schools/Degrees: B.A.,Degree. Business Administration, Southern Illinois University (1964), Juris Doctor Degree, Illinois, June 1972, Passed Bar Exams in Illinois and New York. ,Infantry OCS July 1965 – January 1966, Communications Officers Course, Fort Sill, OK., Naval Amphibious School's Riverine Warfare Course at Coronado, California,
Assignments: 9th Infantry Div., 2nd Brgd, 3rd BN, 47th Inf. Fort Riley, KS Assistant S-3, 3rd BN, 47th Infantry, 9th Inf Division, Vietnam.
John H. Motley's Story
I was born on September 11, 1942 in Chicago, Illinois and raised on a thirty-acre farm in Mounds, Illinois, 364 miles south. Mounds is in the southernmost part of the state, a dozen miles north of the confluence of the Mississippi and Ohio rivers. At first, we worked our farm with two horses, but later we bought a used tractor, always in need of repair, and then a new but smaller Farmall Cub. We raised dairy cows, hogs, and chickens (hatched from fertilized eggs ordered by catalog from Sears, Roebuck and Company; and delivered by the U. S. Postal Service). We sold milk and, occasionally, eggs. We ground field corn by hand to make cornmeal and grits. We ate the vegetables we grew in the large truck patch next to our house and the fruits and nuts that grew wild in our neighborhood, including walnuts and pecans. In the fall we canned fruits and vegetables, pickles, relish, and strawberry, peach, apple, and blackberry jellies and jams. And we slaughtered hogs, curing and storing pork in our smokehouse. My siblings and I attended segregated elementary and high schools, three miles apart. The outdoor toilet at our two-room elementary school served as the second base for the softball field. In our farmhouse we never had plumbing or an indoor toilet; and we didn't get electricity until I was eleven. We did our homework by the light of a kerosene lamp. Heat for our entire house was provided by the coal and wood-burning stove in our kitchen, also used for cooking, baking, and warming bath water. The iceman delivered ice (often covered in soot as he delivered coal in the same truck) directly to our icebox. The shallow well in our backyard pumped muddy water; for drinking, cooking, and bathing, we dipped and carried water from a running creek on our next-door neighbor's property. Though our two-bedroom house was small (roughly 625 square feet), our household at different times consisted of my parents, and four of my five brothers and sisters.
I applied to only one college, Southern Illinois University (SIU), because my older brother and best friend Lawrence ("Larry") was there. For the first two years I worked as a janitor, sharing a house and later a trailer with Larry. When I became the president of my fraternity, Alpha Phi Alpha, I became an inventory clerk for the university, and was able to live rent-free in the fraternity house. I majored in business administration with minors in accounting and history. When I was a junior, my oldest sister, Shirley, and my father, John Motley Sr., joined Larry and me at SIU. I graduated in May 1964, the first person in my family to receive a college degree. Later my father, brother, and my three sisters also graduated from college (with two of my sisters, Shirley and Carol, later earning Ph.D.'s and becoming college professors and my youngest sister, Mildred, like me, obtaining a Juris Doctor). Larry became an entrepreneur, owning numerous businesses, as did my youngest brother, Calvin, who also taught at several technical colleges. After graduating from SIU, my first job was as a tax accountant in Chicago with Brunswick Corporation, whose specialty but not only business, was bowling.
In late 1964, I stopped by an Army recruiting office in Downtown Chicago and volunteered to serve. I sought and obtained admission into the Officer Candidate School at Fort Benning, signing up for a three-year term. In mid-January 1965, I arrived at Ft. Gordon, Georgia, for Basic Training, followed immediately with Advanced Infantry Training. Upon graduation, I began my officer training at OCS on July 18, 1965. Many of my friends from both Basic Training and Advanced Infantry were also assigned to Ft. Benning. Thankfully one of them was my best friend, Randolph "Randy" Tarjany (who regrettably was killed in combat in 1968 on his second tour of duty in Vietnam).
Of the three assignments, OCS was the toughest, as it needed to be. After all, we were being trained to be leaders, with the strong possibility that many of us would be leading men in combat in Vietnam. Even so, I did everything I could to lighten my load. I attended church on a regular basis, as this was not only gratifying spiritually, it also got me out of duty. And my classmate Harry Oldham and I formed a singing group, the In Crowd, that performed at various talent shows. Later, at the suggestion of a Tac officer, we teamed with Peter Roundy, who sang and played the piano, to become Pete Roundy and the In Crowd. Modestly, we were good! Others from time to time sang with us. Harry and I also sang at bars in Columbus, Ga., without permission, of course. When the band and singers left the stage, we took over their mics.
Early on at OCS, someone mentioned to me that one of the Tac officers was my fraternity brother. After I gave him the secret fraternal challenge, he told me to get down and give him twenty. Every time I saw him, he did the same. He didn't acknowledge that we were fraternity brothers until the day I graduated. He cut me zero slack. One of the worse incidents at OCS was when one of the Tac officers walked into our room, at which point my roommate gave the command, and we froze. The Tac officer put a snake on one end of my bed, and it crawled all the way to the other end under my nose. I never saw it, thank goodness, as I'm deathly afraid of snakes.
Several months after I arrived at OCS, my brother Larry did also. He had been drafted and then volunteered for OCS. I was, therefore, senior to him, a fact that I never let him forget. Much of my time at OCS is a blur, but since so many of my classmates have written great recollections of that time, I'll defer to them about that period, except to say I have fond memories of my classmates and Tac officers. The hardships placed on us were for a reason: to get us ready to be leaders. We endured, overcame, and were prepared. Much of what I learned about leadership at OCS I applied for the rest of my career, in and out of the military.
After graduating and being commissioned a 2nd Lieutenant on January 14, 1966, I was assigned to the Ninth Infantry Division at Fort Riley, Kansas. I trained for almost a year with my unit at Fort Riley, the 3d Battalion, 47th Infantry, 2nd Brigade of the Ninth Infantry. Before then, however, I was assigned to Communications Officer School at Ft. Sill, Oklahoma. About four months before we were slated to deploy to Vietnam, my brother Larry, who attended the Ranger school in Panama after graduating from OCS, was assigned to Saigon. Several friends and family members urged me to report this and, therefore, be assigned to non-combat duty. Major Floyd McAfee, the battalion S-3, from whom I sought advice, asked a pointed question, "What will you say to the men that you trained?" That settled it; I couldn't abandon my men. My last two weeks before deploying overseas was spent attending the Naval Amphibious School's Riverine Warfare Course at Coronado, California, where I graduated on January 11, 1966. I was flown from California to Vietnam, with a refueling stop in Alaska.
Several hours into the flight on January 14, 1967, over the loudspeaker my battalion commander, Lieutenant Colonel (later Major General) Lucien ("Blackie") Bolduc, commanded "would Second Lieutenant John Motley come to the front; I proudly returned to my seat with my new First Lieutenant bars on my shoulders. Colonel Bolduc was one of the toughest, strictest and best leaders I've had the pleasure of serving under. He was a stickler for details. For instance, as the battalion communications officer, I was called on to give the precise time at the start or finish of most meetings. Since I had an Army-issue watch, it was often unreliable. I caught hell for being a minute off. It wasn't until I bought a good, accurate Timex that I was able to meet his standard; one of the best purchases I've ever made.
We arrived at Tan Son Nhut Airbase outside Saigon, and after a few months at Bearcat, our headquarters relocated to Dong Tam. We went on many missions out of that camp and My Tho in the Mekong Delta. On combat missions I served as the Asst. to the S-3. The 3/47th did joint missions with the Navy, the Mobile Riverine Force, operating in the rivers in the delta. And at times our base camp was a Navy ship, the U. S. S. Benewah, docked at Vung Tau. I loved spending off duty time in the city; I'll say no more about that. Midway through my tour in Vietnam, I had the opportunity, given my MOS, to transfer to the Signal Corps, which I did.
My most harrowing experience was at daybreak on December 4, 1967. While on a mission with the Mobile Riverine Force, the boat on which I was traveling was struck by rocket, machine gun, and rifle fire from the shore. My radioman and I had just completed our shift at the command desk. We went topside and had just finished shaving, when he paused at the top of the ladder to let me go down first. The first rocket that struck our boat sent shrapnel into him. The Navy crewmen driver immediately turned toward the direction of the incoming fire, and the machine gunner simultaneously swung around and opened fire. All the while my radioman was screaming in pain. Before my foot hit the floor, I began climbing up to rescue him. With the help of Major McAfee, we were able to get him into the bottom of the boat. After the firing had died down, the battalion surgeon traveled with him via helicopter to the field hospital. Fortunately, he survived. I received an Army Commendation Medal for that action. Later I received a Bronze Star for my "meritorious service in connection with military operations against a hostile force in the Republic of Vietnam;" and a National Defense Service Medal, Vietnam Service Medal, Vietnam Campaign Medal with 6 Device, and two Overseas Service Bars.
After a year in Vietnam, I was flown back to the United States with a stopover in Hawaii to Oakland, Ca. Upon arriving in Hawaii in mid-January 1968, I kissed the ground and called my mother to say, "I'm home." I still get emotional thinking of the stress my mother was under knowing that for seven or eight months she had two sons in harm's way in Vietnam. I was honorably discharged from active duty on January 14, 1968, and from the Armed Forces Standby Reserves on April 3, 1971.
I went back to Brunswick soon after getting home. After working there for a less than a year, I accepted a job as a management trainee at a small bank in Downtown Chicago, Central National Bank. As well, in the fall of 1968 I enrolled in law school at DePaul University School of Law. After attending evening classes four nights a week for four years, I received my Juris Doctorate in June 1972, and passed the Illinois bar later that year (and years later the New York). I transferred from the real estate division to the law department at the bank in late 1972 and was there until I moved to Princeton, N. J. in 1975 to join Chemical Bank in NYC (now part of JPMorgan Chase) in the real estate division's law department. I became a Vice President and the head of that department in 1979; and transferred to the lending side of the bank a year later, as deputy director for the unit responsible for commercial real estate lending in the southeast United States and Puerto Rico. Within a year or so, I was promoted to lead that unit. In late 1982, I was promoted to Senior Vice President with responsibility for real estate lending in the southern and western continental United States, Puerto Rico, and Alaska. As the first African American senior vice president in New York City, I was awarded the Most Outstanding Banker award by the National Banker Association in 1982.
In September 1988 I moved to the Hartford, Ct area and accepted a position as Executive Vice President in the real estate division of Travelers Insurance. For the first two years I was in charge of investment policy, a senior staff position, responsible for monitoring and signing off on larger loans and loans with higher credit risks. In 1990 I took responsibility of the "bad bank," a billion-dollar plus portfolio of real estate Travelers owned and loans with higher risk requiring restructure or foreclosure. In 1992 I was promoted to division head in charge of all real estate lending in the southern and western United States. In 1994, I relocated to Chicago to take charge of winding down the Regional Office there, before returning to Hartford a year later in charge of all commercial real estate lending in the United States. I was promoted in 1998 to Chief of Staff of the Traveler's Claims Division (its largest), with line responsibility for training, fraud investigations, and the Catastrophe Team. One of our self-contained mobile claims units was the first of any insurance company to arrive at the World Trade Center site after the disastrous September 11th attack in 2001.
In late 2002 I became the President of the Travelers Foundation, responsible for making grants to non-profits across the country with a concentration in the headquarters city of Hartford. I held that position until early 2005 when I retired. The foundation staff also coordinated placing volunteers with non-profits for community service and the annual United Way drives.
I became active in non-profits almost immediately upon my arrival in Hartford, serving as a director of many of them. Most notably, I was elected a director of the Amistad Center for Art & Culture in Hartford and served as president for two years, beginning in 1992. And in the same year, I was elected a Trustee of the Wadsworth Atheneum Museum of Art, the nations' oldest continuously operating art museum. Upon my return from Chicago, I rejoined the board of the Wadsworth, and soon thereafter became its Treasurer. I was elected President of the Wadsworth in 2003, serving for two years, the first African American to head the board of a major art museum in the country. In February 2015, a room was named in my honor by the Amistad at the Wadsworth (where it is housed), "The John H. Motley Study," in appreciation for the many art objects, books, and memorabilia I had donated, as well as my many years of service. I am now a Trustee Emeritus of both the Amistad and the Wadsworth.
I began collecting items related to the history of slavery and the African American experience in the Military soon after seeing the movie Roots in 1977. Over the next four decades, I amassed a collection containing over 3,000 items, one of the largest and most valuable collections on its kind in private hands. I spoke frequently on this subject and exhibited portions of my Civil War collection as well. As a result, I came to the attention of a group seeking to start a new Civil War museum in Richmond. I joined this effort and eventually donated my collection to this start-up museum, The Tredegar National Civil War Center. I served on the board of this museum for eight years, the last five as Chairman. It was later renamed the American National Civil War Center, which, after merger with the Museum of the Confederacy, became the American Civil War Museum. This museum now owns and operates several state-of-the art buildings at the Tredegar Iron Works in Downtown Richmond (where the "John H. Motley Collection" is housed), as well as the White House of the Confederacy, and the Appomattox Court House.
In December 2004, the Governor of the State of Connecticut appointed me to a six-year term on the board of the Connecticut State Colleges and Universities, responsible for four state universities, a dozen community colleges, and the state's on-line college. I was reappointed and served for a total of eight years. For six years I was a trustee and Treasurer of a HBCU, Tougaloo College, in Jackson, Mississippi. I also served for over a decade as a trustee, Treasurer, and President of Achievement First Hartford charter school and on the board of the tri-state (Ct, NY, and Rhode Island) 37-school Achievement First Network Support Board. I am a member of the Ct. Teach for America advisory board, having served for almost a dozen years. I've served as an officer and director of many other organizations as well.
Never an athlete, as a result of being a board member of the Hartford Marathon Foundation, I decided to do a half marathon at age 62. That was such a wholesome experience that I did another one the next year, both in Hartford. More importantly, I completed full marathons at age 63 in West Palm Beach, Fl; age 64 in Las Vegas, Nevada; and age 65 in Tucson, Arizona. The first two I ran with two of my daughters. (To be more accurate, we started at the same time.) I've committed, God willing, to do another half marathon in 2021, age 79, walking all the way, to raise money for charity. This is assuming that I successfully heal from the surgery later this year to remove the hardware from a surgery three years ago after I shattered and displaced three bones in my right ankle.
I've received awards from nonprofits in Chicago, New York, and Hartford, including from the Chicago Association of Commerce and Industry, the YMCA, Boys & Girls Club, United Way, Urban League in all three cities, the NAACP, Hartford Board of Education, Central Connecticut State University, Tougaloo College, and dozens of others.
Now divorced, I'm semi-retired from my consulting business, Motley Consulting, which I started after retiring from Travelers and serving one year as the Executive Director of External Relations for the Hartford Public Schools. Motley Consulting helps non-profits with friend raising and fund raising. I live in Hamden, Ct., and have five stepchildren, two adopted children, and numerous granddaughters and grandsons, brothers and sisters, and other relatives from coast to coast, including a grandson stationed in Texas who is a 2019 graduate of West Point.
John H. Motley
9/11/1942-