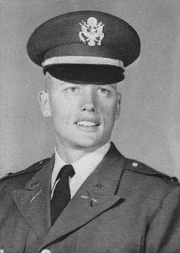 Rank: Colonel (US Army, Ret)
Years of Service: 30
Retirement Date: March 31, 1992
Branches: Infantry/Aviation. (After 1983: Aviation/Foreign Area Officer)
Residence: Florida
Awards: Distinguished Service Cross (DSC); Silver Star;
Defense Superior Service Medal; Distinguished Flying Cross (DFC); Bronze Star;
Defense Meritorious Service Medal; Meritorious Service Medal; Air Medal;
Joint Service Commendation Medal; Army Commendation Medal;
Good Conduct Medal; National Defense and Vietnam Service Medals.
Badges: Combat Infantry Badge (CIB); Ranger Tab; Master Parachutist Badge;
Senior Aviator Badge; Pathfinder Badge; Army Staff Identification Badge.
Honors: Inducted into the Infantry OCS Hall of Fame at Fort Benning in April 2016.
Schools/Degrees: Army War College, Carlisle Barracks, Pennsylvania;
Command and General Staff College, Fort Leavenworth, KS (Master's Degree);
Infantry Officers Advanced Course, Fort Benning, GA;
Embry Riddle Aeronautical University, Bachelor's Degree – Aviation Management;
Foreign Area Officer Linguist: Korean, Chinese, French.
Summary of Assignments:
Enlisted Service (1962 to 1966):
Military Police, 82nd Airborne Division, Fort Bragg, NC (E-2 to E-4)
PSNCO/Parachutist, United States Army Parachute Team, Sergeant E-5
Officer Service (1966 to 1992):
Brigade Adjutant (S-1), Provisional Training Brigade, Fort Riley, Kansas;
Battalion Adjutant (S-1), 1/11 Artillery, 9th Infantry Division, Fort Riley, Kansas;
Infantry Platoon Leader, C/2/39 Infantry, 9th Infantry Division, Fort Riley, Kansas; Helicopter Gunship Section Leader, 17 Assault Helicopter Company, Vietnam;
General Support Platoon Leader, B Company, 101st Aviation Battalion, Vietnam;
Assistant Division Aviation Officer, 101st Airborne Division, Vietnam;
Brigade Aviation Operations Officer, 2nd Brigade, 101st Airborne Division, Vietnam; Company Commander, A/1/501 Airborne Infantry, 2nd Bde, 101st Ambl. Div. (RVN); Company Commander, C/2/504 Airborne Infantry, 82nd Abn. Div., Fort Bragg, NC;
Company Commander, HQ Co, 2/504 Airborne Infantry, 82nd Abn. Div., Fort Bragg, NC;
S-3 Air, 2/504 Airborne Infantry, 82nd Airborne Division, Fort Bragg, NC;
ROTC Instructor (S-1, S-3), Lehigh University, Bethlehem, PA;
S-3, 2nd Aviation Battalion, 2nd Infantry Division, Korea;
Aide-de-camp to Corps Commander, I Corp Group, Republic of Korea (ROK);
Combat Support Coordinator, 8th Army, Attached to the 1st ROK Army, Korea; Commander, U.S. Army Parachute Team, Fort Bragg, NC;
Foreign Area Officer, Army Attaché Office, American Consulate, Hong Kong;
Chief, Army Security Assistance Office, American Embassy, Islamabad, Pakistan;
Staff Officer, Army Staff, Pentagon, Washington, D.C.;
Professor of Military Science, Shippensburg University, PA;
Defense & Army Attaché, American Embassy, Abidjan, Ivory Coast, West Africa;
Post Military: Security Coordinator, Esso Oil Co, Chad, Central Africa;
Organic Livestock Producer, Missouri Ozarks (1997 to 2014).
Hobbies/Interest: Turkey Hunting, Deer Hunting, Civil War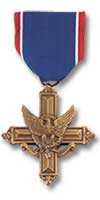 Distinguished Service Cross
Awarded for actions during the Vietnam War. **
"The President of the United States of America, authorized by Act of Congress, July 9, 1918 (amended by act of July 25, 1963), takes pleasure in presenting the Distinguished Service Cross to Captain (Infantry) Jerry R. Fry, United States Army, for extraordinary heroism in connection with military operations involving conflict with an armed hostile force in the Republic of Vietnam, while serving with Company B, 101st Aviation Battalion, 101st Airborne Division (Airmobile). Captain Fry distinguished himself by exceptionally valorous actions on 4 April 1968 while serving as commander of a fire team helicopter assault north of Ap Nam Phu in Thua Thien Province. While moving toward the village, a friendly element came under heavy fire from enemy automatic weapons, mortars, and rocket-propelled grenades and incurred several casualties, including the platoon leader. Medical evacuation was difficult because of darkness, fog and the intense fusillade. Captain Fry relieved the pressure on the besieged ground elements by directing gun ship fire onto enemy positions which he pinpointed by the use of a searchlight. While suppressive fire was being delivered, the company pulled the wounded to safety. An ambulance helicopter arrived, but the pilot missed the landing zone in the darkness and set down near the enemy who forced the craft away. At this time, Captain Fry volunteered to attempt the mission, and although heavy fire from the village imperiled his attempt, he succeeded in making two extractions. Captain Fry's extraordinary heroism and devotion to duty were in keeping with the highest traditions of the military service and reflect great credit upon himself, his unit, and the United States Army." (Headquarters, U.S. Army, Vietnam, General Orders No. 3125 (August 13, 1969) Action Date: 4-Apr-68, Rank: Captain, Company B, 101st Aviation Battalion, 101st Airborne Division.)
** The above citation does not accurately describe the events for which Jerry Fry was nominated for this award. The original nomination is provided here:
STATEMENT
On the afternoon of 4 April, 1968 my company, C/1/505, made a combat assault with the mission of providing a blocking force to the north of the village of Ap Nam Phu, Thua Thien Province, RVN, with another element sweeping from south to north. After all elements of the company had hit the LZ and began moving toward the village, the 1st Platoon came under heavy fire from small arms, automatic weapons, RPG and mortars. One squad, the lead element of the 1st Platoon immediately sustained about four (4) KIA and about the same number of wounded including the platoon leader. I was immediately contacted by the squad leader and was given the situation. It was getting dark by this time so I called a dust-off to get the wounded out and a light fire team to take the pressure off the company. By this time we had suffered additional casualties and the situation as far as the wounded were concerned was very critical. As darkness was almost on us, the first ship came in to attempt to evacuate the wounded. As he came into land he started to receive a heavy volume of enemy fire and departed without taking the wounded. His radio must have been shot out because we could not contact him after he was hit. As this aircraft started to leave, a light fire team from the 101st Abn Div arrived on station. Because of the darkness, haze, smoke and fog, it took approximately ten minutes for Cpt Fry, the fire team leader, to pinpoint all of my elements. This he did by observing the flashlight I was carrying and observing the tracers of my other elements as they fired into the enemy positions. Cpt Fry was very worried about accepting this mission because of the low visibility and because the enemy was in very close proximity to our front lines. He made two dry runs using his searchlight, all the time drawing fire, to make sure he would not hit any of the American troops in the area. The gunships did a terrific job in knocking out some of the NVA positions in the village. Their fire was right on target and they responded to every correction. All that I can say is that, "they were terrific." While they were hitting the village they also provided cover for my men as they dragged the dead and wounded to safety to wait for another dust-off. When the second dust-off arrived he asked me to mark the LZ for him, this I did with a small red-light, and Cpt Fry tried to direct the dust-off in. Because of the darkness and the foggy conditions, the dust-off missed the right LZ and started to land in front of my position. Naturally the enemy opened up on him before he even reached the ground and he took many hits but managed to get out without crashing. One of the gunships opened up on the enemy position when they started to fire at the dust-off, and I would say that this was the only thing that saved the aircraft. By this time the situation was desperate. If I could not get some of the most seriously wounded troops out they would surely die. Two dust-off aircraft had already tried to evacuate my wounded and both were shot up by the enemy. The dust-off pilot had just told me that he didn't think we would be able to get another dust-off helicopter tonight.
At this time, Cpt Fry said, "I'll get in there and get them out." He then came into our position, all the time drawing heavy fire from the village. He managed to get all of my wounded out and almost crashed doing so. One of his skids hit a grave and I thought it was all over. He lost an M-16 but managed to hold onto his ship. He came in not once but twice, and the second time he did it with no cover at all because his wing man had gone to his home base while Cpt Fry was at the aid station with the first load of wounded. The aircraft crewman who came to our aid displayed the highest degree of bravery, standing in an exposed position, heedless of the enemy fire, loading the wounded aboard the aircraft. When they finished, they gave all of their small arms ammo to my men. This they did not once but twice that night. The second time unloading their mini-guns.
The aircraft crewman who came to our aid with their ordinance firing on the village to try and get us out a jam were terrific, that's their job. However, when they risk their lives to land a gunship in the dark while the enemy was shooting small arms, automatic weapons, RPG's and mortars, to save the lives of my men and at the same time give us all of their small arms ammo, then this is valor above and beyond the call of duty. What these pilots and crewman did for me and my company is truly an act deserving the highest award for gallantry. I really can't say enough in praise of these men – a trite cliche – they showed me what men are made of and how they cared for the infantry. Cpt Fry, the leader of the fire team of gunships was cool, calm and professional in his every action. He is responsible for saving ten (10) men that night. The total casualties that C Company suffered were ten (10) KIA and seventeen (17) wounded. Ten (10) of the wounded were very serious. Captain Fry got all ten out that night. Had it not been for him, most of them would have died that night.
Paul H. Davin
CPT, Inf
C.O. C/1/505