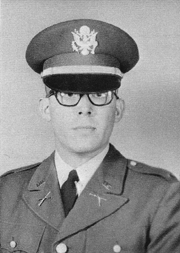 Rank: Captain
Separation Date: January 1969
Branch: Infantry
City and State: Colleyville, Texas
Awards: Good Conduct Medal, Parachutist Badge, Expert Infantryman Badge, Army Commendation Medal.
Number of Children: 2; Grandchildren 4.
Summary of Assignments: AFEES, New Haven, Connecticut; Platoon Leader & CO, A CO, 1/17TH Infantry, 1ST Brigade, 7TH Infantry Division, ASST S-3, 1ST Brigade, 7TH Infantry Division; ASST S-3, 1ST Army, Fort Meade, MD; CO, A CO, 1ST Battalion, 157TH Infantry Brigade, USAR. Didn't get to Vietnam, was assigned to the 7th Division on the DMZ in Korea after a year with the Recruiting Command. Was a platoon leader, then CO of an Infantry company in the 1st of the 17th Infantry. Later an Asst. S-3 with the 1st Brigade of the 7th Div.
Jobs/Profession following military: Real Estate Broker and Property Manager, Steamboat Springs, Colorado; Peyton, Colorado; Waukesha County, Wisconsin.
Current hobbies/interests: Winter sports (lots of skiing while in Steamboat), breeding & training horses, team roping, kids and grand kids. I am currently on 14 acres in Wisconsin but had about 330 acres in Colorado before I moved here. Raised and trained horses and ran some yearling steers. I still have a few horses here and have been team roping for quite a while, although I am doing a little less of it these past two summers. Moved to Colorado after the Army and raised my kids in Steamboat Springs, then Peyton, east of Colorado Springs. I have a former step son who is a Police Officer in Waukesha, Wisconsin but he is also a Lieutenant Colonel in the National Guard and is currently on his 2nd tour in Iraq as a Battalion Commander.
Pete Cowman's Story
Editor's note. Quentin R. "Pete" Cowman graduated from The Trinity-Pawling School in Pawling, New York and then from Dickinson College in Carlisle, PA where he majored in history. His military story begins below:
I entered the Army in May,1964 and went through basic training at Fort Gordon, GA and AIT at Fort Jackson, SC. I applied for OCS during basic training and was accepted, pending class availability in July,1965. Because I had to wait for an OCS class, I was assigned to the Army Reception Center at Fort Jackson, marching pre-basic training troops around while they were processed before joining a training company. I was a competitive swimmer in college so the Fort Jackson Special Services Officer got me reassigned to the Post Headquarters Company (which included all the pro golfers, prize fighters, baseball players, rock stars etc.). I was a life guard at one of the dependent family pools until I had to report to OCS at Fort Benning. That was pretty cushy duty with lots of social opportunities.
Editor's note. When Cowman reported to OCS, he was assigned to 2nd Platoon with 2LT Daniel Cerone as his tactical officer (TAC). The platoon was known as "Cerone's Cyclones." Pete's story continues:
We had a particularly good but diverse group within our 2nd Platoon. I had the closest friendships with Paul Ferguson, Hal Graves, Jerry Fry, Pete Conaty, Lew Eason, Tom Evans and Fred Godsey for a variety of reasons; their diverse enlisted experience, leadership qualities, military bearing, mutual support and importantly, a common good sense of humor. We had some fun times, whether it was within the rigors of training or when we finally had off base privileges. Those associations were instrumental in getting me through the tough times.
Fred Godsey, one of my roommates, joined the Marine Corps when he was 17. Upon completion of his hitch in the Marines, he enlisted into the Army because he wanted to complete Airborne training and serve with Army Special Forces. Fred, with the 5th Special Forces Group, was KIA in August, 1967 but received his DSC during an action occurring in May,1967. He was also awarded a Silver Star, 2 Purple Hearts and a Bronze Star w/"V" device for other gallant action prior to his death. We are nominating him to the OCS Hall of Fame. Another member of our 2nd Platoon, Ed Fisher, also died in Vietnam when his helicopter crashed in May,1967.
In my mind, LT Cerone was in a position of supreme power and nobody wanted to be on his bad side as he was the principal evaluator of our ability to serve as young officers. I didn't know until later that he was commissioned about six months before our graduation. I respected his Special Forces and enlisted Vietnam experience and was mostly able to avoid direct confrontations with him. I had limited enlisted Army experience but was not a "College Op." Cerone may have cut me a little slack because perhaps he thought I was part of that group. He was presented as the "hard ass" among the TAC officers, was tough on us and even created some long term bitterness with some of our platoon members. Deep down though, he had a sense of humor which he showed on rare occasions. Ironically, we heard later that he was younger than most of the members of our platoon. He went on to have a distinguished military career in Special Forces and as an Army Aviation officer, achieving the rank of full Colonel before retirement, so he must have been doing a lot of things right.
As hard nosed as Cerone appeared, the great mitigating factor within the 51st Company was CPT George Cady. He seemed to remain above all the bullshit that the TACs could hand out and presented himself as a great mentor as well as company commander. Our frequent gatherings with him around the barracks entry steps, at the close of training each week, provided the respite that we needed for the weeks ahead. Without directly saying so, he seemed to acknowledge our progress each week. He too, was another OCS distinguished officer and a special individual. I won't forget him.
I had orders to join the "start up" of the 9th Division after graduation but my wife was due to deliver our first child and my orders were changed for that reason. I started Airborne training but came down with a serious case of flu during the first couple of days so I was rescheduled to the next available training company, which caused me to miss the start of Ranger training. My first assignment was with the Recruiting Command as an Induction Officer for an AFEES located in New Haven, Connecticut. Our daughter was born there and after about a year. I made 1st LT just before being reassigned.
As the Induction Officer at the AFEES, I had to sign all the draft notices for the State of Connecticut, administer the oath to recruits and draftees, oversee their testing & processing and work with the FBI on those who refused induction. I also had an additional duty as a Survival Assistance Officer for the families of those men killed in action. I had to perform some notifications, escort the arriving caskets, make military funeral arrangements and assist the families with the funerals and details of military benefits. It was a unique but unpleasant task. I was glad to get orders to a "96" APO but had no clue whether I was going to Vietnam or Korea until I could later identify the APO numbers. It turned out to be Korea and I was assigned to the 7th Infantry Division.
I started as a weapons platoon leader with the A Company of the 1st of 17th INF, 1st Brigade (M). We were at Camp Kaiser, just a few clicks south of the DMZ. Soon thereafter, I became A Company Commander and served in that capacity for about 8 months. I made CPT and was reassigned as 1st Brigade Asst. S-3 (Air). The mission of the 7th Division was to secure a portion of the DMZ along with the 2d Infantry Division and ROK divisions within the Fifth ROK Corps. We would intercept North Korean infiltration units sent south to perform various terrorist activities, similar to early Viet Cong activity in South Vietnam. North Korean infiltration efforts created some damage but were pretty much unsuccessful, however, they did capture the USS Pueblo and hold the crew as prisoners. As a result, I was extended a few more months in Korea as S-3 Air and enjoyed a short TDY assignment with the USAF studying tactical air support.
In my mech unit I learned a lot about M113 APC'S, effective use of the 50 cal MG's mounted on all of our tracked vehicles and tracked vehicle operation. We had a tracked vehicle confidence course north of the Imjin River, just south of the DMZ. It was located that close to demonstrate our skills with tanks and APC'S to the North Koreans who were close enough to see what appeared to be a tracked vehicle "moto-cross" course. It also allowed us to keep extra search light tanks north of the Imjin River.
I didn't think I'd like the brigade S-3 staff job but I had a good boss, a West Point Major, who taught me a lot. He soon rotated to his next assignment so I became acting S-3 for a couple of months. I enjoyed the S-3 operations and the working relationship with the brigade commander, his other staff members and the battalion commanders. The tactical air support TDY assignment was great learning experience and added a lot to our air support capabilities if and when support was called for.
Korea is extremely mountainous, Siberian cold in the winter, hot and humid in the summer. Aside from a few major cities, in 1967-68 it was primarily an agricultural "third world" country (rice paddies everywhere) with very little manufacturing. People were mostly poor and lived in third world conditions. The ROK army was tough, well organized but equipped with primarily World War II weaponry and aircraft. The relatively few automobiles were Japanese manufacture, Jeep style, and mostly 4-wheel drive. Most people traveled on foot or bicycle with very crowded buses between cities. There was a constant fear of invasion from North Korea.
The changes in the South Korean standard of living, level of education, manufacturing capability, electronics development, steel production, ship building, etc., have been miraculous over the past 50 years. Like the Japanese did after WWII, they have become an emerging world power and the ROK army is a well equipped, well trained force quite capable of defending its borders. Our forces, there in the 50's and 60's wouldn't recognize the place today.
I extended my active duty service for another year upon returning to CONUS and was assigned to the Post S-3 office at Fort Meade, MD, with the job of overseeing unit training. I returned to civilian life in 1969 where I worked as a real estate broker and property manager in Colorado and Wisconsin. I retired in Colleyville, Texas, joining my present wife, Jan. It's a big change from my ranch life with horses, cattle, team roping while earning a living in my real estate brokerage business in Colorado and Wisconsin. It was wise to give up the cowboying while I was still pretty much in one piece. Over the years I had more than my share of fractures, bumps and bruises and Jan did not want to nurse a cripple. I roped for a few more years here in Texas but have left all that behind me after I turned 70. She and I enjoy lots of traveling, living a relaxed lifestyle and staying busy with friends, sports, dogs and grandchildren (who live too far away in Colorado).