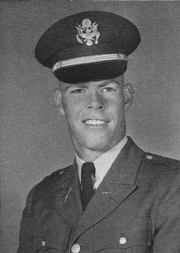 Rank: Lieutenant Colonel (Ret)
Branches: Infantry, Signal Corps
Retirement Date: May 31, 1984
Number of Years of Service: 20 years, 11 months
Wife's Name: Judy; Children: 4; Grandchildren: 10
City and State: The Villages, Florida
Awards: Belgian Marksmanship Badge, Expert Marksmanship Badge, Vietnamese Signal Corps Badge, Army Service Ribbon, Overseas Service Ribbon, National Defense Service Medal, Vietnam Service Medal with 5 Bronze Star Devices, Vietnam Campaign Medal, Vietnam Gallantry Cross with Palm, Vietnam Civil Actions Medal First Class, Good Conduct Medal, Army Commendation Medal (1OLC), Air Medal, Meritorious Service Medal (1OLC), Purple Heart, Bronze Star (1OLC), Legion of Merit, Combat Infantry Badge.
Civilian/Military Schools and Degree: BS Business Administration, Emporia State University; Jungle School; Army Integrated Material Systems Management Course (Distinguished Graduate), Fort Lee, Virginia, Signal Officer Advanced Course, Command and General Staff College (Non-resident), numerous other professional military schools.
Summary of Assignments: Enlisted August, 1963; Fixed Cryptographic Equipment Repair School, Fort Monmouth, New Jersey; Crypto Repairman, Springfield Armory, Massachusetts; Advanced Crypto Equipment Repair School, Fort Monmouth, New Jersey; Officer Candidate School, Fort Benning, Georgia; 2nd Bn. 39th Infantry, 9th Infantry Division, Fort Riley, Kansas; deployed with 1st Brigade, 9th Infantry Division to Bear Cat, Vietnam, in November 1966. Rifle Platoon Leader, Company XO, and Battalion Recon Platoon Leader, DROS December 1967; G3 Training Staff, Fort Gordon, Georgia; Officer's Advance Course, Fort Monmouth, New Jersey; 1st Signal Brigade, Long Binh, Vietnam; Chief, Data Analysis Branch & Briefing Officer to the Commanding General, 1st Signal Brigade HQ; XO, Comsec Logistics Support Center, Vietnam, DROS December 1970. Commander, Command and Leadership Company, Fort Monmouth, New Jersey; Officer Undergraduate Degree Program, Emporia State University, Emporia, Kansas from 1973-75; S3, 32nd Signal Battalion (Corps), Hoechst, Germany; CE Plans Officer, V Corps CE Staff; XO, 32nd Signal Battalion (Corps); 1979 Case Processing Officer & Chief, Case Processing Branch, US Army Discharge Review Board, Pentagon; 1981, XO to the Director of Readiness, DARCOM, Alexandria, Virginia; Retired May 31, 1984.
Jobs/Profession following military: Director of Conventions, National Association of Bedding Manufacturers, Alexandria, Virginia; Director and Vice President of Conventions, National Association of Truck Stop Operators, Alexandria, Virginia; President, Golf Tournaments Unlimited, Alexandria, Virginia. Moved to The Villages, Florida in July 2004; Fully retired in November 2005.
Additional Story of Interest: There were six (6) 2nd Lieutenants from class 1-66, that went directly from OCS to Fort Riley, Kansas. We were all assigned to the 1st Brigade, and later to the 2/39th Infantry. When we first arrived we worked directly for the Brigade Commander, Colonel Maurice Kendall, because the units were not formed and there were no fill for them. This was to be a train and retain concept. We eventually received NCO's and higher ranking officers. We took raw recruits directly off the buses, gave them haircuts, issued uniforms, and over a period of months took them through BCT, AIT, BUT, AUT and Battalion ORT's. We then deployed as cohesive units to RVN. The total training time was from February 1966 to November 1966.
We took trains from Fort Riley to Oakland, California then on the USNS Patch to Vietnam. I went from 220 lbs to 170 lbs in the 30 days it took us to cross the Pacific. We trained constantly on that ship….everything from land mine warfare to infantry tactics. We landed at Vung Tau, in LST's (think Normandy) and we all thought we were going to rush into a hail of machine gun fire as we stormed the beachhead. Instead, our Division Commander was there with the 9th Infantry Division Band.
We then boarded duece and a halfs, headed up Highway 15 to Bearcat, our new home. As I remember, the six LT's were: Dan Peck, Cliff Gehrt, Bob Shepps, Leon Stricklen, Larry Thomas, and Harry Harley.
Current hobbies/interests: Golf, Karaoke Singing, Computers, Poker, Socializing with Friends.
Dan Peck's Story
LTC Daniel J. Peck, USA, Retired
I was born on October 24, 1944 in Detroit, Michigan. My father, Robert, was in the Navy and taught electrical / mechanical at the Great Lakes Naval Air Station. When I was about the age of one, he got out of the Navy and we moved to upstate New York in the Binghamton area. I lived on a farm until around the age of 9. We then moved to a small town called, Whitney Point and my father bought a roadside diner. Troubles began between my father and mother and they separated and got a divorce when I was 13. I helped care for my younger brother and sister and I attended 5 different schools in the eighth grade. Times were pretty tough on all of us. In 1959, my mother married a farmer and we moved to his farm near Harpursville, New York. He was a great man and a very hard worker. I was a 5-sport athlete in high-school, participating in baseball, track, volleyball, basketball and football. I was selected as an all-star in track, basketball and football. I graduated from Harpursville Central High School in June 1962.
In August 1963, I enlisted in the U.S. Army at Syracuse, New York. I enlisted to be a Fixed Cryptographic Equipment Repairman. I took my basic training at Ft. Dix, New Jersey. Following basic, I was assigned to the Signal School at Ft. Monmouth, New Jersey for 6 months of schooling in Cryptographic Equipment Repair.
Following school, my first assignment was in the Communications Center at the Springfield Armory in Springfield, Massachusetts. I was one of only two enlisted personnel on the installation, the other being a master sergeant in personnel. There were approximately 20 officers on base, ranging from 2nd Lieutenant to Lieutenant Colonel. The LTC was the armory commanding officer. While at Springfield Armory I played a lot of basketball with the officers in the armory gym. I also signed a contract, as a quarterback, to play football for the Springfield Acorns, a team in the Atlantic Coast Professional Football League. My pay was $50.00 per game. Unfortunately, my professional career was short-lived, as I was sent back to school at Fort Monmouth, for advanced Cryptographic Equipment training, and I never played in a game.
When I graduated from the second school at Fort Monmouth, I was sent back to Springfield Armory. My Comm-Center chief was a retired master sergeant from the Marine Corps. He saw leadership potential in me, and suggested I apply to Officer Candidate School. It was also during this time that I met my first wife, Patricia, and we were married in Springfield. Her father was a colonel in the Army and he wasn't any too happy that his daughter was marrying a specialist 4. Upon my acceptance to OCS, Pat and I took a train from Springfield, Mass to Tallahassee, Florida. We spent a week with my Aunt and Uncle in Panama City, and my Uncle drove us to Fort Benning to report to OCS.
When we drove on base and found the OCS area, my Uncle pulled the car up to the curb and I got out and started getting my duffel out of the car. There was a "soldier" walking down the sidewalk wearing a shiny blue helmet. My wife was standing there and we were saying our goodbye's. I asked the soldier where 51st Company was located and he pointed it out to me. He then asked me if I was reporting in to attend OCS. I said, "yeah I was." He then dropped me for 20 pushups and would not let me kiss my new bride goodbye, explaining that fraternization was not permitted. Welcome to OCS.
I was assigned to the 5th Platoon and my TAC Officer was 2LT Pulliam. I think my first room-mate was Lewis Smith, although I had several other room-mates during our training. Our TAC, Pulliam, loved to harass us and we frequently came back from training to find our room completely tossed and we had to get it ship-shape before morning inspection. We didn't enjoy having to shine our boots with chocolate bars that were discovered by our TAC. Pogey bait, as it was called, was not allowed and if caught with it, the punishment was severe. From eating pizza in the shower, to endless runs around the steam plant, to shining your boots with chocolate. Great fun!! Somehow, we persevered and of the 218 candidates that started, 144 graduated. I was very proud and excited for the future. I remember my mother and stepfather driving down from New York state, and my mother pinned the gold bars on my shoulders.
After graduating from Infantry Officer Candidate School, on 14 January 1966, I was given orders to report to the 9th Infantry Division at Fort Riley, Kansas. Following two weeks of leave, I and five other 2nd Lieutenants from OCS Class 1-66 reported to 9th Infantry Division Headquarters at Fort Riley. It was 1 February 1966, the very day the 9th Infantry Division was officially reactivated. They were Larry B. Thomas, Clifford Gehrt, Robert Shepps, Harrison Harley and Leon Stricklen. We were all filled with a sense of excitement and apprehension as we reported to our new duty station.
We were assigned officer's quarters and we spent a day or so getting settled in with our wives. Bob Shepps and his wife, Sheran, were assigned an apartment in the same building on post as me and my wife, Pat. It was an old building from the days that the cavalry trained at Ft. Riley and it had been reconditioned. I remember out back there was a corral holding buffalo. Larry Thomas, Harry Harley and Leon Stricklen were single at the time and were assigned to an old BOQ. Cliff Gehrt also was with them in the BOQ.
We were all surprised when we arrived, to find out that there was just the 1st Brigade Commander, Colonel Maurice Kendall. Cliff Gehrt was assigned initially as the Brigade S-1 and the rest of us were assigned to the 2nd Battalion, 39th Infantry of the 1st Brigade, 9th Infantry Division and our new military home was to be Camp Forsythe, a sub area of Fort Riley.
One of our first responsibilities was to inspect the barracks, orderly rooms, mess halls, and other buildings at Camp Forsythe, which had been vacated by elements of the 1st Infantry Division that had recently deployed to South Vietnam. Upon inspection, we discovered that the 1st ID had taken a lot of things with them. Walls had been stripped of plywood, toilets and sinks were missing and in general, the physical plant was left in a big mess. Colonel Kendall needed to get these buildings in ship-shape order, because he was expecting an influx of officers, non-coms, and troops to be trained.
So many of our initial duties were to go around Fort Riley and requisition the things that we needed from the post engineers. Hundreds of gallons of paint, brushes, drop cloths, toilets, sinks, plywood and other materials to get Camp Forsythe looking good. And that is exactly what we did. In a couple of weeks Harry Harley was given the assignment to write training schedules, training plans and to find the training areas and ranges. After getting the Brigade and Battalion areas in good shape, we began to take up our assignments and duties within the 2nd Battalion, 39th Infantry.
Eventually, we started receiving more officers and sergeants. I was initially named Commanding Officer of Company A, Bob Shepps was Commander of Company B, Larry Thomas was Commander of Company D, and Cliff Gehrt was assigned as the Battalion S-1. Leon Stricklen was Commander of HHC and Harry Harley had Company C
We all learned that shortly, we would all end up as trainers. That is to say, all of the troops that would begin flooding in had not even gone through basic training and came to us from various reception stations from throughout the United States. I remember that we received piles and piles of field manuals. And from those field manuals, we all began writing lesson plans for all of the basic skills that our soldiers would need. We eventually found out that our complete training cycle would consist of Basic Training, Advanced Individual Training, Basic Unit Training, Advanced Unit Training, Battalion Operational Readiness Tests (ORT's), and Divisional Operational Readiness Tests. All of this had to be accomplished by December of 1966.
Needless to say, we were all very busy 2nd Lieutenants. Our days were long and exhausting. My wife wasn't prepared for the grueling days and was pretty unhappy with the situation. Pat and Sheran Shepps became good friends and supported each other while we were working 16 and 18 hour days. The grind eventually took a toll on all of us.
Many of our Senior NCO's were hold overs from the 1st Infantry Division and other units that were deemed non-deployable. I personally had several alcoholic sergeants in Company A and this led to numerous problems with discipline and training. More about that later.
I remember when our first soldiers arrived. Bus loads of them. Probably from the train station, the same train station that we would all leave from in December for our deployment to Vietnam. They came off the bus, with long hair, and dressed in all sorts of outfits, from jeans and polo shirts, to slacks and blazers. What a sight. One of the first things we did, was escort them all to the barber shop, where they all received a "proper" military haircut. Then they were taken to the S-4 and issued their uniforms, boots and hats and other pieces of military clothing. Then to the battalion area and assigned to a company barracks.
We received captains to command the companies and more NCO's to serve as 1st Sergeants, Platoon Sergeants, etc. Team leaders were taken from our recruits that displayed leadership potential and promoted to acting Sgt E-5's. Captain Carl Unlaub had Company A and I became his XO and one of the platoon leaders. Cliff Gehrt was assigned to Company A initially, but was reassigned to HHC and became the Battalion Adjutant / S1. Captain Bill Dydell had Company B, Captain Jim Walker had Company C, Captain John T. Norton had Company D. Following AIT, Company E was formed and commanded by Captain Chapman. HHC was commanded by 1LT Jose Santana. The battalion commander was LTC James S. Miles. He was a crusty, gruff old SOB who smoked a cigar and carried a swagger stick. Cliff Gehrt had one hell of a time as his S1. We were off and running as a unit. All six of us lieutenants held down our responsibilities as company officers and also pulled other duties as training officers, officer of the day, range officers, etc.
One evening when I was the officer of the day, I received a call from an NCO's wife, telling me that he was drunk and beating her. I had my driver bring the jeep around, and armed with a 45 caliber pistol, we headed over to the NCO's house. His wife was an attractive blond who met me at the front door in a flimsy nightgown that didn't hide much. She was crying and told me that her husband had gone out the back door when he heard us arrive. So, I hurried around to the back, as he went around to the front. I finally caught up with the NCO around the back of the house and placed him under arrest. He spent the next couple of days in the jail. Somehow, he managed to avoid deployment to Vietnam. Probably for the best.
Basic Combat Training and Advance Individual Training continued at a rapid pace. As I mentioned earlier, all of us were assigned as training officers and we were constantly writing lesson plans. I taught land mine warfare and map navigation mostly. I remember one morning I was in one of the battalion class rooms at 0400 rehearsing my upcoming class on land mine warfare. I had a sand box elevated by short wooden legs and slanted forward toward the class. The sand was "decorated" with barbed wire and miniature land mines. Well, in walks LTC Miles. He walked about halfway into the room, and yelled out, "Lieutenant, get your ass off of that platform and pick up that cigarette butt" and stormed out. He never complimented me on my dedication or anything. Just turned and left. That was LTC Miles. We all just "loved" him.
When we were going through Basic Unit Training and Advanced Unit Training, there was a lot of patrolling and tactical maneuvering as small units. One night, after marching most of the day, my platoon was positioned in a training area known as Shanks Cemetery. We were in a perimeter and we all dug foxholes. One awake and one asleep in each hole. I shared my foxhole with the platoon sergeant. I remember it was a pretty large foxhole with a seat at the bottom that one of us could sit on while we caught some sleep. About 0100 in the morning, a jeep approached the perimeter with its headlights on. That was probably a good thing, because the driver could have run over someone in the dark. The driver stated that the Brigade Commander, Colonel Kendall, wanted to see me asap. So, I turned over the platoon to the platoon sergeant and jumped in the jeep. Upon arriving at Brigade headquarters, now about 0130 hours, I reported to Col. Kendall. He told me that he had heard that I had played quarterback in high-school and for a semi-pro team in Massachusetts. I said that was true, and he asked me to quarterback the 1st Brigade football team that was starting up. He said that I had to maintain all my other duties and I would not be given any preferential treatment. Later on, in one of the games against the MP battalion, we played against the great Mel Pender, a two-time Olympic sprinter. That was a sight to behold, watching our guys trying to catch Pender. I don't recall how many touchdowns he scored. Mel eventually made Captain. I caught up with him on Facebook a few years ago and we exchanged pleasantries.
Well, we eventually got through all of our training and excelled during our Battalion and Divisional ORT's. By this time, the Brigade was totally outfitted with all its TO&E equipment and we all knew we were headed for Vietnam. One of the highlights, was a final parade and pass in review on our huge parade field at Fort Riley. It was quite a sight to see some 5,000 men dressed in khaki's and passing in review in front of the Brigade Commander and his staff. There was also a battalion departure party and dance. It was very reminiscent of the dance and party shown in the movie "We Were Soldiers," starring Mel Gibson.
Some elements of the Brigade left early and were flown to Vietnam as an advance party. The rest of us took a train to Oakland, California where we boarded the USNS Patch, an old, World War II troop carrying vessel. I believe we sailed under the Golden Gate Bridge on 7 December 1966 and our Vietnam tour started on that day. I shared a cabin with about 5 other officers. I got on the ship weighing about 220 pounds. During the voyage we had several days of high seas and it was rough. I was seasick most of the time and couldn't keep most of my meals down. I was constantly going to the railing for relief. The troops continued to go through training while aboard the ship. Each of us were issued about 8 rounds of ammunition. The ship stopped in a port at Okinawa, and the troops were permitted to leave the ship for some "recreation." That didn't go too well, as several got drunk and got into trouble. We arrived at Vung Tau harbor, South Vietnam about 3 January 1967. I weighed about 175 pounds. WWII era LST's circled near our ship and took turns coming along side the ship. We lowered ourselves into the LST's, each holding approximately 20 soldiers. Many LST's got on line, and we headed into the beachhead. I expected there would be a hail of gunfire meeting us, but instead, when the ramp was dropped, there was MG George S. Eckhardt and the 9th Infantry Division Band to greet us. Quite a sight!
We loaded into deuce and half trucks and headed up Highway 15 to our base camp called Bearcat, the new home of the 9th Infantry Division. In April 1967, Col Kendall, summoned his 6 bars to Brigade Headquarters for a reunion party. Thus began the 6 Bars and a Bird Club. Over the next 11 months I had several jobs in the battalion: platoon leader in Company A, XO in Company A, platoon leader in Company C, XO in Company C, and finally, following the death of our OCS classmate, Rory Madden, I took over his job as battalion recon platoon leader. Many of the lieutenants in the battalion were rotated out of combat jobs after about 6 months. I wasn't so fortunate, and I pulled my final patrol 4 days before I DEROS'ed back to the United States.
My son, Daniel Thomas Peck, was born in February 1967 while I was in Vietnam. I was blessed to have two more children: Aaron Kenneth Franklin born in 1970 and Heather Kathleen born in 1973. They currently all live in Virginia along with their 8 children. My second wife, Judy, also had a son, Tommy, who has two children, bringing our total grandchildren to ten.
Following my first tour in Vietnam, I served in the post G-3 at Fort Gordon, Georgia as a training officer. My three primary responsibilities were the Military Police School, the Southeastern Signal School, and the Combat Tracker Training Program (black Labrador Retrievers and their human handlers), I was promoted to Captain, branch transferred to the Signal Corps; attended the Officers Advance Course at Fort Monmouth, went back to Vietnam in 1970, and assigned to the 1st Signal Brigade at Long Bien, Vietnam. For the first 6 months I ran an analysis branch in Headquarters and briefed the Commanding General once a week on the communications outages throughout Vietnam and between Vietnam and Thailand. The next six months I was Executive Officer and Headquarters Company Commander of the Comsec-Logistics Support Command Vietnam (CLSCV), also headquartered in Long Bien. Returning to the States, I commanded two companies at Fort Monmouth, including the Command and Leadership Company, responsible for training new NCO's. I applied for and was accepted to the Officer's Undergraduate Degree Completion Program. I spent a year and 10 months as a full-time student and received my bachelor's degree from Emporia State College in Kansas in 1975. I was then transferred to Germany where I served 2 years in the 32nd Signal Battalion as the S-3, one year in the V Corp CE office as a plans officer, promoted to Major, then another year in the 32nd Signal Battalion as XO. Following 4 years in Germany, I was assigned to the Pentagon, as a case officer in the Army Discharge Review Board. I then was assigned as the Chief of the Case Processing Branch in the same department. Wanting out of the Pentagon, I was fortunate to get assigned to DARCOM Headquarters in Alexandria, Virginia, in the Readiness Directorate as the XO to a Major General. The Signal Branch was making noises that I might be stationed in South Korea, which I didn't want. I was promoted to Lieutenant Colonel and retired in May 1984.
Following retirement from the Army, I spent 10 years as a Vice President of Conventions in 2 different trade associations, where I planned meetings, conventions, trade shows and golf tournaments. In 1994 I founded my own company, Golf Tournaments Unlimited, and planned dozens of golf tournaments throughout the United States. I am proud to say I have been in all 50 states and 15 foreign countries.
Along the way, Colonel Kendall kept up with his 6 bars, later to become 7 when we adopted Jerry Fry as one of us. Colonel Kendall had a long and illustrious career, retiring as a Major General. He never forgot us. In his declining years he would still go to OCS reunions at Fort Benning, where several of us would meet up with him once again. Cliff Gehrt would come from California. Jerry Fry, Bob Shepps, Leon Stricklen and I all got to see Col Kendall several times. Harry Harley attended once before he passed away. We shared many, many stories with our Colonel over the years.
Upon learning of Col Kendall's passing, I wrote a eulogy from his 6 Bars. Leon Stricklen, Jerry Fry and I attended his memorial in Melborne, Florida. I read the eulogy and the three of us rendered a final salute to him as he lay in his coffin. Later in the year Jerry Fry and Leon Stricklen travelled to Arlington National Cemetery and attended his funeral with full military honors.
Among my awards are the Combat Infantryman Badge, Legion of Merit, Bronze Star (2), Meritorious Service Medal (2), Air Medal, Purple Heart and Army Commendation Medal (2).
I moved to The Villages, Florida, in 2004, with my wife of 32 years, the former Judy Harris. I fully retired in 2006. I survived throat cancer in 2019. I enjoy golf, working crosswords, and cooking.