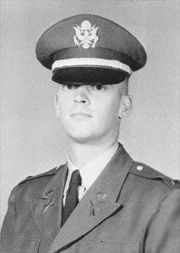 Rank: Captain
Branch: Infantry
Separation Date: May 1968
Number of Years of Service: 3 Years, 3 Months.
Wife's Name: Anne; Children: 2; Grandchildren: 2
City and State: Freeland, Washington
Civilian School & Degree: University of Iowa, BA 1963.
Summary of Assignments: After graduation from OCS was assigned as a platoon leader of A Company, 1st Battalion, 54th Mechanized Infantry, 4th Armored Division in Bamberg, Germany. Promoted to Company XO a year later. One year later was promoted to Battalion S-4. I was then extended 6 months to upgrade Battalion motorized equipment to a high level of combat readiness. I was also assigned extra duty as a Nuclear Weapons Convoy Commander to pickup and deliver tactical nuclear weapons in Germany. After I separated from active duty, I volunteered to serve in a reserve unit in Seattle, Washington. I served in that capacity for approximately 3 years before retiring.
Jobs/Profession following military: After separating from active duty I migrated to Seattle, Washington (where another officer from the 1/54th lived). I was accepted in a management training position with Seattle First National Bank and worked with the bank in variety of assignments including the development of an equipment leasing subsidiary. This company was later sold to MetLife and we grew the company to one of the largest equipment leasing and franchise finance companies in theUnited States. I was with MetLife Capital for 15 years and EVP, Credit and Operations. The company was then sold to GE Capital and shortly thereafter I took a position, as CEO, with a national bank and created another leasing/franchise finance company with operations in the U.S. and Canada. Three years later I retired for good.
Current hobbies/interests: I met my wife and best friend, Anne, a nurse practitioner at a clinic in Seattle and married her in 1970 (40 years ago). We have two great kids and two grandkids and are enjoying our life and friends on Whidbey Island, Washington in the summer and La Quinta, California in the winter. We are both active golfers and enjoy traveling. Life is good!!!!!!