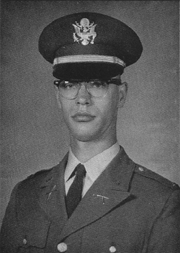 Rank: Captain
Branch: Infantry
Separation Date: January 14, 1968
Number of Years of Service: 4
City and State: Chicago, Illinois
Civilian Degrees: BA, Youngstown State University, 1964;  MSW, University of Illinois, Chicago, Psychiatric Social Work
Summary of Assignments: January 1965 – Basic Fort Jackson; March 1965 – AIT, Fort Polk; July 1965 – January 1966 OCS; February 1966 – May 1966, Crypto Security/Nuclear Weapons Fort Sill; May 1966 – September 1966 9th Division, Fort Riley – HHC 3rd Brigade, Communications/Crypto Security; August 1966 – December 1967 other assignments, including HHC 5th Army.
Jobs/Profession following military: February 15, 2006 to present: Private practice as clinical therapist, male advocate and graduate level instructor; August 16, 2000 to Feb. 15, 2006, Epilepsy Foundation Greater Chicago, Supervisor of Clinical Services;  November 15, 2001 to November 31, 2003, Social Work prn Social Work consultant;  May 1974 to May 1998, City of Chicago, Department of Public Health – Bureau of Mental Health, Clinical Therapist 2 and 3;  June 1973 to May 1974, City of Chicago, Bureau of Rehabilitation of Persons – Chicago's Alcoholic Treatment Center, Psychiatric Social Worker 2; May 1970 to September 1971; Cook County Dept. of Public Aid Casework 2 and 3;  January 1968 to May 1970, Continental National American Financial Group, Systems and Methods Analysts
Before Military: August 1964 to January 1965, Youngstown Air Force Base, Nuclear Security.
Certifications: August 1973, State of Illinois– Certified Social Worker / Examiner; Illinois Alcoholism Certification Board – Certified Alcoholism Counselor; July 1974, State of Illinois, Dept. of Professional Regulation – Licensed Social Worker; September 1989, State of New Mexico – Licensed Independent Social Worker; April 1991, State of Illinois, Dept. of Professional Regulation – Licensed Clinical Social Worker; January 1995, NASW/National Federation of Clinical Social Worker – Diplomat in Clinical Social Work; NASW Register as Qualified Clinical Social Worker
Academic Affiliations: Graduate/Doctoral Field Work-Practicum Instructor, University of Illinois, Chicago/Urbana – Jane Addams College of Social Work; University of Chicago – School of Social Service Administration; Loyola University, Chicago – Graduate School of Social Work; Argosy – Illinois School of Professional Psychology, Therapy Concentration
Professional Affiliation: Illinois Society of Clinical Social Workers, National Federation of Clinical Social Workers, Men's Health Network Advisory Board
Current hobbies/interests: Teaching graduate/doctoral classes in social work, neurology and male gender studies, Making telescopes, In-depth historical and political studies, disabilities and male advocacy work.